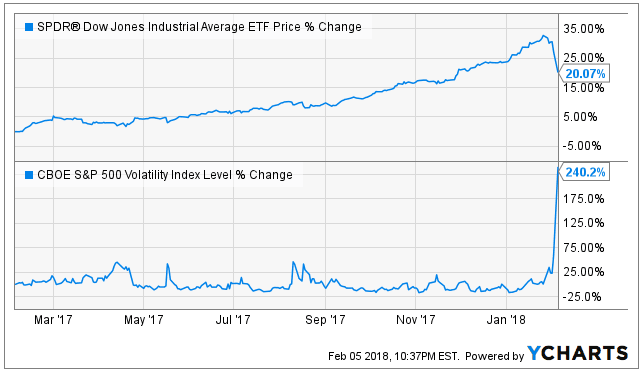 The lead stories on ABCnews.com, NBCnews.com and CBSnews.com are all about the stock market sell-off. That's a good indication that more investors than usual are worried. But what's an investor to do? Buy low? Step aside (Sell) and wait for the market to calm down? Or other?
[REITs]
To put things in perspective, here's a look at the stock market (as measured by the Dow Jones) and the market "Fear Index" (as measured by the VIX). Things have not been pretty over the last six trading days.
Jim Chanos Unveils Lastest Short As Fund Manager Bets On Further Market Declines
Jim Chanos has a new short target in his sights. Earlier this week, the hedge fund manager disclosed that he is betting against "legacy" data centers that face growing competition from the trio of technology giants, which have previously been their biggest customers. The fund manager, who is best known for his winning bet against Read More
Advice on Buying Now
Stocks are certainly cheaper than they were 6 days ago. And certainly many investors are thinking of the age old sayings, such as "buy low," and "buy when there's blood in the streets." If you've been sitting on the sidelines with some cash and waiting for a good time to put that money to work, now is a better time than 6 days ago when stocks were about 8.5% higher than they are now. If you are looking for specific buying opportunities, we have some ideas at the end of this article. But remember, no one knows what the stock market is going to do today, this month or even this year, but over the long-term, the direction is up. Long-term investing is a proven strategy for success.
Advice on Selling
When market volatility spikes (like it has over the last week) that's when many investors make crazy mistakes. For example, nervous people often panic and sell everything, only to miss out on the subsequent market rebound. For example, people that sold near the bottom of the financial crisis missed out on the huge gains that followed in the years ahead. For example, the S&P 500 is still up nearly 400% since the depths of the financial crisis. Remember, the saying is "buy low, sell high," NOT vice versa. And just to put things in perspective, the recent market sell-off is nowhere near what happened during the financial crisis. Not even close. This one just feels bad because the market has been so strong in recent years with little volatility.
Other: Stick to Your Plan
To lead off with a Warren Buffett quote: "If you aren't willing to own a stock for 10 years, don't even think about owning it for 10 minutes." That's good advice when it comes to financial planning.
If you are a long-term investor, and owning stocks is part of your strategy, then stick to that strategy. Keep in mind though, if you've built an adequate nest egg, and you need to generate income from it, then owning 100% stocks may not be the right thing for you in the first place. As much as it hurts to see someone "buy high and sell low," it can hurt even more to see 100% of someone's life savings invested in the stock market when they shouldn't be taking so much risk in the first place. Lower risk income investing and very long-term capital appreciation investing, are two very different things.
Ideally, if you had your investment house in order, you already had your investment plan in place (i.e. an appropriate mix of stocks, maybe bonds, cash, and other), and now that this volatility is upon us, you are doing absolutely nothing! Doing nothing in these types of market conditions is often the best advice for investors because some volatility is par for the course, and doing nothing allows your long-term plan to play out, and it also helps you avoid making silly costly mistakes. As the saying goes, keep calm and carry on.
Investment Ideas:
If you do have extra cash, and you have been meaning to put money to work, we shared a variety of interesting ideas for income investors in these two recent articles:
For example, as those articles show, we are long high-income investments that have recently sold-off such as AmeriGas (APU), and we also like high dividend opportunities like Main Street Capital (MAIN), Triton International (TRTN) and Realty Income (O), to name  a few.
Final Thoughts:
It's times like these when investors miss great opportunities, but also make silly costly mistakes. It is critically important for investors to know their goals and then stick to their plan in achieving those goals. Don't get silly, don't be cute. Stick to your plan. Long-term investing is a proven strategy for success.
Article by Blue Harbinger
Updated on