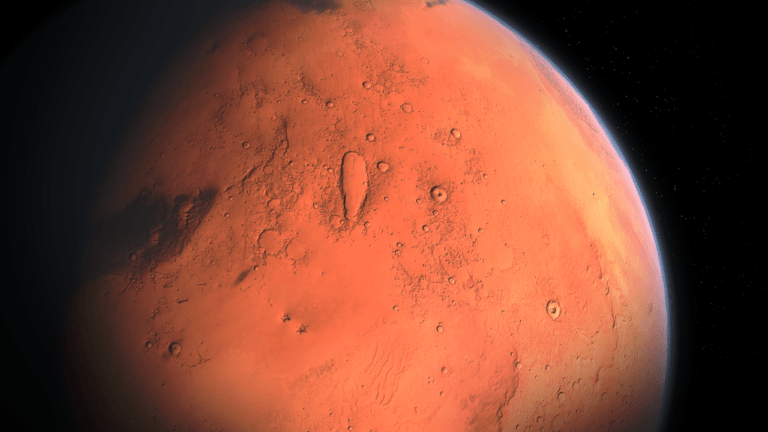 Dubai is known around the world for its immediate embrace of the newest technology, so it probably comes as little surprise that the city is building an impact on the future of human settlement of Mars. Mars Science City in Dubai is expected to be the first prototype settlement designed to showcase what life could look like for the first human settlers on the Red Planet.
Award-winning architect Bjarke Ingels, who is designing Mars Science City, addressed the World Government Summit on Monday and explained why he believes the human race will one day be the first species to live on another planet. According to various media outlets, his session at the summit focused on the transportation and technological evolution that is making it possible for humans to travel and inhabit new places.
Ingels sees Mars Science City in Dubai as the very first step toward colonization of Mars. Officials announced the Dh500 million project at the Annual Government Meetings in September in Abu Dhabi. Mars Science City will include everything needed to simulate what life could be like on the Red Planet. The project includes laboratories where food, water and energy could be produced and agricultural tests and food security studies could be performed.
Corsair highlights SPAC FG New America ahead of OppFi merger
Corsair Capital highlighted its investment in a special purpose acquisition company in its first-quarter letter to investors. The Corsair team highlighted FG New America Acquisition Corp, emphasizing that the SPAC presents an exciting opportunity after its agreement to merge with OppFi, a leading fintech platform powered by artificial intelligence. Q1 2021 hedge fund letters, conferences Read More
Mars Science City is aimed at enabling the UAE to lead Earth's people in the race to Mars as part of its Mars 2117 Strategy, which was announced last year at WGS World. The goal of the project, as set by the Dubai Future Foundation, is for the UAE to build the first Mars colony within the next 99 years.
Mars Science City will be built in Mushrif Park, and it will essentially be a prototype which allows visitors to get a taste of living on Mars, according to Ingels. The project will also host exhibitions and provide education and support for research. He said that in order to build a functioning colony on Mars, humanity will have to maximize both innovation and efficiency in a multitude of areas, including everything from farming to building.
It currently takes about three months to get to Mars from Earth using available transport technology. Although much work is needed to make the Red Planet capable of supporting human life, Ingels believes that it is the best planet in our solar system for a colony. He also noted that humans have become remarkably adept at living and surviving in difficult climates, which should enable hardy colonists to live even in an environment with high radiation, difficult-to-find water, and no air.
It will be necessary to learn how to use the resources available on the Red Planet to live and build a functioning, sustainable society. Ingels told attendees at the World Government Summit that life on Mars might look like living underground, at least temporarily, and building or creating using 3D printing methods.
The architect called attention to underground dwellings in Tunisia and the Inuit's use of igloos to live in the Arctic. Others elsewhere have remarked that some environments on Earth bear a strong resemblance to the environment on Mars. Ingels believes that humans may be able to live and/or sleep underground on Mars in order to reduce the amount of radiation they are exposed to, even to levels below those experienced by aircraft crews on a regular basis.