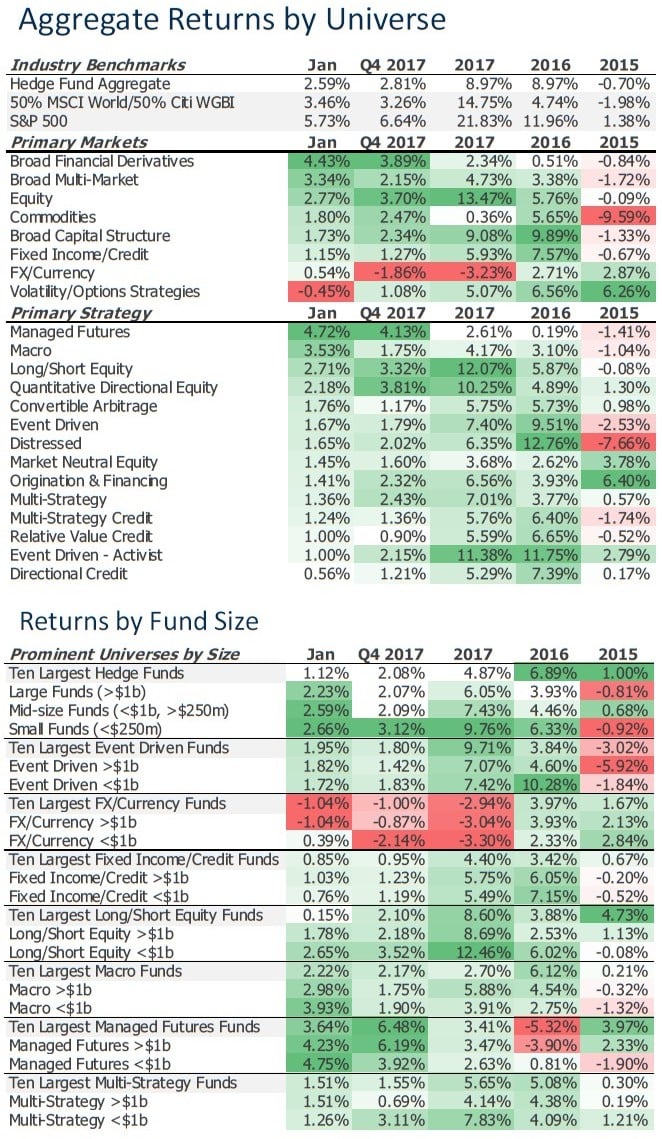 With 2017 in the rearview mirror, the gains produced in January would appear to be a crescendo of last year's consistent performance. However, drilling down into which strategies produced the leaders in January, a different picture emerges, though one which is not entirely unfamiliar.
The emergence of outsized gains from the macro and managed futures segments may be a welcome sight for investors who have stayed with the strategies despite their mixed, if not modest returns of recent years, but perhaps not so much for broader markets. Both the universes' gains in January are in-line with prior periods of elevated market volatility.
If the industry needed a feel good year in 2017, it generally received it. If the industry needs a chance to distinguish itself from its long-only peers, the environment we've seen to begin February is providing an excellent opportunity.
Dan Sundheim Founder Of D1 At Sohn 2021 On His Favorite Stock
At this year's Sohn Investment Conference, Dan Sundheim, the founder and CIO of D1 Capital Partners, spoke with John Collison, the co-founder of Stripe. Q1 2021 hedge fund letters, conferences and more D1 manages $20 billion. Of this, $10 billion is invested in fast-growing private businesses such as Stripe. Stripe is currently valued at around Read More
Highlights
Hedge funds returned an average of +2.59% in January, continuing their longest aggregate streak of gains since 2004.
Macro and managed futures strategies posted gains in January reminiscent of levels last seen pre-Financial Crisis.
Long/short equity gains continued into January, though February will be the first test of value for investors who returned to the strategy heavily in 2017.
Macro and Managed Futures Funds Soar to Begin 2018, Posting Returns Reminiscent of 2007/2008
Hedge funds returned an average of +2.59% in January 2018, the industry's best monthly return since March 2016. The industry hasn't had a negative month since October 2016, its longest positive streak since 2003/2004.
Key Points
Hedge fund returns have not been as broadly positive in nearly four years.
81% of reporting hedge funds posted positive returns in January, the broadest measure of gains since February 2014. Average  gains were over 3.5%, and the difference between gains and losses was the largest since November 2016, the industry's last aggregate average decline.
Macro hedge funds had their best aggregate month since just before the Global Financial Crisis.
There were a few months in late 2007 and early 2008 when aggregate returns from macro funds were nearly as good as, or better than their performance in January 2018. The largest macro funds lagged their smaller peers, yet still had their largest gains since October 2016.
Managed futures returns highest since early 2008, on par with Brexit event gains.
The similarities in return magnitudes from both macro and managed futures strategies to pre-Financial Crisis levels is intriguing, particularly given the market volatility which has followed in February 2018. The difference between managed futures gains pre-Brexit and pre-Financial Crisis is that prior to Brexit, they were producing a string of elevated losses, however prior to the Financial Crisis managed futures had a string of elevated gains lasting six months, which peaked at over 7%. Managed futures are currently in a string of elevated gains lasting four months. Nearly 90% of managed futures strategies were positive in January, with average gains near 6%.
EQ strategies' gains continued, but perhaps their last in current streak.
It is impossible to mention equity hedge funds' gains in January (largest since October 2015, fifteenth consecutive monthly gain) without acknowledging the market environment faced in the current month (February). Whether current volatility continues, investors who may have shifted from passive strategies (net outflows emerged in Q2 2017) and allocated a portion into long/short or market neutral hedge funds are likely not regretting their decisions.
2018 Began With Some Regional Themes From 2017 Continuing, Primarily China Outperformance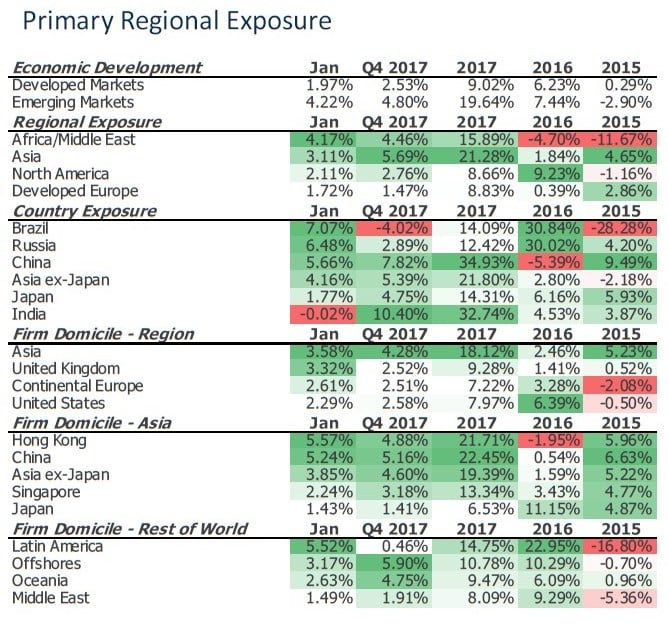 Key Points
Emerging markets funds began 2018 posting returns more than 2x developed market
It was a recurring theme in 2017 for EM funds  to outperform their developed market peers by more than double. For the year, that's about where results ended, and in 2018, that is again where they began. Given most of EM's sell-off in February, this theme will likely end in the current month, too.
Most regional themes from 2017 continued into January, but not all.
China-focused hedge funds outperformed all other regional segments in 2017. As 2018 began, those strong returns continued, at least through January. February is appearing to be a different story. India funds, however, began the year in decline after closely following China in EM outperformance in 2017. Whatever the regional themes for 2017 which persisted into January 2018, it will be most interesting to watch how hedge fund strategies perform relative to their traditional peers if market volatility seen so far in February continues.
Article by eVestment