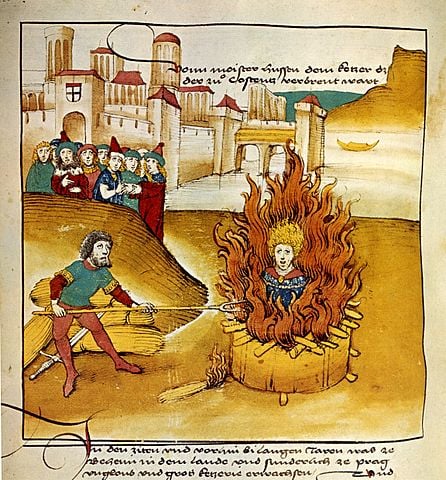 As Lloyd Blankfein strolled onto the stage in Key Biscayne, Florida earlier this week, the $24 million man had his eye on a revolutionary new direction for the traditionally staid investment bank. After the legendary Wall Street investment bank posted challenging 2017 performance, led lower by a steep decline in its fixed-income division, historically the bank's performance stalwart, the bank most often associated with its elite pedigree was looking to cozy up with an odd bedfellow: sub-prime borrowers. The result could diversify the bank's revenue stream and mark a historical benchmark or it could be Blankfein's Waterloo.

Public Domain, Link
Nearly one year ago, with Goldman's stock trading near $250, the beta market environment for banks looked positive. Immediately following the election of US President Donald Trump, the stock rocketed higher from near $175 before the election to $241 just days later.
ValueWalk's August 2021 Hedge Fund Update: Point72 Suffers Loss; Hedge Fund Assets Hit $4 Trillion
Welcome to our latest issue of ValueWalk's hedge fund update. Below subscribers can find an excerpt in text and the full issue in PDF format. Please send us your feedback! Featuring Point72 Asset Management losing about 10% in January, Millennium Management on a hiring spree, and hedge fund industry's assets under management swell to nearly Read More
But then problems in the FICC division and stock trading reared its head amid an artificially placid market. "Extraordinarily accommodative monetary policy" was "believed to have suppressed market volatility," according to a February 15 Credit Suisse report that reviewed Blankfein's comments at the 19th Annual Credit Suisse Financial Services Forum.
The problems resulted in a flaccid 7% gain in the stock over the previous 12 months. Compare this to rivals JPMorgan, up 27%, Citigroup, up 28% and Bank of America, up 30% over the same period.
The result was noted bank analyst Dick Bove calling for Blankfein's head on a platter. Bove, who famously upgraded MF Global before its historic collapse, said that Blankfein's vision to move away from its traditional reliance on trading and investment banking was a last gasp attempt was a disappointment.
"Goldman Sachs absolutely refused to change its business model, and the business model is falling apart,"Bove  told The Street last November.
Bove is concerned that borrowers with struggling finances might not be a fit for the distinguished investment bank. Blankfein, however, sees an opportunity to generate a strong spread.
Blankfein, however, thinks those with FICO credit scores as low as 660 "creditworthy," he said, pointing to the investment bank's Marcus lending division that he thinks is in "a unique position . . . to be disruptive" and saw an opportunity to build relationships with millions of consumers."
These retail relationships, once the bane of the bank, now appear to provide an opportunity, as Credit Suisse noted:
This time last year, Marcus was still relatively new and relatively limited to a single unsecured credit product; with greater confidence in capabilities and opportunity, its product line—lending (direct to the consumer—home improvement etc., and through partnerships, akin to Intuit) and savings products--is expanding. To date, Goldman has spent $500mn (all expensed as incurred) in developing Marcus verticals. Marcus has now originated >$2.5bn of loans; online deposits were >$17bn at year end 2017; Goldman's total funded loan portfolio was $81bn at year-end 2017. Goldman currently has over 350,000 loan/deposit customers and sees opportunity for material expansion of its reach.  In Private Wealth Management, lending revenues have increased ~30% over the last year with growth prospects enhanced with the recently launched GS Select platform. The bank entered 2018 with a $2bn net interest revenue run rate (before considering loan growth).
The Goldman compensation committee appears to have agreed, assigning Blankfein a $22 million bonus after delivering relative pedestrian returns over the year. Bank of America CEO Brian Moynihan received a 15% pay raise in 2017 to $23 million; Citigroup CEO Michael Corbat's received $23 million; JPMorgan Chase & Co. Jamie Dimon to a 5.3% raise to $29.5 million.
If Blankfein is correct, it is a relatively pedestrian target market that could provide the bank a new and relatively independent revenue stream from its traditional reliance on Wall Street trading and investment banking -- and if successful this would mark a significant milestone in Goldman's storied history.