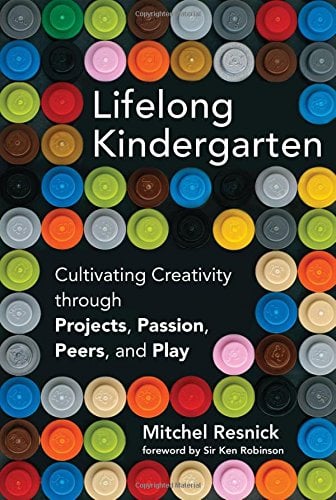 Having too much fun can give the impression that you aren't serious. But as far as we can tell, the correlation between appearing serious and actually being good at what you do is spurious at best. Because we love our work, our minds are always in gear. Because we are having fun, we are always engaged.
Check out our H2 hedge fund letters here.
In Lifelong Kindergarten, MIT Media Lab's Mitchel Resnick demonstrates how lessons from kindergarten help us develop creative thinking skills.
Gator Financial Partners 1H2022 Performance Update
Gator Financial Partners letter to investors for the first half of the year ended June 30, 2022. Q2 2022 hedge fund letters, conferences and more Dear Gator Financial Partners:  We are pleased to provide you with Gator Financial Partners, LLC's (the "Fund" or "GFP") 1st Half 2022 investor letter. This letter reviews the Fund's 1st Read More
The rest of school (even the rest of life) should be more like kindergarten. Throughout history, philosophers and psychologists have recognized the value and importance of play:
You can learn more about a person in an hour of play than in a year of conversation. – Plato

We don't stop playing because we grow old; we grow old because we stop playing. – George Bernard Shaw

In play, it is as though the child were trying to jump above the head of his normal behavior. – Lev Vygotsky

Play is the work of the child. – Jean Piaget

Through play, more than any other activity, children achieve mastery of the external world. – Bruno Bettelheim

Toys and games are the preludes to serious ideas. – Charles Eames
Lifelong Kindergarten: Cultivating Creativity through Projects, Passion, Peers, and Play by Mitchel Resnick
How lessons from kindergarten can help everyone develop the creative thinking skills needed to thrive in today's society.
In kindergartens these days, children spend more time with math worksheets and phonics flashcards than building blocks and finger paint. Kindergarten is becoming more like the rest of school. In  Lifelong Kindergarten, learning expert Mitchel Resnick argues for exactly the opposite: the rest of school (even the rest of life) should be more like kindergarten. To thrive in today's fast-changing world, people of all ages must learn to think and act creatively -- and the best way to do that is by focusing more on imagining, creating, playing, sharing, and reflecting, just as children do in traditional kindergartens.
Drawing on experiences from more than thirty years at MIT's Media Lab, Resnick discusses new technologies and strategies for engaging young people in creative learning experiences. He tells stories of how children are programming their own games, stories, and inventions (for example, a diary security system, created by a twelve-year-old girl), and collaborating through remixing, crowdsourcing, and large-scale group projects (such as a Halloween-themed game called Night at Dreary Castle, produced by more than twenty kids scattered around the world). By providing young people with opportunities to work on projects, based on their passions, in collaboration with peers, in a playful spirit, we can help them prepare for a world where creative thinking is more important than ever before.
Review
This is the book I have been waiting for. Lifelong Kindergarten is filled with gems -- thoughts about what learning in the 21st century needs to be like, brought to life through evocative and nuanced examples that fire up our own imaginations. Many of us have danced around this topic but no one has hit the bull's-eye like Mitch Resnick has done. - (John Seely Brown, Former Chief Scientist of Xerox and Director of Palo Alto Research Center (PARC))
Whether you are a parent, educator, or academic researcher, you will delight in this book. As founder of MIT's Lifelong Kindergarten research group and creator of the programming language Scratch, Mitch Resnick not only illuminates the rich history of scholarship on creative thinking but succeeds in bringing it to life through the experiences and practices of young people around the world. -- (Margaret Honey, President & CEO, New York Hall of Science)
Mitchel Resnick has long been an inspiration to those of us who study the roots of innovative thinking. Lifelong Kindergarten is not only essential reading for educators trying to cultivate 21st century skills in the classroom; it's also a vital resource for anyone -- parents, entrepreneurs, artists -- interested in the creative mind at work and at play.  - (Steven Johnson, author of Where Good Ideas Come From and How We Got to Now)
Article by Christopher Pavese, Broyhill Asset Management
Updated on