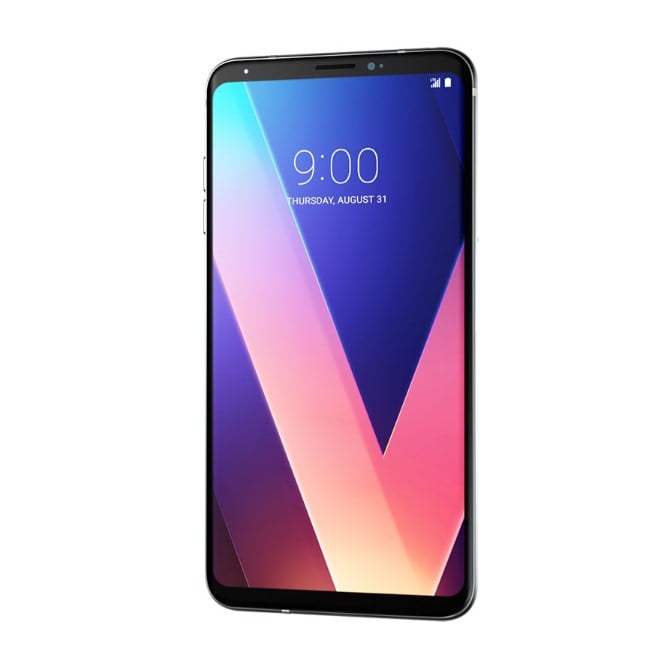 The LG V30 has been around for almost five months. The phone had impressive specifications, but it lacked AI features offered by premium smartphones from Samsung, Google, Apple, and Huawei. A new report coming out of Korea claims that LG Electronics is planning to unveil an upgraded LG V30S at the Mobile World Congress (MWC) later this month. The device is said to look similar to the LG V30, but its biggest selling point will be AI features.
Sources familiar with LG's plans told ETNews that the upgraded LG V30S would launch with an AI-powered camera called LG Lens. It will also have a higher 256GB storage along with a microSD card slot for further memory expansion. The original V30 and V30 Plus had 64GB and 128GB of internal storage. The MWC event will run from February 26 through March 1st.
The original V30 had a bezel-less OLED display, water-resistance, and face recognition technology. It was powered by the Snapdragon 835 SoC. Despite its impressive specs, the device failed to please consumers. LG is hoping that the upgraded LG V30S with AI features would help it compete against Samsung, Apple, Huawei, and Google. It is unclear whether the V30S would feature the new Snapdragon 845 chipset or last year's Snapdragon 835.
Retail Investing Trends With TradeZero America's Dan Pipitone
ValueWalk's Raul Panganiban interviews Dan Pipitone, co-founder of TradeZero America, and discusses his recent study on retail investing trends. Q1 2021 hedge fund letters, conferences and more The following is a computer generated transcript and may contain some errors. Interview with TradeZero America's Dan Pipitone ValueWalk's ValueTalks ·
ETNews reports that the LG V30S would feature a vision-based AI assistant called LG Lens. It would be similar to Google Lens on Pixel 2 and Bixby Vision on Samsung's Galaxy S8. The V30S will be LG's first smartphone to offer such a feature. You can take a photo, and the LG Lens would recognize objects in the photo and offer suggestions on where you can buy them online. ETNews claims LG Lens will also translate text from one language to another, and perform barcode and QR code scanning.
LG Electronics will be quite late to the AI race compared to its rivals. It requires years of efforts and investments to enhance AI capabilities. While LG will be adding LG Lens to the V30S, Samsung offered a similar feature on last year's Galaxy S8 and will reportedly further enhance AI features with the upcoming Galaxy S9 and S9 Plus. Google's Pixel phones and Apple's iPhone X are also way ahead of LG.
ETNews claims the LG V30S would debut at the Mobile World Congress and go on sale in South Korea on March 9th. It is expected to cost 1 million won ($920) in South Korea. The price tag and launch timelines suggest that the phone will compete against Samsung's Galaxy S9, which is also expected to see a jump in prices.
LG has traditionally refreshed the G series at the Mobile World Congress (MWC). But the company has changed its plans to revive its ailing smartphone business, which has been losing money for the last several quarters. LG Electronics CEO Jo Seong-jin told media last month that the company would no longer launch new smartphones just because rivals are doing it. Seong-jin has reportedly asked LG's R&D team to redesign the G7 flagship because the prototypes lacked attractive selling points.
The launch of LG V30S is in line with the company's plan to stick with the tried-and-tested hardware design for longer instead of following an annual release cycle. It means the LG G7 flagship would be launched at a later date. However, the Korean company has denied rumors of LG G7 delay. LG told Engadget that preparations for the "launch of the G6's successor are on schedule."
LG will launch new flagship products when "the time is right." It would focus on creating meaningful products rather than launching new phones at a specific time every year. The company did not specify whether the LG G7 would be showcased at the MWC or at a later date. An MWC unveiling is unlikely given the event is only a couple of weeks away. LG is also experimenting with different naming patterns.