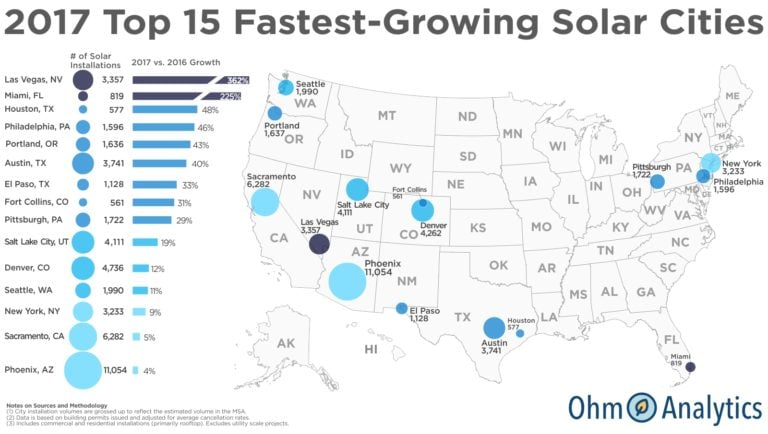 As part of Ohm Analytics' Q4-2017 Solar Index report, which tracks U.S. rooftop solar activity in all major solar states using a proprietary database, Ohm Analytics has released its 2017 Fastest Growing Solar Cities list. Overall rooftop solar activity declined 14% in 2017 from 2016 primarily driven by a change in strategy by Tesla (formerly SolarCity), but there were several bright spots of growth.  More discussion and access to the full report can be found here.
Top 15 Fastest Growing Solar Cities
Las Vegas was the fastest growing solar city in 2017 by a wide margin due the the return of net metering policy after a reversal of a 2015 decision that shut off the market. Policy changes also had an impact on growth in Florida which propelled Miami, FL to #2 on the list. As a sign of the dramatic shift underway in U.S. energy, five cities in coal and natural gas country (Texas and Pennsylvania) made the list.  Missing from the list were cities from the largest solar markets, including California (with the exception of Sacramento), Massachusetts, Hawaii, and Maryland, all of which experienced significant declines in activity in 2017.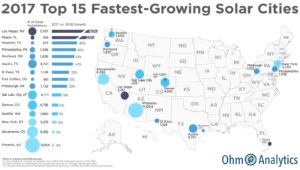 Ray Dalio At Robin Hood 2021: The Market Is Not In A Bubble
At this year's annual Robin Hood conference, which was held virtually, the founder of the world's largest hedge fund, Ray Dalio, talked about asset bubbles and how investors could detect as well as deal with bubbles in the marketplace. Q1 2021 hedge fund letters, conferences and more Dalio believes that by studying past market cycles Read More
Notes on Sources and Methodology:
City installation volumes are grossed up to reflect the estimated volume in the MSA.
Data is based on building permits issued and adjusted for average cancellation rates.
Includes commercial and residential installations (primarily rooftop). Excludes utility scale projects.
What is Driving the Fastest Growing Solar Cities
Las Vegas, NV - The Nevada solar market was virtually shutdown in 2015 after a change to net metering policy by utility NV Energy. The decision was reversed in 2017 and the market started to rebound in Q4-17. In 2015, Nevada was one of the largest solar markets in the U.S. and will have an impact on the overall U.S. market growth in 2018.
Miami, FL - Similar to Nevada, Florida implemented legislation in 2017 that opened up the solar market. Although installations are still small relative to more developed states, the sunshine state has excellent characteristics for solar and we expect growth to continue in 2018. Another favorable sign is that the three large national installers entered Florida in 2017.
Sacramento, CA - In total, activity in California declined 27% in 2017 with similar trends in all major cities including San Jose, Los Angeles, San Diego and Riverside. The decline in California was driven by the change in Tesla's sales strategy which impacted all large markets as well as changes to net metering rates in most major utility territories. Sacramento was not subject to these changes and also has more new home construction with solar than other cities.
New York City, NY - New York City's NY-Sun Initiative has aggressive targets to expand solar energy in the city and the program is working. The program aims to add three gigawatts of installed solar capacity by 2030 and New York has a goal to reach 50% renewable energy by 2030.
Houston, Austin and El Paso, TX - Three Texas cities made the list as Texas continues to invest in wind and solar, although it still generates nearly 70% of its energy from natural gas and coal. Texans, particularly in Austin are adding solar to their homes at a rapid pace.
Philadelphia and Pittsburgh, PA - The center of U.S. coal country also saw rapid growth in major cities Philadelphia and Pittsburgh. Similar to Florida, the market there was boosted by the entrance of national installers Vivint and SolarCity in 2016 and 2017.