Plenty has changed in the financial world since the 2008 crisis, but there's one thing that hasn't: debt. Corporate debt has only risen since 2008 as companies have binged on cheap debt and insatiable demand from investors for yield. However, it now seems as if investors are beginning to wake up to the risk this leverage is posing to companies' growth potential, and they're asking managers to borrow less.
The Bank for International Settlements calculates that global debt to gross domestic product is now 40% higher today than it was a decade ago. This is partly due to rising sovereign borrowing in the West and the explosion of Chinese debt, but companies have also had a large part to play. According to credit rating agency Standard and Poor's, global non-financial corporate debt grew by 15 percentage points to 96% of GDP in the past six years, with some 37% of companies deemed to be "highly leveraged," up from 32% in 2007.
With interest rates bouncing along at record lows, you can hardly blame companies for wanting to borrow and make the most of the favorable environment. Nonetheless, with central banks around the world now beginning to tighten monetary policy investors a starting to ask managers to borrow less to protect companies' credit ratings, growth prospects and stabilize the balance sheet.
Coho Capital 2Q20 Commentary: Podcasts, The New Talk Radio
Coho Capital commentary for the second quarter ended June 30, 2020. Q2 2020 hedge fund letters, conferences and more Dear Partners, Coho Capital returned 46.6% during the first half of the year compared to a loss of 3.1% in the S&P 500. Many of our holdings, such as Netflix, Amazon, and Spotify, were perceived beneficiaries Read More
The latest copy of Bank of America's Global Fund Manager survey reflected this sentiment. The survey asks 196 panelists with $575 billion in assets under management to give their views on the market, providing an interesting roundup of market sentiment from institutional investors.
According to the survey, a record 24% of these investors now believe that global corporate balance sheets are overleveraged, this is the highest level ever recorded, even higher than the level recorded in 2009 (although only just). There are several reasons why investors could hold this view. First of all, there's the interest-rate argument. Then there's the impact of US tax reform, which treats at debt less favorably.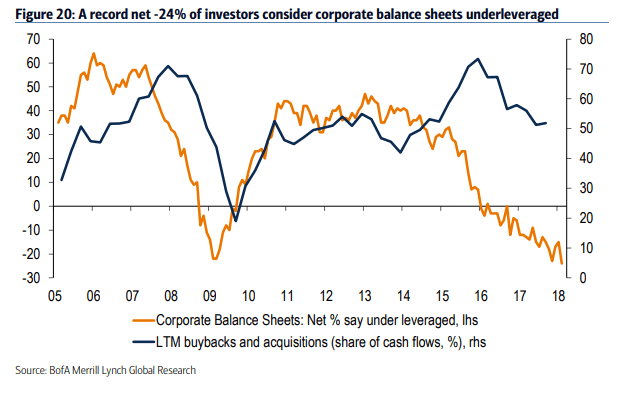 The new tax regime limits the deductibility of interest expense, which should lead to a deleveraging of highly geared companies. There's also the level of the market to consider. As the S&P 500 is now trading at one of its highest valuations ever recorded, buying back stock is less appealing, even more so when you consider the reduction in benefits available to borrowers and rising interest rates. Rather than borrowing to buy back stock, the respondents to Bank of America's survey want companies to spend more on investment and reduce dead. In fact, the percentage of investors who want companies to return more cash to shareholders is close to its 2009 level.