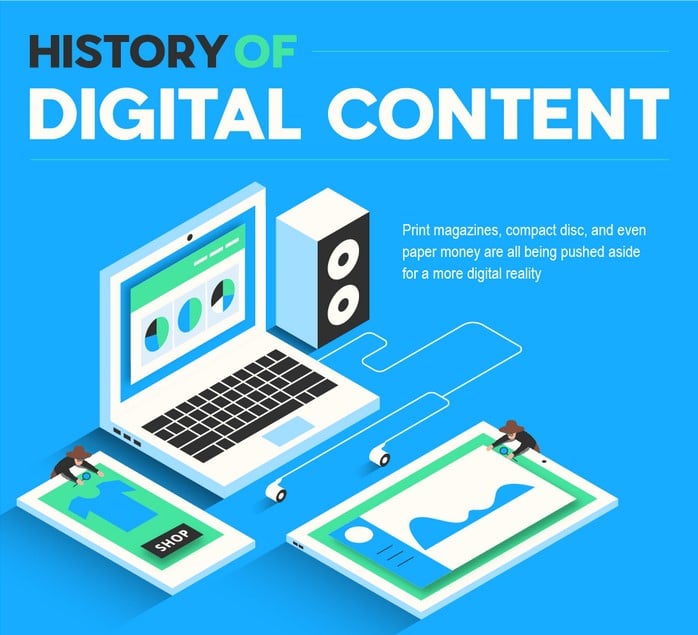 There's a lot of data out there. Every time you click on a website or call a call center there is data created. Every time you click on an app, upload a photo, or make a comment there is data created. Digital content, like photos and videos, isn't exactly new. Kodak invented the first digital camera back in the 1970s. Even though people were starting to finally use digital cameras in the late 1990s more regularly, digital photography didn't take off until the advent of the smartphone in 2007. After that apps like Instagram were created and sites like YouTube took off. Now that we all have HD video cameras and high resolution still cameras in our pockets at all times the amount of digital content we are generating on a daily basis is astounding. Not only would it take one person a trillion years or more to watch all the video online right now, but also 90% of the digital content that exists today has been created within the last two years. Digital content is taking off in a big way, and already corporations and other entities are making the most of all they have access to.
Currently nearly half of all Fortune 1000 companies are leveraging big data in various ways to benefit their companies. Some are using big data to lower costs or to increase profits. Others are leveraging big data to launch new products or services or to speed up product and service launches already in the works. But perhaps the most exciting thing being done with big data is going to be the next wave of major innovations, made possible by access to the massive amounts of data that are constantly being generated.
Looking Into the Gaming Industry with VanEck's JP Lee
ValueWalk's Raul Panganiban interviews JP Lee, Product Managers at VanEck, and discusses the video gaming industry. Q4 2020 hedge fund letters, conferences and more The following is a computer generated transcript and may contain some errors. Interview With VanEck's JP Lee ValueWalk's ValueTalks ·
Currently only half of the global population has access to the Internet, while less than half has access to the mobile web. Only 37% of the world's population is currently using social media of any form. As that number continues to grow so will the amount of digital content being created and the number of users on social platforms. People will be uploading more photos and videos than ever before as access grows.
Learn more about the history of digital content as well as how it is being leveraged and where it is headed from this infographic. The next wave of innovation is coming on the heels of this massive influx of digital content.