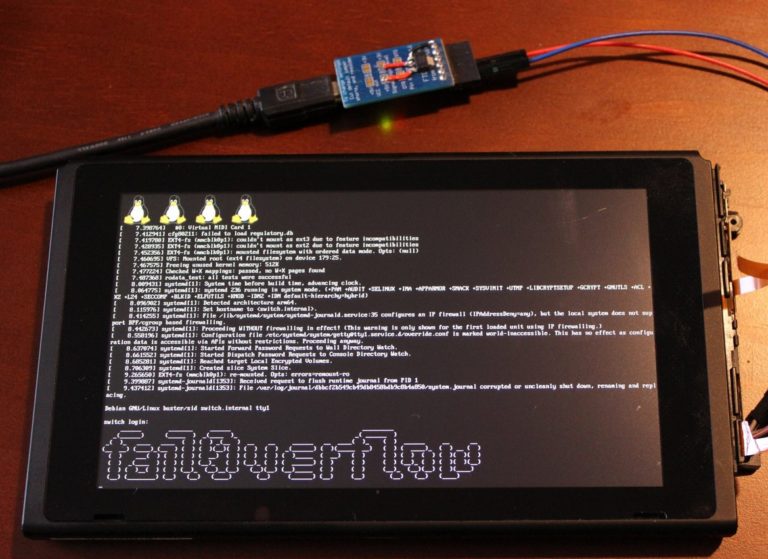 While gaming systems such as the PlayStation 4 and Xbox One are generally considered far less customizable than a gaming PC, that doesn't keep enterprising hackers from trying to crack their software. The most recent crack has resulted in Linux running on the Nintendo Switch.
The majority of cracks involve trying to add Linux onto a gaming system, at least to start, so getting Linux running on the Nintendo Switch may be the first step towards opening up the operating system to further customization. Manufacturers of these consoles generally frown upon people tinkering with the internals and software, but that's no deterrent to those determined to crack the software – whether it's as a personal challenge or to add features not currently present on the device.
The hacking group fail0verflow has recently tweeted an image of Debian Linux running on the Nintendo Switch. TechCruch reports that this may be due to Nintendo having NVIDIA as a partner for hardware, which may make cracking system analogous to working with a PC.
Hedge Fund Launches Jump Despite Equity Market Declines
Last year was a bumper year for hedge fund launches. According to a Hedge Fund Research report released towards the end of March, 614 new funds hit the market in 2021. That was the highest number of launches since 2017, when a record 735 new hedge funds were rolled out to investors. What's interesting about Read More
???? #switch pic.twitter.com/4iTjTk9D59

— fail0verflow (@fail0verflow) February 6, 2018
Fail0verflow had been working on getting Linux running on the Nintendo Switch for a good while, with the team first showing progress on hacking the Switch back in January where they posted a demo running on Nintendo's newest console. They later confirmed that it was possible due to a bootroom bug, which isn't possible to be patched out with future updates. It's clear that, at least for the Switches that are already out in the world, there's little that the parent company can do about hackers getting Linux running on the Nintendo Switch. Newer Switch consoles may be able to have the issue addressed, but considering that Nintendo recently stated the Switch has sold 10 million units in its first year, there are a significant amount of units out there that are vulnerable to this hack.
The process of getting Linux running on the Nintendo Switch is also possible due to the bootroom bug, which is reportedly due to a flaw in NVIDIA's Tegra X1 platform that the Switch uses. The bootroom executes code that is stored permanently on the Tegra X1 chip, and Fail0verflow managed to bypass and replace the code in order to run third-party software. Fixing the issue will require fixing the chip, which is why we won't see a fix for current Switch hardware. The ball is now in NVIDIA's field when it comes to fixing the issue for future releases, but we expect that Nintendo will ask them to address the issue sooner rather than later.
At this point, fail0verflow is just sharing that getting Linux running on the Nintendo Switch is possible rather than telling the community how it works. If it's truly possible to do so without any hardware modification, it likely won't be long before we see homebrew development for the switch, leading to the eventual discovery of how to run pirated games on the device. This is a major problem for Nintendo that will likely be fixed in manufactured Switches moving forward, but at this point, all they can do is control damage moving forward.
Updated on