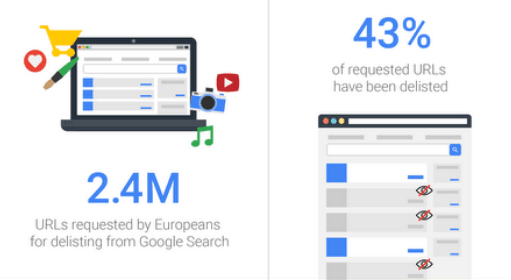 Google on Monday revealed that it received 2.4 million delisting requests under the European Union's controversial Right to be Forgotten laws, but it only acted on 43% of those. These figures are part of Google's latest annual Transparency Report, which details the requests that the search giant receives to delist pages from results.
Google has been complying the with EU's Right to be Forgotten ruling since May 2014. The rule allows individuals to ask Google and other similar services to delist the search results related to their name.
Google's latest Transparency Report includes a section called Three years of the Right to be Forgotten. This segment aims to "illuminate the effect" the RTBF ruling had on the information access. "This paper uses our manual reviewers' annotations to provide a comprehensive analysis of the ways Europeans are using the 'right to be forgotten'," said Michee Smith, Google Transparency Report product lead, in a blog post.
Dan Sundheim Founder Of D1 At Sohn 2021 On His Favorite Stock
At this year's Sohn Investment Conference, Dan Sundheim, the founder and CIO of D1 Capital Partners, spoke with John Collison, the co-founder of Stripe. Q1 2021 hedge fund letters, conferences and more D1 manages $20 billion. Of this, $10 billion is invested in fast-growing private businesses such as Stripe. Stripe is currently valued at around Read More
In its latest Transparency Report, the U.S. firm noted that it received 654,808 requests to remove 2,436,788 URLs between May 2014 and February 2018, but it only delisted 43% of the URL's. This year, Google's Transparency Report also details information on the type of requesters, type of site the requests are for (like social media, news, government, etc.), and kind of content the requests relate to.
Further, Google revealed that about a third of these requests came from individuals demanding personal information like social media histories to be deleted from the web, while 20% of the requests were for the takedown of individuals' legal history.
Google's Transparency Report also reveals that a small group of requesters accounted for a major portion of the requests. The report notes that the top 1,000 requesters – equaling 0.25% of all requesters – made 14.5% of the requests. Such groups mainly included law firms and reputation-management agencies, and almost half of them are based in Germany, France and the UK, notes ZDNet.
Further, the report also reveals that 35% of the requests were for the removal of one just one URL, while 75% were for five or fewer. Also, the report notes that 89% of the requests came from private individuals, while 11% was from other categories, including companies, politicians, or celebrities.  Talking of the types of requests, the report reveals that 24% were for professional information, while miscellaneous accounted for 21% of requests. It is not very clear what both these categories actually include.
"These results illustrate that while hundreds of thousands of Europeans rely on the RTBF to delist a handful of URLs, there are thousands of entities using the RTBF to alter hundreds of URLs about them or their clients that appears in search results," the report notes.
The Right to be Forgotten, when it was being implemented, triggered intense debates over the rights of an individual to ask for a takedown of related data open to the general public. Google fought the regulation for years. French authorities are demanding for applying the delistings globally, instead of only in the country where it was requested. Google is defending it saying – if applied globally it would give anyone power to censor search results in another country, disregarding the laws in that country.