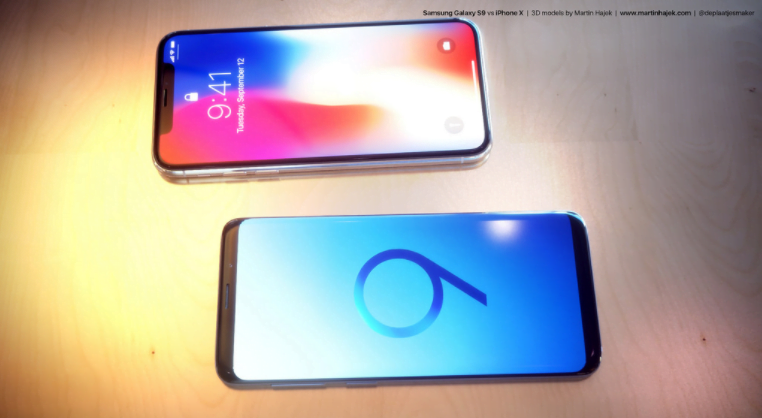 Apple is Samsung's biggest rival in the smartphone market. Samsung's latest and greatest flagship smartphones are compared to the best of Apple. So, the Galaxy S9 vs iPhone X comparisons will be floating around the Internet the moment Samsung unveils its new flagship phones. Consumers and industry experts see the Galaxy S9 and S9 Plus as Samsung's response to Apple's 10th anniversary iPhone, which was jam-packed with exciting new features such as Face ID, Portrait Lighting, a bezel-less design, and Animoji.
Multiple smartphone vendors are gearing up to unveil their flagship smartphones at the MWC, but the Galaxy S9 will command almost all the spotlight at the event. Samsung's press invite for its Unpacked event clearly indicated that the camera will be the biggest highlight of its upcoming smartphones. But the Galaxy S9 and S9 Plus's form factor will be almost identical to that of last year's models.
Will Samsung be able to convince consumers that its phones are superior to the iPhone X – especially with an older design language? Will it come out on top in Galaxy S9 vs iPhone X comparisons? Apple has radically overhauled the iPhone X design. It ditched the physical home button for a fully bezel-less OLED display. Even though Samsung makes OLED screens for the iPhone X, multiple tests have found that the anniversary iPhone's display is even better than Samsung's Galaxy Note 8 flagship. That, coupled with advanced AI capabilities and TrueDepth camera system, puts the iPhone X way ahead of the pack.
Exclusive: Dan Loeb's Two New Stock Picks [Q1 Letter]
Third Point's Dan Loeb discusses their new positions in a letter to investor reviewed by ValueWalk. Stay tuned for more coverage. Loeb notes some new purchases as follows: Third Point's investment in Grab is an excellent example of our ability to "lifecycle invest" by being a thought and financial partner from growth capital stages to Read More
The iPhone X has put a lot of pressure on Samsung to dazzle fans with the Galaxy S9 and S9 Plus. Since the Galaxy S9 will have the same old design, Samsung will have to do a lot to convince people to upgrade to the new flagship especially when people are holding on to their phones for longer than ever. Of course, existing Samsung customers will be comparing it to older Galaxy phones, but the Galaxy S9 vs iPhone X comparison will also be running in the back of their mind, says CNet.
Samsung doesn't need to make as many changed on the Galaxy S9 and S9 Plus as Apple did with the iPhone X. That's because the Galaxy S8 and Note 8 phones already have a fantastic bezel-less OLED display, and the upcoming models are only going to improve upon it. Samsung wouldn't want to put the notch on its flagship models because many Apple users have criticized the iPhone X notch. However, the Korean company needs to upgrade the camera and security. It looks like the Galaxy S9 is going to deliver on both fronts.
Though the Galaxy S9 will have only a single 12-megapixel lens on the back, the larger Galaxy S9 Plus would sport a dual camera setup to allow users to take portrait images. Samsung has also teased that the new phones will come with a super slo-mo feature, blazing fast autofocus, an improved low-light photography, and an Animoji-like feature called AR Emoji that will mimic your facial expressions using the selfie camera.
Samsung is also going to step up the game in security. The Galaxy S9 and S9 Plus would feature an improved facial recognition technology and iris scanner to take on Apple's Face ID. In fact, recent reports suggest that the Korean company would combine the face detection and iris scanning feature to enhance security. It will make it incredibly difficult, if not impossible, for someone to fool the facial recognition with a photo or mask.
Powering the Galaxy S9 and S9 Plus will be the latest and greatest Exynos 9810 or Snapdragon 845 chips, depending on the region. In a recent benchmark test, the larger Galaxy S9 Plus with its 6GB RAM was able to beat the iPhone X. Samsung will also launch the upcoming phones in new colors including Lilac Purple. More importantly, the Galaxy S9 and S9 Plus will retain the 3.5mm headphone jack and offer dual stereo speakers.
In short, the Galaxy S9 and S9 Plus will have all the necessary ingredients to compete with the iPhone X. However, Samsung's primary target will be its existing customers who still own the Galaxy S5, S6, S7 or S7 Edge because not many iPhone users are going to switch from Apple to Android. Even the Galaxy S9 and S9 Plus pricing reflects that Samsung is positioning its phones directly against the iPhone X.
According to noted tipster Evan Blass, the Galaxy S9 and S9 Plus would cost EUR 841 and EUR 997 in Europe for base models. It translates to $1036 for the Galaxy S9 and $1229 for the S9 Plus. The higher storage options could cost even higher. But the US prices tend to be lower than in Europe. According to BGR, the Galaxy S9 will likely cost $850 in the US while its bigger sibling would be priced at $950, which is pretty close to the iPhone X's starting price of $999.
Samsung has all the ammo it needs to win the Galaxy S9 vs iPhone X comparisons. Only time will tell whether consumers will shell out close to $1,000 to buy its flagship phones. The iPhone X witnessed stellar sales during the holiday shopping season. But its sales have declined dramatically in the current quarter due to its high starting price.