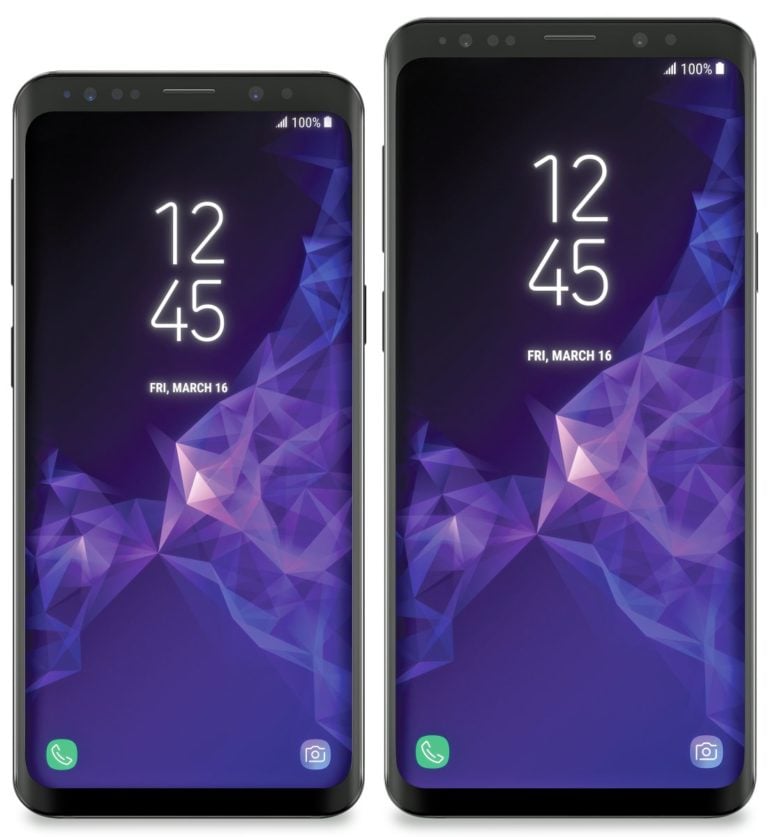 Although the Galaxy S9 and Galaxy S9+ are yet to be released, the internet is charging full speed ahead with Galaxy S10 rumors and leaks.
Galaxy S10 Rumors
If you're in the market for a new phone but can hold off on upgrading for a little bit, these Galaxy S10 rumors seem to suggest that the phone will be packing some serious power. While the S10 is likely a year away at this point and that's a long time to wait without any confirmation of specifications, Weibo leaker Ice Universe has recently leaked some of the specifications of the upcoming phone. Ice Universe has leaked information regarding electronics in the past, and if these Galaxy S10 rumors turn out to be true, it may be well worth the wait.
The Galaxy S10 rumors suggest both serious specifications and new features that might make it one of the most successful Galaxy phones yet. While the Galaxy S9 and S9+ are a clear upgrade over their predecessors, they're larger iterative – looking pretty much exactly like the previous device. Outside of a power bump and improved camera functionality, we aren't really seeing anything new with the S9. The Galaxy S10 rumors, on the other hand, show a bit of a departure from what we've come to expect from Samsung's flagships.
Corsair highlights SPAC FG New America ahead of OppFi merger
Corsair Capital highlighted its investment in a special purpose acquisition company in its first-quarter letter to investors. The Corsair team highlighted FG New America Acquisition Corp, emphasizing that the SPAC presents an exciting opportunity after its agreement to merge with OppFi, a leading fintech platform powered by artificial intelligence. Q1 2021 hedge fund letters, conferences Read More
According to Ice Universe, the Galaxy S10 will feature a custom CPU and GPU configuration, with the manufacturer ditching ARM for graphics processors – instead going for an in-house design. With Samsung manufacturing the Exynos chips, the inclusion of the latest model alongside the high-performance Mongoose core would make for a phone with seriously impressive power.
The current flagships feature UFS 2.1 storage, but the Galaxy S10 rumors suggest that the upcoming phone will feature faster and more efficient UFS 3.0 storage. We'll also see support for 5G, which will no doubt be coming soon to more cell service providers considering Samsung's partnerships with major telecom companies.
Ice Universe also suggested a Galaxy S10 rumor that faster LPDDR5 memory will be included, alongside a new OLED display technology called the M9 series. Reports also suggest that the custom CPU and GPU may also include a Neural Processing Unit to turn the S10 into a capable computing machine.
The Neural Processing Unit may also have applications when using the camera application. By using artificial intelligence, the phone may be able to bring out a more color-accurate image or video. We'll have to wait until we get closer to the release before we have an idea of what exactly might be coming in terms of AI features, as there's certainly a lot of potential there for convenience and power.
Continuing in the same vein as current generation flagships, Galaxy S10 rumors suggest that we'll see something along the lines of a 93 percent screen-to-body ratio. As bezels continue to shrink in order to maximize screen space, Samsung has had to relocate hardware like the fingerprint sensor to the back of the phone. There are rumors that the company is working on an under-display sensor that has been in development for quite some time, too, so we expect we'll see something along that lines included with the Galaxy S10 release.
What We'd Like To See
We hope that these Galaxy S10 rumors courtesy of Ice Universe turn out to be true, because the Galaxy S9 and S9+ honestly didn't have anything particularly exciting to offer. While it definitely provided a power upgrade over the S8, that's pretty much all we got outside of a better camera. If Samsung wants to compete with the likes of Apple in the coming generations, it's time for them to pull out the stops and release a phone with something truly unique to offer.
Perhaps the most notable phone of this generation was the iPhone X, with its novel FaceID feature that offered something we haven't seen before. With the ability to adapt to changing appearances – such as the growth of facial hair or a new pair of glasses – the technology offered an easy and secure way to unlock the phone which translated to some major sales for the tech giant.
If Samsung can emulate this success with the Galaxy S10 while adding the impressive power we're expecting from the rumors they may very well blow Apple out of the water.
With rumors of the Galaxy X and its foldable screen floating around the web, it's clear that Samsung has the capability to provide something novel and useful to the smartphone arena. Whether we see that expertise applied in an expansion of these Galaxy S10 rumors remains to be seen.
It's important to take these Galaxy S10 rumors with a grain of salt, as we haven't even seen the launch of the S9 yet. However, if these rumors turn out to be correct, it may be worth waiting to upgrade for until the coming generation rather than opting for a largely iterative device in the Galaxy S9 and S9+.