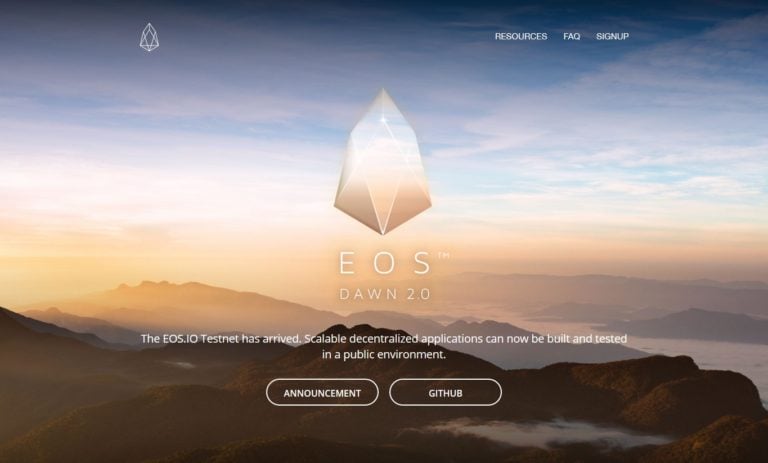 While the EOS claim of being focused on supporting decentralized applications on an industrial scale might sound pretty amazing, the following claims have particularly caught the imagination of the public:-

EOS plans to completely do away with transaction fees
EOS claims to be capable of executing millions of transactions every second
Therefore, let us get deeper into EOS and examine how these and other claims are justified.
Prerequisites of Dapps
The following are among the main features that users would be looking for in Dapps:-
Exodus Point Outperforms As Rates Trading Profits Jump [Exclusive]
Michael Gelband's Exodus Point launched in 2018 with $8.5 billion in assets. Expectations were high that the former Millennium Management executive would be able to take the skills he had learned at Izzy Englander's hedge fund and replicate its performance, after a decade of running its fixed income business. The fund looks to be proving Read More
Support several million users
It should have adequate scalability to cater to millions of users. This is particularly true when the Dapp is targeting mainstream acceptance.
Free to use
The platform should be freely accessible to developers for creating dapps and the platform should not charge the user to avail benefits of the dapp.
Easy to upgrade
Developers should be able to upgrade the dapp whenever they need to. Further, if any bug affects the dapp, the developer should have the ability to fix the dapp without impacting the platform
Low latency
The Dapp should be capable of running smoothly with least possible latency
Parallel Performance
The Platform should provide for parallel processing of the Dapps so that workload can be distributed to save time.
Considering these, Graphene and Bitshares do offer decent throughput though they fall short when it comes to smart contracts. On the other hand Ethereum is the most popular choice of users because of the amazing smart contract abilities it presents though the low speed of transactions and gas price can be issues.
In this context, EOS positions itself as "best of bothworlds" by combining Graphene's high throughput and Bitshares with the smart contract abilities of Ethereum. Thus, we can now appreciate what encouraged the creation of EOS.
"Block.one" sits at the core of EOS and is based in Cayman Islands. The CEO, Brendon Blummer has been associated with blockchain from 2014 and was previously involved with companies dealing in currency exchanges in real estate and MMORPGs. Likewise, the EOS CTO is the man behind DPS or Delegated proof-of-stake and DAOs or decentralized autonomous organizations. He is also the architect of Steem and Bitshares.
Features that Distinguish EOS
Scalability
Scalability is a significant problem with the blockchain space. Visa handles some 1667 transactions every second while Paypal handles some 193 transactions every second. Compared to this, Bitcoin clocks just about 3 to 4 transactions while it is about 20 transactions in the case of Ethereum. The trouble with Bitcoin in terms of speed is that every node in the network must reach a consensus for any transaction to be completed.
EOS claims that the DPOS employed them can easily overcome this issue and execute millions of transactions every second.
Flexibility
A DAO attack brought Ethereum to a grinding halt with everything stopping and the community itself getting split on account of the hardfork. This scenario is unlikely with EOS since it employs DPOS . When a Dapp is found to be faulty, it can be frozen by the block producers elected, till the system is debugged. Every node in the network need not bother about chain maintenance and that is an extension within the DPOS system.
Usability
By incorporating features such as web toolkit for developing interface, database schemes and interfaces that are self-describing, EOS allows well-defined levels of permission as well as a permission scheme that is declarative.
Governance
EOS maintains governance by defining the jurisdiction and choice of law together with other rules that are mutually accepted. Usually, this is achieved through the legally binding constitution. Each EOS transaction is required to include the hash of the signature constitution. In essence, this binds the user to the defined constitution. The protocol and constitution can also be amended through a well defined process. This in turn helps block producers to speed up the process of amendments when a DAO happens and the EOS system needs a quick solution and change to the protocol.
Parallel Processing
Parallel processing involves dividing program instructions among different processors. This helps in reducing the running time for the particular program significantly. EOS offers parallel processing for smart contracts using asynchronous communication, horizontal scalability and interoperability.
Self-sufficiency
Any EOS software based blockchain is required to generate 5% inflation every year. This will get distributed to the block producers on the platform in relation to their confirmation of transaction on the platform and the top three proposals or smart contracts receiving the maximum number of votes from those who hold such tokens. This will also ensure that a blockchain never relies on a single organization or foundation, or individual for growth, maintenance or development.
Decentralized OS
This is perhaps the most critical part of EOS and we can think of Windows/MacOS with the cryptoeconomic incentivee. In contrast, Ethereum can be defined as a decentralized supercomputer where EOS is positioned as an operating system itself. This singular factor, at least theoretically makes EOS, a product that is more focused.
End note
Some ICO reviews for EOS have commented that the ownership model of EOS provides the DAPP developers with hosting costs that are predictable and they are only required to maintain a certain level or percentage of stake and that helps them create fermium applications. These reviewers further opine that since people who hold the EOS tokens can delegate/rent their resources to other needy developers, the ownership model links the EOS token value to the supply/demand as well as storage and bandwidth.
To dig deeper into EOS, you can go here.
Updated on