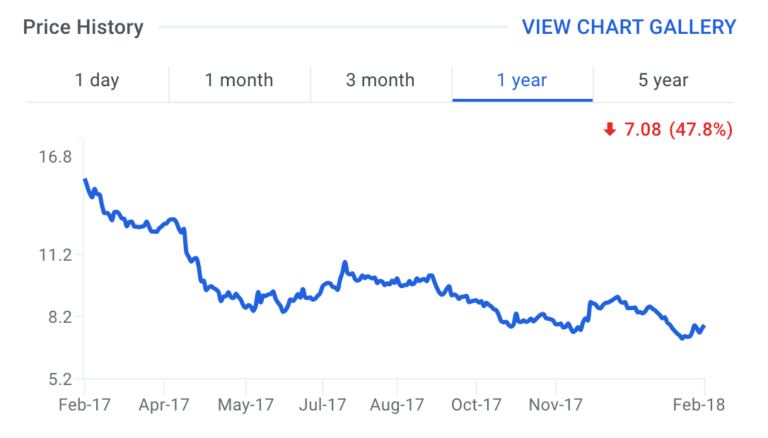 A DDR Corp insider bought $9.4 million worth of stock on Thursday. This transaction is notable considering who's purchasing and the stock's low valuation.
[REITs]
Check out our H2 hedge fund letters here.
These Are John Buckingham's Stock Picks For 2021
The economy remains in distress, although there are signs of recovery underway. John Buckingham of Kovitz, editor of The Prudent Speculator newsletter, has found that value stocks typically outperform coming out of economic downturns. Thus, he argues that this is an excellent time to be a value investor. Q4 2020 hedge fund letters, conferences and Read More
---
Insider Buying: DDR Corp
Alexander Otto, Board Member and 10% owner, bought 1,245,942 shares of DDR Corp (NYSE: DDR) worth a total of $9.4 million on Wednesday and Thursday of last week.
Recent DDR Corp. Insider Transactions

| Insider Trading | Relationship | Date | #Shares | Value ($) |
| --- | --- | --- | --- | --- |
| Alexander Otto | Director | Feb 22 | 736,569 | $5,628,492 |
| Alexander Otto | Director | Feb 21 | 509,373 | $3,813,319 |
| | | TOTAL | 1,245,942 | $9,441,811 |
DDR is an owner and manager of 286 value-oriented shopping centers representing 97 million square feet in 33 states and Puerto Rico.
Mr. Otto has served as the Chairman and Chief Executive Officer at ECE Project Management since 2000 which develops, manages and invests in shopping centers. As CEO of a major international commercial real estate developer and management company, Mr. Otto has over 20 years of experience in the global retail real estate industry. His experience enables him to contribute to Board's focus on corporate strategy, optimizing operations, improving transactional activity and enhancing management.
This helps make his recent purchases very interesting, especially as the stock has lost nearly half its value in the last year. Could the recent insider transaction signal that shares have hit a bottom?
The company's shares last traded at $7.80 as of Monday, approximately 52.0% of its 52-week high.
Finbox.io applies pre-built valuation models to calculate a fair value for a given stock and uses consensus Wall Street estimates for the forecast when available. Three separate models calculate an average fair value of $9.82 which implies 25.9% upside as shown in the table below.
The company's dividend yield helps make the stock look even more attractive. Dividend yield represents cash returned to shareholders for each dollar invested. Dividend yield plus the change in stock price (capital gain) represents the total return on an investment for shareholders.
The company's dividend yield of 9.8% is above the majority of selected comparable public companies.
---
How Should You Interpret this?
While executives are always happy to tell you all the reasons why their stock is a buy, their actions can tell a different story about the company's future prospects. A trend of buying activity may indicate that insiders think the stock is going up over the upcoming time period, and are trying to buy before the price rises.
Keep in mind that insider activity is only one aspect of stock research and that there are other important items to consider. I recommend you continue to research DDR Corp to get a more comprehensive view of the company's fundamentals by looking at:
Valuation: what is DDR Corp's price to book ratio and how does it compare to its peers? Analyze Price / Book here.
Risk Metrics: what is DDR Corp's CapEx coverage? This is the amount a company outlays for capital assets for each dollar it generates from those investments. View the company's CapEx coverage here.
Efficiency Metrics: is management becoming more or less efficient in creating value for the firm? Find out by analyzing the company's return on invested capital ratio here.
Article by Matt Hogan, Finbox.io