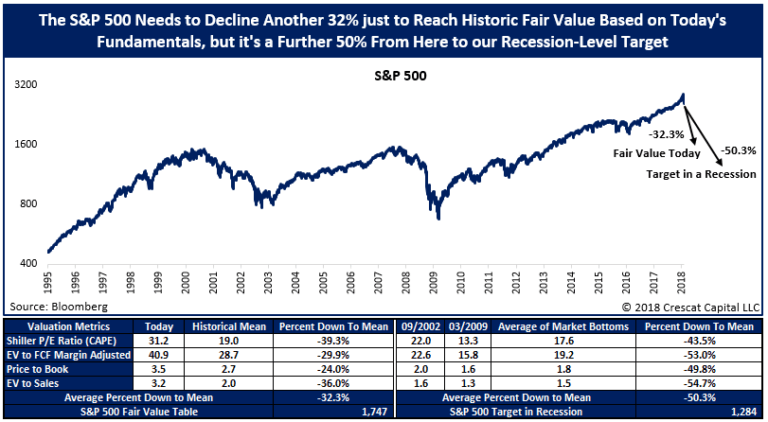 Crescat Capital email to investors
Also see
Crescat

Global Macro up 11.7% Since Market Top

In less than a week, Crescat has broken away from the market:

Marathon Partners: There Is A "Compelling Opportunity" In US Cannabis
Marathon Partners Equity Management, the equity long/short hedge fund founded in 1997, added 8.03% in the second quarter of 2021. Q2 2021 hedge fund letters, conferences and more According to a copy of the hedge fund's second-quarter investor update, which ValueWalk has been able to review, the firm returned 3.24% net in April, 0.12% in Read More
In November, we showed that the market was record overvalued across six fundamental indicators. Last month, we released a new macro model using fifteen indicators that showed US stocks were overdue for a significant bear market.
While there will no doubt be some bounces, we strongly believe that this is only the beginning of a significant bear market that will witness the bursting of multiple global asset bubbles and send the world economy into a recession.
We believe the synchronized global growth narrative that has been so popular recently is simply wrong. The truth based our extensive analysis, is that China's economy, the largest global growth engine of the last decade, is sputtering badly.
Today, with the surprise decline in China's trade surplus, it appears that the next phase of the yuan devaluation has finally begun.
Coincidentally, the new Bloomberg Markets Magazine is just out with an article on China. Crescat view on the yuan is cited therein.
We have heard certain market mavens come on and say there is cash on the sidelines to buy the dip. These claims have been made without any support in the form of data or analysis. Our data and analysis show the exact opposite. Data from Goldman Sachs, Bank of America Merrill Lynch, Schwab, and Morgan Stanley all show record leverage and record net long positioning in equities across hedge funds, institutions, and retail investors. Our data also shows record corporate leverage net of cash which is the opposite of record cash for buybacks.
We believe we are in an historic, global central-bank-driven debt bubble that has only just begun to burst.
Sincerely,
Crescat Capital