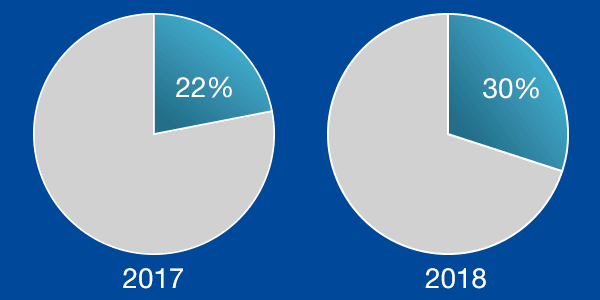 What the activism world is talking about
There were lots of activist stocks among the worst affected by Monday's sell-off, including Arconic, Hess, General Electric, Cypress Semiconductor and CSX. Yet corrections offer benefits to activists too, and many will be excited about new opportunities falling into their price range. Also pleasantly surprised will be short sellers who endured a tough 2017. Citron Research target Nvidia and Spruce Point Capital target iRobot both tumbled yesterday. This could be the beginning of an interesting time in activism…
January has been a month of ups and downs for activist investors, with some funds reporting large gains while others find themselves heading toward the red. Daniel Loeb's Third Point Ultra and Third Point Offshore scored big last month, with increases of 5.5% and 3.7%, respectively. The funds mainly benefited from the rise in tech stocks and the Nasdaq Composite Index, including its second-largest investment, Alibaba Group. On the flip side, David Einhorn's Greenlight Capital and Greenlight Offshore fell 6.6% and 6.0%, respectively. Einhorn told investors his fund's underperformance stemmed from the fact that many of its short positions rose by at least 15%, outperforming its long investments. "As we were in the batter's box so to speak, it felt like we were swinging well and hitting the ball hard," Einhorn wrote in an investor letter published January 16. "We just didn't deliver a satisfactory result on the scoreboard." With February off to a rough start, it may be a better opportunity for adding to the portfolio than for harvesting gains.
Seth Klarman Describes His Approach In Rare Harvard Interview
In a rare interview with Harvard Business School that was published online earlier this month, (it has since been taken down) value investor Seth Klarman spoke at length about his investment process, philosophy and the changes value investors have had to overcome during the past decade. Klarman's hedge fund, the Boston-based Baupost has one of Read More
What we'll be watching for this week
Will Qualcomm accept Broadcom's raised takeover offer amid rising pressure from Elliott Management to increase its own offer at NXP Semiconductors?
Will two dissident shareholder groups gain board representation at Xinhua News Media after investors vote for or against their five nominees at the company's extraordinary meeting February 12?
Will media corporations CBS and Viacom agree to a transaction now that both companies have established special committees to evaluate a merger?
Activist shorts update
Shares in electronic system manufacturer OSI Systems traded down more than 18% Thursday after the company announced that it is under investigation by the U.S. Securities and Exchange Commission (SEC) and the Department of Justice (DOJ) following the publication of two short reports by Muddy Waters Research. In December, the short seller accused OSI of obtaining a major turnkey contract in Albania through corruption and on Thursday it published a follow-up report building on its previous allegations.
Hours after the second report hit the wire, OSI announced that the SEC had commenced a probe into the company's compliance with the Foreign Corrupt Practices Act (FCPA). The company also said the SEC and DOJ are examining the trading of OSI's securities and have "subpoenaed information regarding trading by executives, directors and employees, as well as company operations and disclosures in and around the time of certain trades."
"We applaud the @TheJusticeDept and @SEC_Enforcement for moving quickly to investigate $OSIS for bribery. It's always good to see that FCPA matters," Muddy Waters tweeted in response.
Chart of the week
So far this year (as of February 2, 2018), 30% of companies publicly subjected to activist demands operated in the services sector, up from 22% in the same period in 2017.
For bespoke data requirements, contact our team at support@activistinsight.com or subscribers of Activist Insight Online can visit our interactive statistics page.
Article by Activist Insight
Updated on