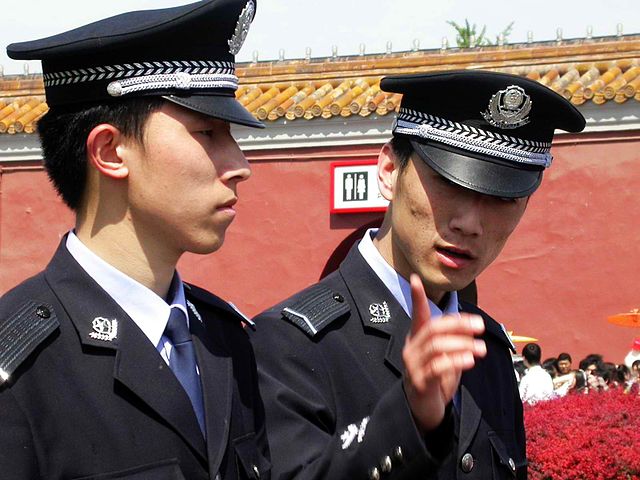 Chinese police are testing out a new weapon in their surveillance arsenal – facial recognition sunglasses. According to The Verge, the facial recognition sunglasses are currently being tested at train stations in Zhengzhou.
Zhengzhou often referred to as the new "emerging megacity," is the capital of the east-central Henan province, as well as a major transportation hub for Central China. Citing reports from local media, The Verge says that the new facial recognition sunglasses will be used to scan travelers during the upcoming Lunar New Year migration.
The Lunar New Year is a period of extremely busy holiday travel and is often described as the largest human migration event on Earth.
Dan Sundheim Founder Of D1 At Sohn 2021 On His Favorite Stock
At this year's Sohn Investment Conference, Dan Sundheim, the founder and CIO of D1 Capital Partners, spoke with John Collison, the co-founder of Stripe. Q1 2021 hedge fund letters, conferences and more D1 manages $20 billion. Of this, $10 billion is invested in fast-growing private businesses such as Stripe. Stripe is currently valued at around Read More
Chinese police have said that the facial recognition sunglasses have already been put to use, and have even been used to capture seven suspects wanted in major hit-and-run and human trafficking cases investigated by the local law enforcement. According to The Verge, 26 individuals traveling under false identities have also been arrested thanks to the new facial recognition sunglasses technology.
The facial recognition sunglasses used by the police are the latest component in China's burgeoning tech-surveillance state. In recent years, China has been pouring an incredible amount of resources into various tracking technologies, as well as developing artificial intelligence that would be used to identify individuals and digitally tail them around cities.
With Q Daily estimating that China will have more than 600 million CCTV cameras by 2020, the fact that Chinese tech startups are racing to provide the government with advanced features such as gait recognition comes as no surprise.
According to a report from The Wall Street Journal, the facial recognition sunglasses that are currently being deployed in Zhengou are built by Beijing-based LLVision Technology Co. Founded in 2007 by Eric Gishoma, a computer engineer, LLVision Technologies has become a key player in IT and security system domains in China.
The company's chief executive Wu Fei told The Wall Street Journal that LLVision partnered with local police to develop the technology that would suit their needs. According to Wu, the main challenge any facial recognition software faces is struggling to identify images from CCTV cameras. The images, said Wu, are often blurry and hard to decipher, making it hard for the software to identify the target in time.
The facial recognition sunglasses, on the other hand, have given police "the ability to check anywhere," Wu added. "By making wearable glasses, with AI on the front end, you get instant and accurate feedback. You can decide right away what the next interaction is going to be."
Controlled by a connected mobile unit, the facial recognition sunglasses sell for 3,999 yuan, or around $640. According to a spokesperson from LLVision, the facial recognition sunglasses are able to recognize individuals from a pre-loaded, handheld database of around 10,000 suspects in just under 100 milliseconds. However, the company added that accuracy levels in real-life usage may vary slightly due to "environmental noise" and other outside factors.
The company, which also produces wearable video cameras, isn't selling their facial recognition sunglasses to consumers, Engadget reported.
However, despite the incredible advancement in technology that comes with any facial recognition technology, not everyone is happy about the new surveillance technology.
The flexibility of the device like the facial recognition sunglasses is especially worrying for privacy advocates, who say that it is being deployed without adequate oversight. Many citizens have also voiced their concerns about wearable surveillance devices such as the facial recognition sunglasses giving considerately more power to the government. In China, where law enforcement can track and surveil any citizen they want with complete freedom, the fear of living in an Orwellian police state isn't all that unjustified.
As the first facial recognition sunglasses are being used by police, a much larger facial recognition system is also being developed in China. The South China Morning Post reported on a 1.3 billion-person facial recognition system being developed by Isvision, a security company based in Shanghai.
Despite the company stating that its project team has encountered "unprecedented challenges" due to the government's high demands for speed and accuracy back in October 2017, it seems that the facial recognition technology advancements have already started to pick up the pace.
However, not everyone believes this kind of technology should be used by the police, especially not it in China. Amnesty International's William Nee told the Wall Street Journal, "The potential to give individual police officers facial recognition technology in sunglasses could eventually make China's surveillance state all the more ubiquitous."
With reports surfacing last month that China was using facial recognition technology to geo-fence residents of Muslim-dominated Xinjiang region of the country, a large number of human rights groups have strongly opposed this move.
As this time of the year is the busiest travel period in China, with around 400 million train trips and 65 million flights expected to take place during the Lunar New Year, we are still to see how much of a security boost facial recognition sunglasses will be able to give Chinese police.