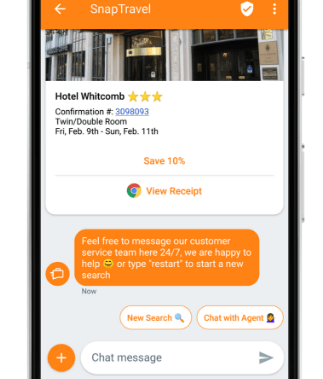 Google is opening up it's RCS messaging service for businesses. Touted as the next-gen SMS service, Rich Communication Services (RCS) allows businesses to send a more meaningful message to Android users.
In simple terms, the businesses can send the messages enriched with multimedia content to the users, thus offering a better perspective along with useful information. The businesses would be able to send content rich messages such boarding passes, package delivery notifications, credit card fraud alerts and so on. Further, these messages can include a reply option or actions that a user can take (like reschedule, change in seat, etc.).
For example, a retailer can use RCS to send product images instead of a text message, and even allow the user to select and buy something, without leaving the messaging app, Google said. "Best of all, customers who have already opted in to SMS messages from a business get this upgraded experience automatically in Android Messages," Google said in a blog post.
Jim Chanos Unveils Lastest Short As Fund Manager Bets On Further Market Declines
Jim Chanos has a new short target in his sights. Earlier this week, the hedge fund manager disclosed that he is betting against "legacy" data centers that face growing competition from the trio of technology giants, which have previously been their biggest customers. The fund manager, who is best known for his winning bet against Read More
In an announcement on Thursday, the search giant said that the RCS platform is already being used by more than 40 carriers and device manufacturers, an increase from 27 last year. Various carriers taking part in the project currently are AT&T, America Movil, Globe Telecom, Deutsche Telekom, Orange, Sprint, Rogers and more. Original equipment manufacturers who participated in the program are BLU, TCL, HTC, HMD Global, Kyocera, ZTE and Motorola.
"We've been partnering with the mobile industry to improve the messaging experience on Android with RCS (Rich Communication Services), bringing more enhanced features to the standard messaging experience on mobile devices," Google said.
Since last year, the search engine giant has been piloting the service with various businesses, including Sprint, 1-800 Contacts, 1-800 Flowers, Booking.com and more. Google plans to take the feature for a global spin, but as of now, it has not mentioned the regions where the service would debut, notes AndroidHeadlines.
While many big names are coming out in support of it, a few like Apple and Xiaomi are staying away at least for now. Microsoft has come on board as well, batting for the Universal Profile, notes The Verge. Coming on board does not guarantee that all the companies are really interested in implementing the technology. However, they seem to believe in Google's vision for now.
It is a GSM standard service, and Google has deployed it on the Android platform to differentiate its messaging service from Apple's iMessage service. The RCS messaging would use Android Messages as the default messaging app. This means that more countries and smartphone manufacturers would eventually get their hands on this multimedia messaging service moving forward.
On the privacy front, the arrangement is not very comforting. Google says that RCS will have to follow the same legal rules as SMS. These messages are encrypted on their way to the recipient, but are not end-to-end encryption, notes The Verge.
Google's announcement comes just days before the Mobile World Congress (MWC). It is no surprise that the company wants to gain as much attraction as it can for its messaging service ahead of the big event.
Updated on