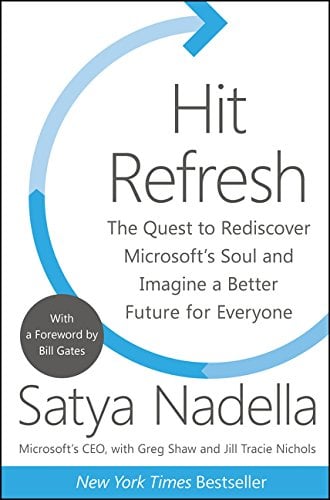 Satya Nadella, the CEO of Microsoft sits down with Professor Adam Grant to talk about his new book Hit Refresh: The Quest to Rediscover Microsoft's Soul and Imagine a Better Future for Everyone. The event, part of the 2017-2018 Authors@Wharton Speaker Series took place on Tuesday, February 6th and took place at the University of Pennsylvania's Irvine Auditorium.
Authors@Wharton Speaker Series Presents Satya Nadella
Satya Nadella: Hit Refresh - Book Review
Macro Hedge Funds Earn Huge Profits In Volatile Macro Environment
With the S&P 500 falling a double-digit percentage in the first half, most equity hedge fund managers struggled to keep their heads above water. The performance of the equity hedge fund sector stands in stark contrast to macro hedge funds, which are enjoying one of the best runs of good performance since the financial crisis. Read More
Hit Refresh: The Quest to Rediscover Microsoft's Soul and Imagine a Better Future for Everyone by Satya Nadella
"At the core, Hit Refresh, is about us humans and the unique quality we call empathy, which will become ever more valuable in a world where the torrent of technology will disrupt the status quo like never before." – Satya Nadella from Hit Refresh
"Satya has charted a course for making the most of the opportunities created by technology while also facing up to the hard questions." – Bill Gates from the Foreword of Hit Refresh
The New York Times bestseller Hit Refresh is about individual change, about the transformation happening inside of Microsoft and the technology that will soon impact all of our lives—the arrival of the most exciting and disruptive wave of technology humankind has experienced: artificial intelligence, mixed reality, and quantum computing. It's about how people, organizations, and societies can and must transform and "hit refresh" in their persistent quest for new energy, new ideas, and continued relevance and renewal.
Microsoft's CEO tells the inside story of the company's continuing transformation, tracing his own personal journey from a childhood in India to leading some of the most significant technological changes in the digital era. Satya Nadella explores a fascinating childhood before immigrating to the U.S. and how he learned to lead along the way. He then shares his meditations as a sitting CEO—one who is mostly unknown following the brainy Bill Gates and energetic Steve Ballmer. He tells the inside story of how a company rediscovered its soul—transforming everything from culture to their fiercely competitive landscape and industry partnerships. As much a humanist as engineer and executive, Nadella concludes with his vision for the coming wave of technology and by exploring the potential impact to society and delivering call to action for world leaders.
"Ideas excite me," Nadella explains. "Empathy grounds and centers me." Hit Refresh is a set of reflections, meditations, and recommendations presented as algorithms from a principled, deliberative leader searching for improvement—for himself, for a storied company, and for society.
Review
"In this thoughtful debut, the Indian-born Nadella tells the story of his personal life and his work as a change-making leader, and he explains the coming importance of machine intelligence. The author emerges as a modest, likable individual from an accomplished family… A valuable blueprint for techies and others in a culture-change state of mind." (Kirkus Review )
About the Author
Satya Nadella is Chief Executive Officer of Microsoft. Before being named CEO on February 4, 2014, Nadella held leadership roles in both enterprise and consumer businesses across the company.
After Joining Microsoft in 1992, Nadella quickly became known within the company as a leader who could span a breadth of technologies and businesses to transform some of the world's best known and most used products.
Originally from Hyderabad, India, Nadella now lives in Bellevue, Washington. He holds a bachelor's degree in electrical engineering from Mangalore University, a master's degree in computer science from the University of Wisconsin, Milwaukee and a master's degree in business administration from the University of Chicago. Nadella is married and has three children. In his spare time, he loves to read poetry and follows cricket, a sport he played in school.
Updated on