Apple Inc. (NASDAQ:AAPL) stock rallied on Monday after throwing up yet another sell signal for recent investors in less than a month as it tumbled below its 200-day moving average, which was $159.56 per share. According to MarketWatch, the last time Apple stock fell below its 200-day moving average was in late July 2016. Analysts still had plenty to say about AAPL on Monday even after Friday's deluge of post-earnings notes.
However, analyst commentary shifted from earnings to iPhone channel inventory as they dissected the company's 10-Q filing.
Apple stock slips on elevated iPhone channel inventory
Apple stock slipped into official correction territory on Friday, and unfortunately for perma-bulls, it doesn't look like the volatility will end any time soon. Today the problem is again iPhone-related as multiple firms pointed to evidence of elevated iPhone channel inventory.
Worm Capital July 2020 Performance Update: Up 152% YTD
Worm Capital performance update for the month ended July 31, 2020. Q2 2020 hedge fund letters, conferences and more Long/Short Equity Growth Strategy Net Performance Long-Only Equity Growth Strategy Net Performance
Morgan Stanley analyst Katy Huberty is one of a shrinking list of analysts who still have the equivalent of a Buy rating on Apple stock. She said in her note about the company's 10-Q filing that the company's off-balance sheet commitments, vendor non-trade receivables and inventory are all at record highs.
She explained that Apple's reported balance sheet inventory and component inventory sent to manufacturers (recorded as vendor non-trade receivables) combined grew 41% quarter over quarter in the December quarter, marking the biggest sequential increase since 2013. She also said that the average increase in the previous three years was only 12%.

She added that most of the increase came from component inventory, which has previously been correlated to Apple's sales growth. While bears see this as another sign of weakening iPhone sales, Huberty downplayed it, saying that she believes the main driver is Apple's direct purchases of components instead of through its manufacturing partners. As a result, she explained that this could just mean that this metric will no longer predict the company's future sales growth.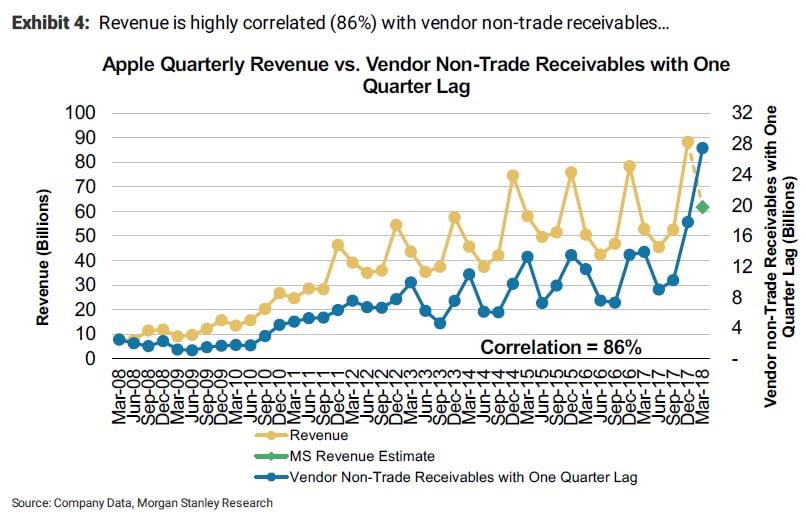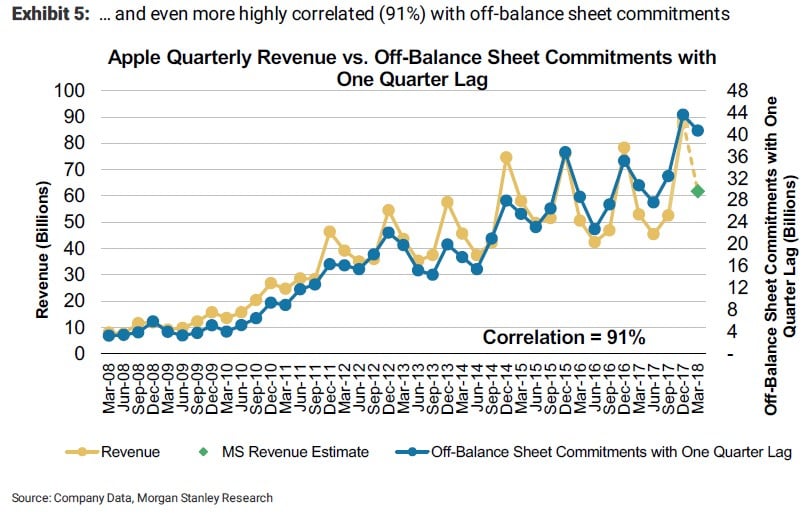 Did Apple really slash iPhone X builds?
Huberty also offered a bullish assessment of Apple's off-balance sheet purchase commitments for outsourcing and components at the end of December, which she describes as the company's "commitment to manufacture product and purchase components in the near future." She said this line increased 40% year over year and fell 11% sequentially, less than the 1% three-year seasonal decline.
Her assessment of this is that it could suggest "a robust growth outlook or that the company revised its view of demand after the end of the quarter." If she's correct, then it could indicate that the many reports suggesting that the company had slashed iPhone X builds in half are incorrect or, at least, outdated.
A lingering question for Apple stock
Wells Fargo analyst Aaron Rakers offered his own commentary on iPhone channel inventory based on Apple's earnings call. He also pointed to mixed conclusions with similar findings on the earnings call. Apple management said the iPhone X was the most popular model in every week since it launched in early November.
They also said that iPhone channel inventory was toward the low end of their targeted five- to seven-week range. Further, channel inventory grew by less than 1 million year over year, compared to the "historical disclosure of channel inventory increase / decrease on a sequential basis," Rakers added. As a result, he wondered whether this implies a sequential iPhone channel inventory increase of more than 3.5 million. He said he's waiting for clarification from Apple on that.
Apple stock climbed by about 1% to as high as $163.88 on Monday in intraday trading after falling as low as $158 early in the day.