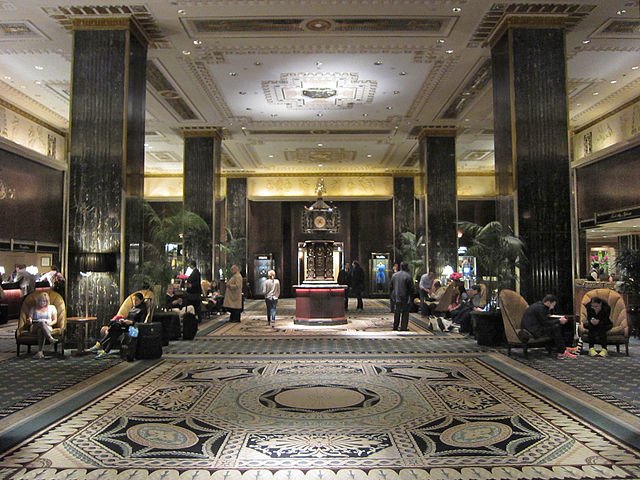 The fallout from the Anbang takeover comes at a time when Chinese conglomerates, many of whom when on a purchasing spree by leveraging their balance sheet beyond practical norms, are now being forced to sell their trophy properties. While the unwind is orderly, it shouldn't come as a surprise — particularly as Chinese regulators had signaled the move previously, a Morgan Stanley report observed in July 2017.

David Abrams Explains How To Value Stocks
Continued from part one... Q1 hedge fund letters, conference, scoops etc Abrams and his team want to understand the fundamental economics of every opportunity because, "It is easy to tell what has been, and it is easy to tell what is today, but the biggest deal for the investor is to . . . SORRY! Read More
A July 2017 Morgan Stanley report, "Why China's Capital Controls Matter to Global Property Markets, discussed China's deleveraging their vast real estate holdings at the behest of regulators long before headlines were made.
Pointing to tighter regulation that was putting breaks on runaway leverage usage, it noted China's overseas direct property investment (ODI) fell 82% in in the first half of 2017 alone.
The report came in the wake of a massive spending spree by Chinese buyers such as Anbang, HNA and the Dalian Wanda Group going on a spending spree without precedent.
Anbang's $1.95 billion purchase of the Waldorf Astoria in 2014, shelling out nearly $1.4 million per room – a then unheard of level – raised eyebrows of those who didn't see a sustainable revenue model. Likewise, Anbang's $6.5 billion purchase of the Strategic Resorts Group in 2016, which included New York's Essex Hotel, the Hotel Del Coronado in San Diego and the Four Seasons hotel in Washington DC, was an eyebrow raiser.
Now these deals are unwinding at a slightly faster pace, but not at "fire sale" pace as of yet.
Anbang is expected to put the Waldorf Astoria on the market, which has fallen since the initial takeover. This, coupled with the fact they overpaid in 2014, is likely to result in a meaningful loss.
China's HNA was reported earlier this month trying to sell off their real estate assets, which were the easiest to unwind as the ownership is relatively straightforward. On the market, according to a Bloomberg report, is 245 Park Avenue, which HNA paid $2.21 billion for in 2017, one of the highest prices paid for office space. The firm also sold a $90 million Manhattan mansion on the Upper East Side after holding it for less than a year.
In addition to New York, the company is looking to unload nearly $4 billion on holdings in Chicago, San Francisco and Minneapolis.
Dalian Wanda Group is unwinding its investment in Chicago's Vista hotel and condominium complex after pledging support for the project a year earlier.
In the US, China is the second-largest foreign investor and made up fully 30% of all Manhattan transactions year to date, Morgan Stanley noted in July 2017. In the UK, the Chinese accounted for 25% of Central London commercial property acquisitions in 2016, a situation Morgan Stanley was then "closely monitoring."
The top four commercial markets for Chinese investment, according to the report, where New York, San Francisco, Chicago and Los Angeles, with Vancouver, a city in the throes of what is categorized as a property "bubble," receiving a significant investment from Chinese individuals. Demand in the Canadian city was reported as "sluggish" even in 2017, a time when the Chinese government was tightening the reigns of foreign capital flight.
In July, Morgan Stanley saw the writing on the wall:
Capital controls have already curtailed Chinese investment in real estate overseas. Over the past several years, Renminbi depreciation fears and lower domestic returns have spurred Chinese CRE investments, particularly in the US, Hong Kong, Australia, and the UK. Late last year, policymakers announced measures to curb "irrational" overseas investment in the "negative list," which includes real estate, hotels, cinema, media, sports clubs, and non-core businesses. Our China property analyst reports that property developers are now struggling to transfer capital offshore and that regulators are tightening offshore financing.

.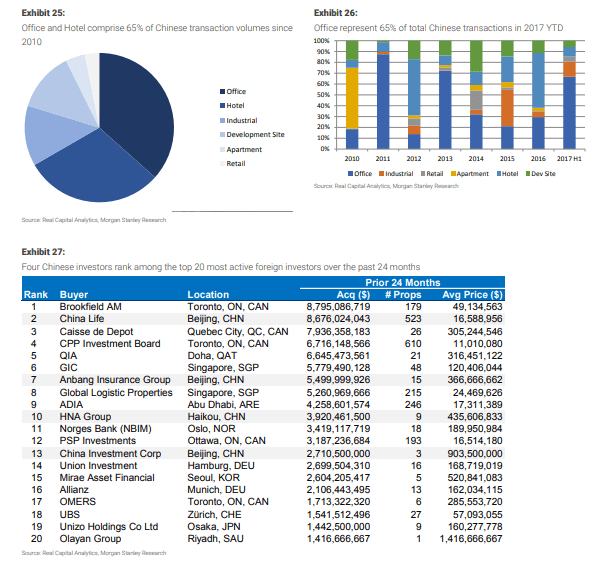 ..................
You know the deleveraging, and anti-corruption crackdown in China is getting serious when highly connected politicos such as Wu Xiaohui, founder of Anbang Insurance Group Co., is prosecuted for "economic crimes."  In what the BBC categorizes as "an unusual move," the financial services company was taken over by the government. The highly leveraged firm is a mirror of the problems Chinese leaders face when de-leveraging and cleaning up the nation's financial sector, and addressing it has been a priority recently.
Anbang's leveraged $1.95 billion purchase of New York's landmark Waldorf Astoria hotel turned heads as much as a failed $14 billion bid for the Starwood hotel chain and selling questionable investments products. But when the tide went out, and Chinese President Xi Jinping and his anti-corruption and de-leveraging looked at Anbang, they decided to take over "one of China's richest and most opaque conglomerates" and address problems before they spilled out into public view and the economy.
China's economy had been on a similar path to that of Anbang, with government leverage, measured by debt to GDP, significantly moving higher.
Along with this came significant debt and borrowing by Chinese corporates, many of whom thought they had the implicit backing of the government if their business failed. The decision to shut down Anbang was made after illegal activities at the insurer were considered to be endangering its solvency.
Friday's move shows that the government is serious about reining in potential fraud and excessive leverage that cannot be supported by fundamentals, even if it means challenging "one of the most politically-connected men in China."
Wu married the grand-daughter of former leader Deng Xiaoping and started a car insurance company with state-owned backing, leveraging the firm's balance sheet to purchase an international portfolio of properties and corporations. The ownership of the private company is not known nor are its actual liabilities relative to income.
"The motivation in Anbang's case probably is not just about delivering a warning shot, however, but probably some also real concerns that the company was heading for insolvency and the impact this would have on retail investors that purchased products from the company," Tom Rafferty of the Economist Intelligence Unit told the BBC.
The message is two-fold: Chinese corporates need to address their balance sheet and are responsible for financial products they create that may damage the economy as a whole.
"Given the determination exhibited by Beijing, and the public example of Wu Xiaohui's cinematic implosion, China's 'crocodiles' will undoubtedly redouble their efforts to address their balance sheets," Brock Silvers, managing director at Kaiyuan Capital, a Shanghai-based multi-asset advisory firm, told Bloomberg.
Chinese authorities first detained Wu in June but charged him today, just ahead of the ruling Communist Party holding behind closed door meetings to discuss government restructuring and personnel appointments.
The government takeover of the private firm is expected to last one year and involve in an unwind of certain assets with strategic shareholders expected to inject capital. After the unwind, which could take more than a year, the firm is expected to remain a private enterprise.
The market reaction was positive to the news because "there is not going to be a fire sale anymore," Bloomberg Intelligence's Danian Sassower said Friday morning on Bloomberg TV.
It isn't just a positive for those financial services shares that operate in Anbang's space, but "this is credit positive for China," Sassower said, noting credit default SWAPS, a measure of Chinese risk, had been down 60%.