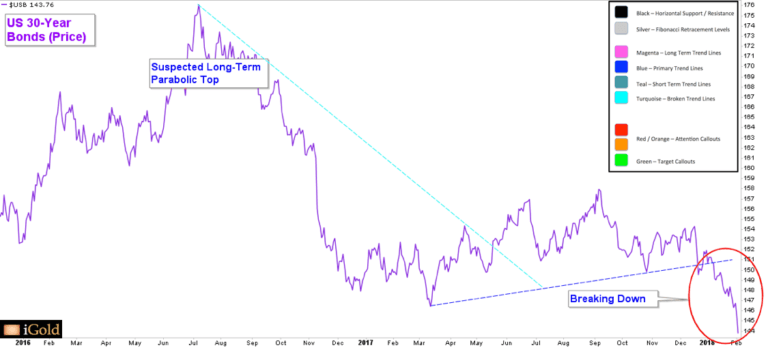 Despite a tough week for stocks into Friday, February 9, three big picture macro indicators have continued to support a risk 'on' backdrop. Many of the shorter-term indicators we watch, like Junk bond ratios and the Palladium/Gold ratio say the same thing. Junk/Treasury and Junk/Investment Grade are threatening new highs and as we have noted in NFTRH updates all through the recent market volatility, Palladium (cyclical) got hammered vs. Gold (counter-cyclical), but only to test its major uptrend. Now the ratio is bouncing with the market relief that is so predictably taking hold (here's a public post where we effectively called bullish, in-day on that Friday).
As for the bigger macro indicators, the middle one, Amigo #2 (long-term interest rates) has that funny look on his face because he is bracing for something.
Amigo #2 is probably going to encounter some resistance here because as noted in a previous post, the sentiment backdrop favors bonds right now. Against a range of portfolio long stock positions I've done some balancing not only with a few strategic short positions but yes, 3-7 year and 7-10 year Treasury bonds… the same bonds that are supposedly in a new bear market. If people liked them at the previous very low interest rates, they should love them now. But alas, that is not the way markets work.
Hedge Fund Launches Jump Despite Equity Market Declines
Last year was a bumper year for hedge fund launches. According to a Hedge Fund Research report released towards the end of March, 614 new funds hit the market in 2021. That was the highest number of launches since 2017, when a record 735 new hedge funds were rolled out to investors. What's interesting about Read More
On Feb. 12 we noted that the risk in the Treasury Bond market is in not having any Treasury Bonds and since presenting the sentiment and Commercial hedging data supporting a contrarian bullish view on the 10yr, the 30yr has improved as well to a contrary bullish stance. Here are the latest readings, courtesy of Sentimentrader.
The public has really taken the 'inflation trade' that we've been working on since December, to heart.
Thus concludes another update of our happy-go-lucky macro men on horses. While long-term interest rates are approaching a logical limit point (whether temporary or otherwise), they are not actionable in real time as a negative indicator. How often have we seen the stock market simply spin a new reason to be bullish? We've anticipated a stock market rise with yields under an inflationary regime, but a pause or gentle decline in yields would work well with a temporary return of the Goldilocks spin.
Bottom Line
The macro is intact to a risk 'on' situation, even if some of the dynamics may soon change beneath the surface. That view may very well encompass an A-B-C correction to the nominal SPX per this chart's negative speculation. As the SPX finished the week a hair above our preferred bounce resistance, it also opens the prospect of a try at the two upper gaps or even bull market continuation, with the recent scare having been all there would be as a bullish sentiment cleaner. Next week should be telling, but as for the Amigos, they are still riding and so the macro is still fully intact until they hit targets or abort.
Updated on