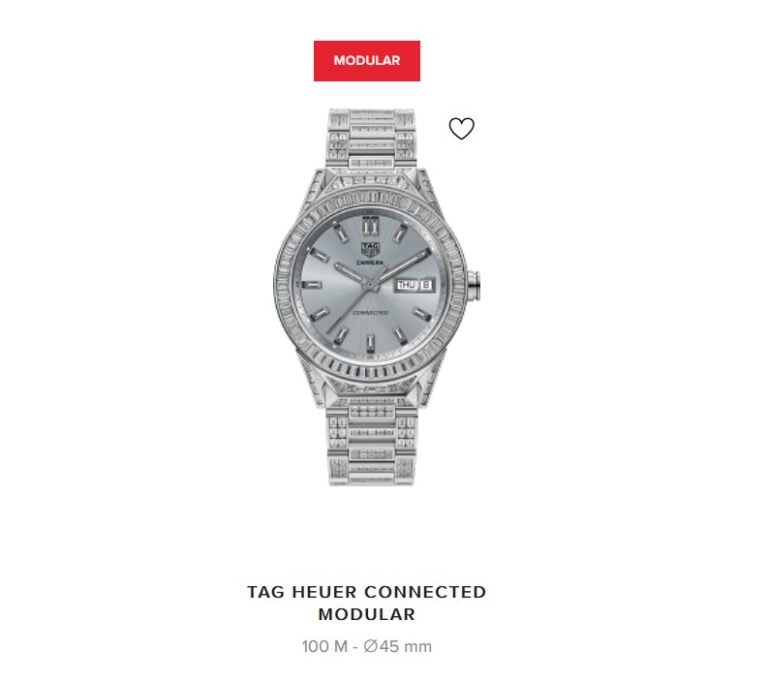 While most people think of Apple when it comes to luxury techie timepieces, they're far from the priciest option on the market after Tag Heuer released the world's most expensive smartwatch – coming in at $197000.
The World's Most Expensive Smartwatch
While Apple wasn't necessarily the first manufacturer to offer a smartwatch, the Apple Watch has certainly taken the world by storm. After middling results when marketed as a luxury wearable, Apple rebranded the device as a health aide for exercise and general well-being, and has generally seen great results. The Tag Heuer's Connected Modular 45 Full Diamond, however, is definitely a high-end piece of jewelry with some smart features as extra perks.
As the most expensive smartwatch in the world, Tag Heuer's model will only be available to an extremely narrow market. For those who can afford it, however, it appears to be the ultimate in luxury and utility. Engadget reported that Tag Heuer took their much more modest $1650 Connected Modular 45 model and upgraded it to the most expensive smartwatch by adding a ton of diamonds – 589 individual diamonds weighing in at 23.35 carats to be exact.
Khrom Capital killed it during the first quarter, continuing its strong track record; here are their favorite stocks
Khrom Capital was up 32.5% gross and 24.5% net for the first quarter, outperforming the Russell 2000's 21.2% gain and the S&P 500's 6.2% increase. The fund has an annualized return of 21.6% gross and 16.5% net since inception. The total gross return since inception is 1,194%. Q1 2021 hedge fund letters, conferences and more Read More
While the original Modular 45 had options that raised the price all the way up to $17000 with certain models, that price pales in comparison to that of the Full Diamond model which is currently the most expensive smartwatch in existence. Tag Heuer is fully aware that the market for such a device is extremely limited, but those looking for a luxury timepiece with added technological functionality may be interested in the most expensive smartwatch to ever hit the market.
Smartwatch Features
Outside of the obvious luxury of a diamond-encrusted piece of jewelry, the world's most expensive smartwatch is also packed with some useful features. PC Magazine reports that the watch was developed in collaboration with Google and Intel, and features an Intel Atom Z34 processor. 512GB of memory ensures the device should have more than enough power to accomplish its tasks, and a 1.4-inch AMOLED multi-touch display provides a crisp and clear image with which you can view your various notifications and apps.
The phone's operating system is powered by Android Wear 2.0, so you'll have access to your favorite Android apps. Track everything from the weather to fitness stats – but somehow we doubt you'll be wearing a near $200000 watch while working up a sweat on the treadmill! The world's most expensive smartwatch also features 25 hours of battery life, ensuring you'll only have to charge when you turn in for the night. Equipped with a comprehensive suite of antennas including WiFi, Bluetooth, NFC, and GPS, the world's most expensive smartwatch is designed to keep you connected on the go.
It will be interesting to see how much the market for luxury jewelry and smartwatches overlap. The majority of timepieces in this price range are engineered to near perfection, so we'll have to see how well Tag Heuer delivers with the world's most expensive smartwatch. While Apple's devices are relatively expensive, they work incredibly well and interface well with the rest of their ecosystem. It remains to be seen if the Connected Modular 45 Full Diamond will offer anything unique or if it's just a way to flaunt hundreds of diamonds for hundreds of thousands of dollars.
The Connected Modular 45 Full Diamond will be available to view on the Tag Heuer boat currently moored in front of the Beau-Rivage Palace at Geneva throughout this week. Debuting alongside the world's most expensive smartwatch is the 41mm Connected Modular model, which is said to be available in a new color spectrum in addition to the current 18K white gold.