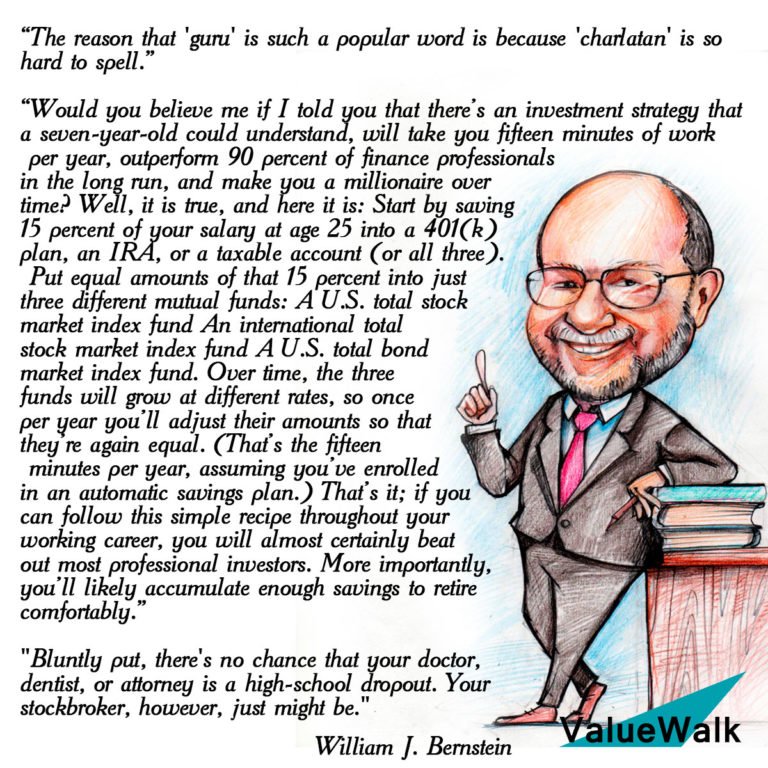 A few years ago, I put together a list of the top investing books. By top I mean if someone new to investing asked me for my single favorite book I would recommend X – after thinking about it for a while I decided that since about 80% of investors will underperform the market (its a law of math related not to trends but market returns minus costs), among other reasons the book should be one on smart asset allocation. Ergo, I decied the top book on the topic is William Bernstein's The Four Pillars of Investing: Lessons for Building a Winning Portfolio (affiliate link, and while I am at it his other books here, but it wont cost you extra, unlike the active mutual funds you are about to hear about :) ) I was honored when William Bernstein reached out to us to comment on an article and told him in ernst that little tidbit. I am honored to present my favorite author William J Bernstein, not that Dr. Bernstein needs my approval! William or Bill was interviewed by ValueTalk's Raul Panganiban. The audio was recorded a few days ago and the transcript will be available shortly.

An outline of the talk can be found below the audio embed.
Enjoy!
ValueWalk's July 2022 Hedge Fund Update: Tiger Cub Hedge Fund Shuts Down
Welcome to our latest issue of issue of ValueWalk's hedge fund update. Below subscribers can find an excerpt in text and the full issue in PDF format. Please send us your feedback! Featuring Andurand's oil trading profits surge, Bridgewater profits from credit, and Tiger Cub Hedge Fund shuts down. Q1 2022 hedge fund letters, conferences Read More
Also you can listen to this talk on
You can support the podcast too by puchasing SoundCloud subscription.
From Raul Panganiban
Hello Listeners,
Welcome to another very special episode with William J Bernstein. He is an incredible guest and financial thought leader. We cover a wide range of topics in this episode.
1:45 Can you describe your 1972 doctoral thesis?
3:55 Can you describe that process of working on your phd and the lessons you learned pursing that?
6:29 What lessons did you learn in information gathering?
11:04 Just want to ask you about your advisor, professor Melvin calvin, how important was he to you?
17:24 What led you to finance and investing?
22:00 What are your views on the value premium?
26:26 What are your views on the small cap premium?
28:43 What are your views on bitcoin?
34:14 What is your advice for new investors?
37:42 What is the best way to vet the right informational sources?
45:25 How do you go about finding the relevant information when you write a book?
53:43 What are your favorite books and books you are currently reading now?
56:25 What are your recommended finance journal articles?
Thank you for the listen and please enjoy!
Updated on