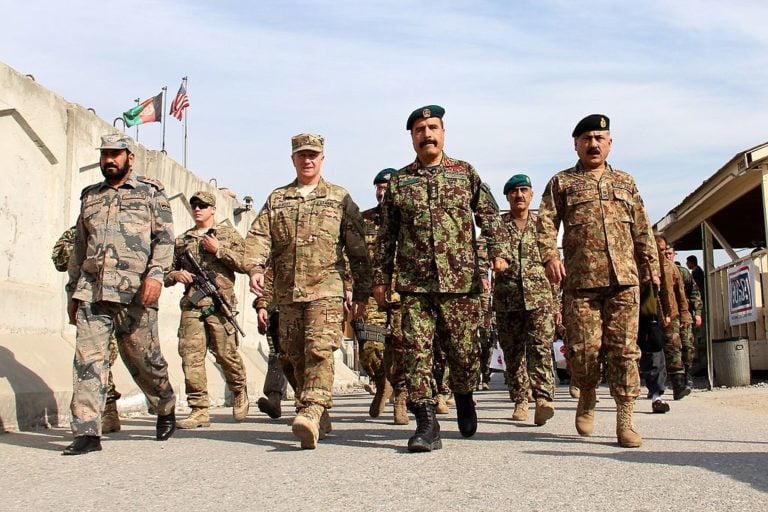 As reported by Local News in Pakistan, the United States on Friday announced that the country is suspending the transfer of military equipment and all security-related funds to Islamabad, raising the tensions in US-Pakistan relations more than ever.

US-Pakistan relations
State Department Spokesperson Heather Nauert confirmed the latest news while speaking at a press briefing earlier on Friday, saying "Today we can confirm that we are suspending security assistance only to Pakistan at this time." Continuing her address, Nauert added that Pakistan could start receiving the suspended funding again if it takes concrete and decisive actions against the Afghan Taliban and the Haqqani Network – terrorist groups that operate from Pakistan's north-east territories.
When asked how much aid would be suspended from Pakistan, Nauert said that the administration was still in process of defining the types of aid that would be affected by the decision, and could not provide the exact sum yet.
How A Weakening PE Market Serves As Another Sign Of A Weakening Economy
Amid the turmoil in the public markets and the staggering macroeconomic environment, it should come as no surprise that the private markets are also struggling. In fact, there are some important links between private equity and the current economic environment. A closer look at PE reveals that the industry often serves as a leading indicator Read More
While it managed to induce quite the media and diplomatic outrage, the suspension of security assistance to Pakistan does not come as a surprise. With US President Donald Trump accusing Islamabad of giving the US "nothing but lies and deceit" and providing safe haven to terrorist the US hunts in Afghanistan, it was just a matter of time when he would live up to his promise of withholding the aid "the US has foolishly given to Pakistan." Following President Trump's tweet, US Ambassador to the United Nations Nikki Haley said Tuesday that Washington would withhold $255 million in assistance to Pakistan.
Heather Nauert also said that the newly announced suspension of security assistance would be in addition to the $255 million sum Haley presented to the U.N.
Following the rapidly shifting tide, the State Department had also placed Pakistan on a Special Watch List for what it claims are "severe violations of religious freedom," Geo News reported. In a press release issued on Thursday, a State Department spokesperson said that they have also re-designated 10 additional countries as "countries of particular concern" under the US International Religious Freedom Act. Countries that are deemed to have engaged in or tolerated egregious violations of religious freedom are placed on the list.
According to Reuters, the Coalition Support Funds are covered by the freeze, as they fall under the jurisdiction of the US Defense Department. Pentagon spokesman Commander Patrick Evans said to Reuters that Congress authorized almost $900 million in such money for Pakistan for the fiscal year 2017. However, none of the disputed funds have yet been disbursed, despite the fact that the fiscal year had ended September 30.
The freeze announced by the State Department also affected $255 million in foreign military financing for FY16, Geo News reported, as the foreign military financing act also falls under the U.S. State Department jurisdiction.
Pakistan resilient
While speaking Wednesday night on Geo News' Capital Talk about the recent strategic developments in US-Pakistan relations, Major General Asif Ghafoor said that no amount of compulsion can pressure Pakistan on how to continue. Major Ghafoor, the Director-General Inter-Services Public Relations, continued his statement by saying " We wish to move forward through cooperative engagement but will not compromise on self-respect and dignity."
"Pakistan had made alternate arrangements in advance," Major Ghafoor said, adding that the US decision to suspend military aid to Pakistan would not affect the nation's financial requirements.
US-Pakistan relations have been on a steady decline recently, and the once friendly nations have now seen their top military officials exchanging strong words and accusations.
In an interview with the Geo News channel aired on Thursday, Foreign Minister Khawaja Muhammad Asif said that the United States was now neither a friend nor ally, but "a friend who always betrays."
"Working toward enduring peace requires mutual respect and trust along with patience and persistence," the Washington Post report Minister Asif saying. "Arbitrary deadlines, unilateral pronouncements and shifting goal posts are counterproductive in addressing common threats."
However, despite Pakistani officials publicly denouncing the State Department's decision, its Foreign Ministry issued a statement that didn't quite mirror the resilient attitude the rest of the government had projected. While managing to stand its ground, the ministry left room for additional talks and negotiations with the US to be made.
"Arbitrary deadlines, unilateral pronouncements, and shifting goalposts are counterproductive in addressing common threats," the ministry said according to Reuters. "We are engaged with the US administration on the issue of security cooperation and await further detail."
Opposition calls for drastic retaliation
Pakistan's opposition leader Imran Khan said Pakistan should "delink" itself from the United States after being humiliated "by an ungrateful Donald Trump." Calling for the US-Pakistan relations to cease completely, Khan said Islamabad should expel "some" U.S. diplomatic personnel. Continuing his address, Khan also suggested Pakistan should cut off supply routes for the U.S.-led coalition forces from the port city of Karachi to Afghanistan and restrict its airspace to U.S. forces. Afghanistan, a landlocked country, currently hosts around 14,000 U.S. troops.
The calls for retaliation from Pakistan's opposition were overshadowed by the support Trump's latest tweets on Pakistan and the State Department's suspension of aid have received from India. According to Sudheendra Kulkarni, Chairman of ORF, ultra-nationalists in India are the ones celebrating the latest turn of events. In an interview to Sputnik News, Kulkarni said that the suspension of military aid to Pakistan was largely seen as a victory for Indian Prime Minister Narendra Modi.
Despite the drastic measures taken by the US, Pakistan continues to deny that there are terrorist safe havens in the country. According to The Washington Post, an anonymous US official said that the country had very little leverage over the handful of terrorist groups that might reside in its bordering area with Afghanistan.
Referring to the "numerous conversations" the US held with the Pakistanis over several months, the official said: "So they know exactly what it is that we've asked of them," the official added. "We cannot continue business as usual with the Pakistani government if they are not going to partner with us."
Updated on