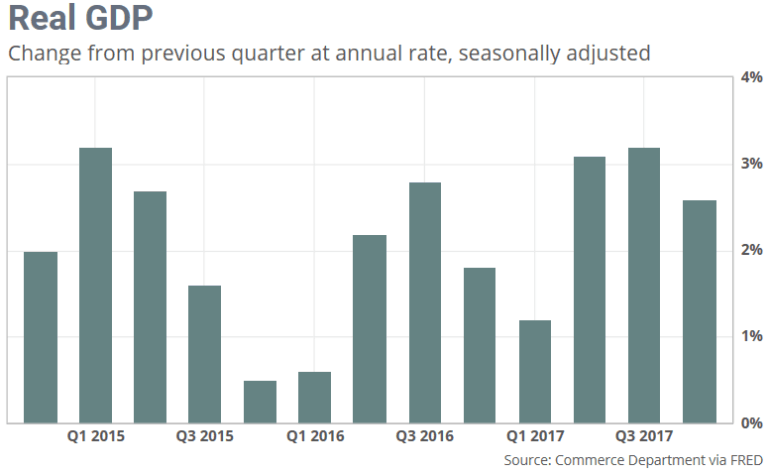 FORECASTS & TRENDS E-LETTER
by Gary D. Halbert
January 30, 2018
RV Capital 1H22 Letter to Co-Investors in Business Owner
RV Capital Co-Investor Letter for the first half ended June 2022. Q2 2022 hedge fund letters, conferences and more Dear Co-Investors,
1. Advance GDP Report Missed Expectations at Only 2.6%
2. US Economic Strength Lifts Other Nations as Well
3. Disabled Americans Rejoining Workforce in Record Numbers
[REITs]
Overview
The most significant economic news of late was last Friday's disappointing report on 4Q Gross Domestic Product which came in at only 2.6% (annual rate) versus the pre-report consensus of 3.0%. I'll give you the details on Friday's advance GDP report below.
The weaker than expected GDP number dashed the hopes of many forecasters who had predicted that the US economy would boom in 2018. I discussed this in my BLOG last week. While I do believe the economy will grow by 2.5%-3.5% this year, hopes of 4%-5% growth have largely faded in the wake of last Friday's GDP report.
Despite that, economic growth of around 3% is still very solid, especially as compared to the sub-2% growth during the Obama years. And new evidence shows that the strengthening US economy is boosting economic growth in other nations as well.
In another area of economic encouragement, record numbers of Americans who are on Social Security Disability Insurance are returning to the workforce. This is really good news as I will discuss below. Let's get started.
Advance GDP Report Missed Expectations at Only 2.6%