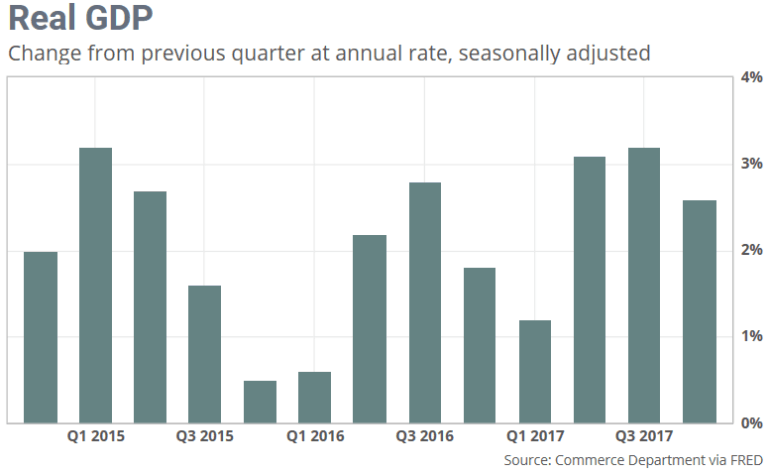 FORECASTS & TRENDS E-LETTER
by Gary D. Halbert
January 30, 2018
Dan Sundheim Founder Of D1 At Sohn 2021 On His Favorite Stock
At this year's Sohn Investment Conference, Dan Sundheim, the founder and CIO of D1 Capital Partners, spoke with John Collison, the co-founder of Stripe. Q1 2021 hedge fund letters, conferences and more D1 manages $20 billion. Of this, $10 billion is invested in fast-growing private businesses such as Stripe. Stripe is currently valued at around Read More
1. Advance GDP Report Missed Expectations at Only 2.6%
2. US Economic Strength Lifts Other Nations as Well
3. Disabled Americans Rejoining Workforce in Record Numbers
[REITs]
Overview
The most significant economic news of late was last Friday's disappointing report on 4Q Gross Domestic Product which came in at only 2.6% (annual rate) versus the pre-report consensus of 3.0%. I'll give you the details on Friday's advance GDP report below.
The weaker than expected GDP number dashed the hopes of many forecasters who had predicted that the US economy would boom in 2018. I discussed this in my BLOG last week. While I do believe the economy will grow by 2.5%-3.5% this year, hopes of 4%-5% growth have largely faded in the wake of last Friday's GDP report.
Despite that, economic growth of around 3% is still very solid, especially as compared to the sub-2% growth during the Obama years. And new evidence shows that the strengthening US economy is boosting economic growth in other nations as well.
In another area of economic encouragement, record numbers of Americans who are on Social Security Disability Insurance are returning to the workforce. This is really good news as I will discuss below. Let's get started.
Advance GDP Report Missed Expectations at Only 2.6%
The Commerce Department's initial estimate of 4Q GDP came in weaker than expected last Friday at only 2.6%, down from 3.2% in the 3Q. If that number holds, and it will be revised two more times, that means the US economy grew by only 2.3% in 2017.
Within the latest GDP report, there were some encouraging signs, but there were also some negative components which kept the final number below 3%. For example, consumer spending accelerated to a 3.8% annual pace of growth, the fastest pace in almost three years. Americans spent more on new cars and trucks, clothing and healthcare, among other things.
Businesses also got into the act. They increased spending on equipment by 11.4%, while investment in new housing jumped 11.6%. Yet companies on balance slowed production in the 4Q. The value of unsold inventory fell by $29.3 billion in the 4Q.
Now it could be that companies sold more goods than expected in the holiday season and may be rebuilding those depleted inventories in the current quarter. Even if that proves to be true, lower inventories are a drag on GDP.
The other major negative in the 4Q was the trade deficit. While exports in the 4Q rose an impressive 6.9%, imports rose 13.9%, the fastest pace in more than seven years. Together, lower inventories and the worsening trade deficit shaved 1.8 percentage points off of 4Q GDP. Growth would have topped 4% if those two negatives were excluded.
Had 4Q GDP been 3% or better, it would have been the first time since 2004 that we had three back-to-back quarters of 3% growth. As it is, GDP growth for all of 2017 was only 2.3%, but that was considerably better than the 1.5% logged in 2016.
Our $17 trillion economy got off to a weak start in the 1Q of 2017 when sharp cuts in consumer spending led to growth of only 1.4% (annual rate). But the economy rebounded in the 2Q with growth of 3.1% followed by 3.2% in the 3Q.
While Friday's GDP report was disappointing, most forecasters still predict that the US economy will grow by at least 3% this year, especially as the tax cuts kick in. But forecasts of 4%-5% growth this year are fading fast. This is exactly what I predicted in my BLOG last Thursday.
Finally, keep in mind that the Commerce Department will issue subsequent revisions of last Friday's advance GDP report near the end of February and again in late March.
US Economic Strength Lifts Other Nations as Well
For several years after the recession, the United States' steady if unremarkable growth was a bright spot compared with struggling economies abroad. But in 2017, the economic expansion spread to at least 120 countries, according to a report released last week by the International Monetary Fund (IMF).
Several countries had higher growth rates than the United States did last year. Among large economies in the Group of Seven (G-7), the United States growth rate ranked fifth behind Germany, Canada, France and the United Kingdom, according to a new report from the World Economic Forum. On a list of 29 advanced economies, the US ranked 10th in terms of growth.
Given the strength in the US economy and the impending tax cuts, the IMF says the global economy is looking brighter. The IMF upgraded its global forecast from 3.7% to 3.9% for 2018 and 2019, up from 3.7% in 2017 and 3.2% in 2016.
If these estimates prove close to correct, the IMF says it will be the broadest synchronized global growth upsurge since 2010.
Disabled Americans Rejoining Workforce in Record Numbers
If you want another sign that the US economy is surging, take a look at the disability rolls. They've been shrinking rapidly of late, as fewer apply for benefits and more of the disabled are returning to work. This is very good news.
In the aftermath of the Great Recession, the number of workers who went on the Social Security Disability Insurance (SSDI) program skyrocketed by more than 1 million.
It's clear from the data that this was being driven largely by the lack of good job prospects.
Monthly applications for SSDI leaped from an average 182,000 a month in 2007 to 245,000 a month in 2010. Even years after the recession had ended, applications remained well above 200,000 a month as the painfully slow recovery dragged on.
With jobs scarce and enrollment requirements for SSDI fairly lax, it's not surprising that many Americans chose this route. While these trends started to slowly turn around in 2015, the improvement accelerated in 2017.
In fact, the number of SSDI applications in 2017 was down 6% from the year before — the biggest one-year decline since 1997, government data show. At the same time, the number of people leaving the program was higher in 2017 than it's been in more than a decade.
As a result, the number of workers collecting federal disability benefits dropped 1.3% last year, which is the largest annual decline since 1983.
Some of the enrollment decline is due to the fact that Baby Boomers who had been on SSDI are aging into retirement, and thus are shifted over to the regular Social Security program. But the sharp drop in applications is a clear sign of a healthier labor market.
What's more, data from the Bureau of Labor Statistics show a marked uptrend in the number of workers re-entering the workforce after claiming a disability. Former US Treasury economist Ernie Tedeschi looked at the BLS data and found that the re-entry rate is "at its fastest pace since before the Great Recession."
This is important for several reasons. One is that fewer disabled workers collecting benefits will relieve the financial strain on the troubled SSDI program — which is teetering on insolvency. More importantly, it means that more people are getting jobs and paying taxes, rather than collecting benefits as their skills grew increasingly outdated.
The fact that more disabled are returning to the workforce is also further evidence that the labor market isn't as tight as some economists fear. There are millions more potential workers still sitting on the sidelines collecting disability that could rejoin the workforce. A strong economy could bring many of them back onto the playing field this year and beyond.
I find this particularly encouraging. Once people drop out of the workforce and go on disability, it is very appealing just to stay there. However, the data above suggest that many of these people would prefer to be working. That is good news! Let's hope this trend continues.
Special Report: We recently sent out Why You Should Have Real Estate in Your Portfolio, which makes the case for why it is important to have some real estate exposure in your portfolio. Real estate is not highly correlated with the stock markets, which is very important now, with the stock markets at record highs, and many believing a correction is likely in the not-too-distant future.
Real Estate also offers many other potential benefits, including providing a hedge against inflation, several tax advantages as well as a source of income. We have several ways to access real estate in your portfolio, with professional management and reasonable minimums.
If you would like to learn more about how real estate is important to have in your portfolio, download your free copy of Why You Should Have Real Estate in Your Portfolio.
All the best,
Gary D. Halbert
SPECIAL ARTICLES
America's Economy is Roaring Back Under Trump
Fed to Leave Interest Rates Unchanged Tomorrow, Yellen's Departure
Behind Trump's Triumph in Davos
Gary's Between the Lines blog: How Wealth is Allocated Among Net Worth Levels