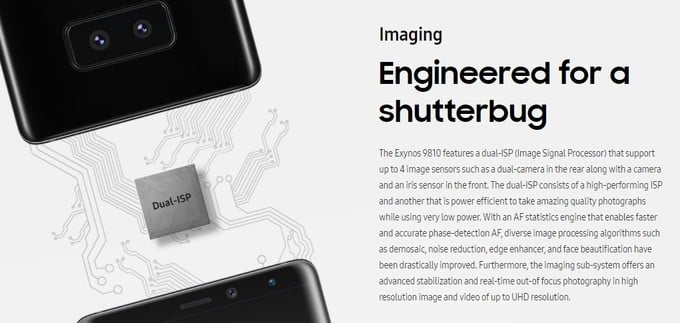 A recently discovered Samsung trademark accompanied by promotional images may suggest Galaxy S9 camera improvements.
While Samsung largely uses Qualcomm chips in the United States, their international phones are powered by their proprietary Exynos processors. Earlier today, the Korean tech giant revealed the Exynos 9810, the first complete 9-series Exynos chip that will be used in Samsung's flagship phones starting in 2018. This was a big announcement and a confirmation of previous rumors and leaks, but that was not the only reveal today. Although not an official announcement, the phrase "The Camera. Reimagined." Was trademarked by Samsung this morning, indicating that we may see Galaxy S9 camera improvements.
Galaxy S9 Camera Improvements
"The Camera. Reimagined." could certainly suggest Galaxy S9 camera improvements, but it could also be referring to the Note 9 even further down the line. Whichever device its included in, it's nice to know we may soon see an update of Samsung's flagship phones – although the company is already well known for making phones with top-notch photo quality. Galaxy S9 camera improvements could help the manufacturer stay ahead of the curve, however, and provide a significant reason for customers to upgrade from their current generation phones.
Odey Special Situations Fund took on several new positions in March
Odey Asset Management's Special Situations Fund was down 3.2% in March, compared to its benchmark, the MSCI World USD Index, which was up 3.3%. Through the end of March, the fund is up 8.7%, beating the benchmark's return of 4.9%. Q1 2021 hedge fund letters, conferences and more Odey's Special Situations Fund deploys arbitrage and Read More
Although each Samsung release has ushered in improvements that make it a clear upgrade over previous devices, the company has been criticized for their largely iterative releases. While it's unrealistic to expect the smartphone manufacturer to reinvent the wheel with ever release – especially considering the massive success of pretty much every flagship release – it would be nice to see at least some departure from the current design of their phones. While Galaxy S9 camera improvements may not be as drastic as the implementation of a technology like Apple's iPhone X Face ID, it could definitely cement the company as the go-to option for smartphone photographers.
While we're not sure what exactly "The Camera. Reimagined" actually means, the company has announced some improvements to their technology. In the announcement of their new silicone, Samsung mentioned new image processing capabilities – such as UHD video recording and playback at 120 fps, drastic improvements in low-light performance, and a more accurate shallow depth-of-field simulation (allowing for a mock bokeh effect). These announcements no doubt have merit as potential Galaxy S9 camera improvements, but we've yet to receive a confirmation of what exactly will be included with the company's 2018 flagships.
Promotional Images
There have, however, been rumors that at least one of the Galaxy S9 models will include a dual-camera setup. That seems to have been confirmed with the inclusion of a promotional image that accompanied the trademark filing. The image outlines the Exynos 9810 image processing ability and mentions the chip's support for up to four image sensors, suggesting that the Galaxy S9 camera improvements could be applied to a dual-camera setup. We expect that the dual-camera will be included in the S9 Plus model at the least, though it may be omitted from the base S9.
The combination of the trademark "The Camera. Reimagined," combined with the news that Samsung has some new image processing functionality in the work means that it's highly likely we'll see Galaxy S9 camera improvements in 2018. Although Samsung phones are already recognized for their superior camera functionality, doubling down on the positive aspects of their phone may re-establish their dominance in a field where camera functionality among high-end phones is closer than ever before.
Samsung needs something to set them apart from the rest of the crowd if they hope to improve upon their already fantastic sales. Perhaps Galaxy S9 camera improvements are the first step to making their 2018 flagships an obvious buy for an increasingly discerning customer base.