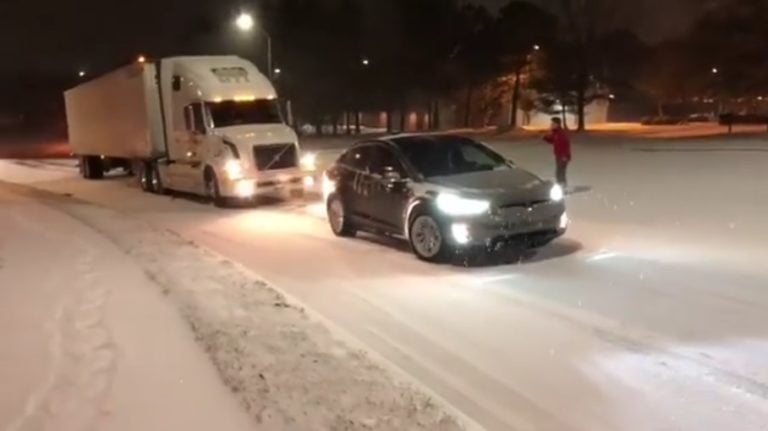 Elon Musk's company has proven time and time again that electric vehicles are a viable alternative to traditional gas-powered models. By wowing the world with their self-driving cars, Tesla has paved the way for the future of automobiles. Their recent luxury SUV is equally as impressive, demonstrating incredible speed – and now power, after a video surfaced showing a Tesla Model X pulling a truck.
Tesla Model X Pulling A Truck
A video from Tesla owner Kyle Conner showed up on Facebook, and was subsequently reported on by Electrek and even tweeted out by Elon Musk himself. The impressive video showed the Tesla Model X pulling a truck up a steep hill in snowy conditions – pulling a load far greater than the advertised capacity of 5000 pounds.
The feat is equally impressive given Conner's location in North Carolina. While the area doesn't have much effect on this impressive achievement, the winters in the area are rather short, which leads Jalopnik to believe that there were no winter-specific tires in use in the video of the Tesla Model X pulling a truck. This is, of course, speculation, and there's a possibility that there were tires designed for the snow in use. That doesn't detract from the fact that the relatively compact Tesla Model X was able to handle a load that is many times heavier than its supposed capabilities. Under-promising and over-delivering is a smart business strategy, but a Tesla Model X pulling a truck up a hill is still more than a little shocking.
Corsair Capital Profits From Goldman Sachs' SPACs [Exclusive]
Corsair Capital, the event-driven long-short equity hedge fund, gained 6.6% net during the second quarter, bringing its year-to-date performance to 17.5%. Q2 2021 hedge fund letters, conferences and more According to a copy of the hedge fund's second-quarter letter to investors, a copy of which of ValueWalk has been able to review, the largest contributor Read More
How It Worked
Conner answered a few questions in the comments of the video, so we know that the Tesla Model X pulling a truck was engaged in "Slip Start Mode" – a setting designed for driving on loose or slippery surface, such as a snowy hill. Although the video cuts off before the ending, Conner also claimed that the Model X was able to tow the truck to the top of the hill. We'll have to take his word for it, but it didn't seem as if the car was close to failing at this monumental task, so we have no real reason to believe he's lying.
Big trucks getting stuck in snowy and icy conditions is actually a relatively common occurrence. If you're worried about getting stuck yourself, Jalopnik recommends avoiding soft snow, avoiding slowing down, and avoiding parking in it. While these three tips aren't always feasible, it may keep your car from getting stuck. If you do find yourself stuck in snowy conditions – such as with the huge blizzard that recently hit New England – you should hope a helpful guy like Kyle Conner is around with a Tesla Model X to tow your heavy car through the treacherous conditions.
The Tesla Model X pulling a truck is just the latest in the achievements of this impressive feat of engineering, with the SUV pulling off some impressive speeds on the drag strip as well. It's clear that Elon Musk has a good thing going for him with Tesla, and if the company continues to move in this positive direction, we could see the auto industry revitalized with cars like the Model X that combine luxury with premium performance.