This year started off with a bang as the S&P 500 Index rallied 2.6% to its best week in more than a year. The massive rally was marked by some very interesting trends, according to Bank of America Merrill Lynch. Tech sector flows continued to drive the rally, but investors sold more than half of the sectors in the index, with sentiment on Consumer Discretionary sector flows growing increasingly negative.
S&P 500 gains 2.6%
In a note this week, BAML strategists Jill Carey Hall and Savita Subramanian said their firm's clients were net buyers of U.S. stocks last week, picking up $1.1 billion in equities in a reversal of the net sales recorded in the previous week. Their firm's clients were net buyers of exchange-traded funds, which offset the net sales of single stocks.
However, sales of single stocks reached their lowest level since August 2017, they added. Institutional clients continued to sell stocks as their selling streak reached 10 weeks; institutional clients were the biggest sellers of single stocks. Private clients were in second place, and they've been flipping back and forth between buying and selling for the last five weeks. Last week marked the first week in three weeks that hedge funds bought equities. Share repurchases slowed last week following an unusually strong end of December.
Consumer Discretionary sector flows lead sales
BAML clients sold stocks in six sectors, with Consumer Discretionary sector flows leading the sales. The sector also has the longest selling streak of all the sectors at nine weeks. Institutional and retail clients led the sales last week. The BAML team added that Consumer Discretionary sector flows have on a four-week average basis have remained negative for the last 50 weeks.

Further, only two of the sectors have selling streaks that have been negative for more than a year based on four-week moving averages: Health Care—between early 2016 and mid-2017—and Materials—between early 2012 and early 2013. Two-month relative returns compared to the S&P 500 stayed positive for both sectors after their lengthy selling streaks ended.
Consumer discretionary sector flows grow increasingly negative
According to the BAML team, Consumer Discretionary sector flows have been shifting more and more negative because funds have been slashing their Overweight positions in the sector since early 2017. Because of this long period of negative Consumer Discretionary sector flows, the relative weight of the sector among funds reached its lowest level in 18 months.
They add that this could mean that positioning risk for Consumer Discretionary during this earnings season is lower. Despite that, BAML remains Underweight on the sector due to various other reasons, including its historical underperformance during late-cycle periods.
Tech sector flows continue picking up
The BAML team also found that Tech sector flows were the largest inflows of all 11 sectors in the S&P last week. They add that the positive momentum in Tech sector flows has picked up since the end of the year, with institutional clients leading the buying. In fact, their firm's clients have bought Tech stocks for the last three weeks, and Tech sector flows on a four-week average basis have reached their highest level since January 2015.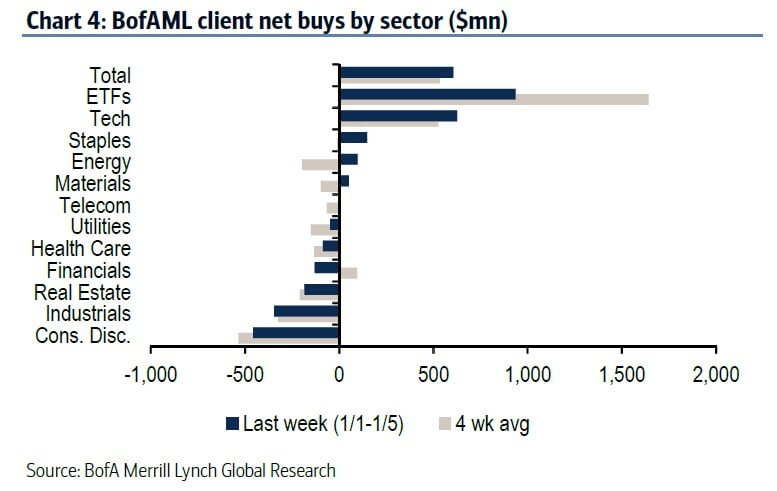 The other sectors that saw buying last week were Energy, Materials, Consumer Staples and Telecom. Further, net buying in Energy stocks reached its highest level since July 2017.
The BAML team also observed similar trends among exchange-traded funds, including very negative Consumer Discretionary sector flows and very positive Tech sector flows last week.