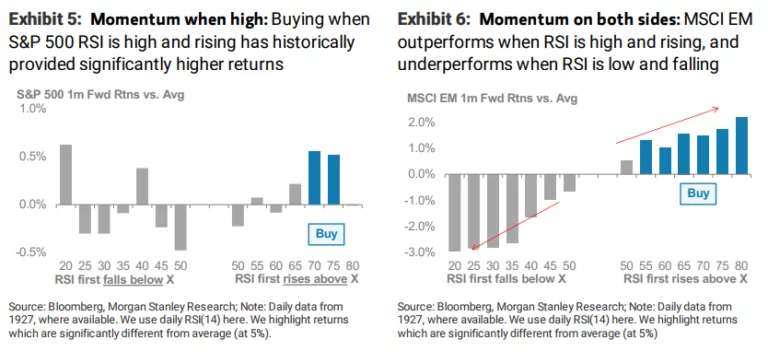 The S&P 500 is overbought. Even though some Wall Street analysts are arguing that improving fundamentals support higher equity prices, when seen through the eyes of the RSI Index, the S&P 500 is due for a pullback.
The RSI Index or Relative Strength Index is a momentum oscillator, designed to measure the speed and change of price movements. Traditionally the RSI is considered overbought when above 70 and oversold when below 30.
The 10 Most Expensive Stocks In The S&P 500
Canyon Distressed Opportunity Fund likes the backdrop for credit
The Canyon Distressed Opportunity Fund III held its final closing on Jan. 1 with total commitments of $1.46 billion, calling half of its capital commitments so far. Canyon has about $26 billion in assets under management now. Q4 2020 hedge fund letters, conferences and more Positive backdrop for credit funds In their fourth-quarter letter to Read More
So far this year, the RSI for both the S&P 500 and EM equities has risen above 80, but should traders and investors be concerned?
Should you pay attention to the RSI Index?
According to a recent report from Morgan Stanley, there's little evidence that the RSI Index is an accurate indicator of future market movements. The report, compiled by the Morgan Stanley Research Foundation notes that the RSI is a closely watched indicator it's " reliability as a contrarian indicator is tarnished by the multiple ill-timed signals for every successful signal."
Too many 'false positives' make RSI in isolation unreliable as an indicator of market direction. For example, according to Morgan's findings, last year there were at least four periods where the RSI Index for the S&P 500 traded above 70 setting off a sell signal. Using any of these signals to try and time the market during the year would have been a "poor decision" according to Morgan's analysts.
"Most RSI 'overbought' signals don't seem be to consistent sell signals, at least not on a 3-6-month basis. While there might be short-term softness, high RSI levels do not necessarily mean negative forward returns in 3-6 months. In fact, history suggests you get several extreme RSI readings before THE final S&P 500 peak (Exhibit 2). We may be at extreme RSI readings for some equity market indices, but this does not necessarily mean we are at the top of the market."
Further number crunching shows that far from being a contrarian signal, a high RSI could be a good indicator for momentum traders. This trend is particularly apparent in markets such as emerging market equities where you would "do better by buying when RSI is high, rather than when RSI is low" as the "returns on being long on the numerous 'false positives' far outweigh the few correct sell signals."