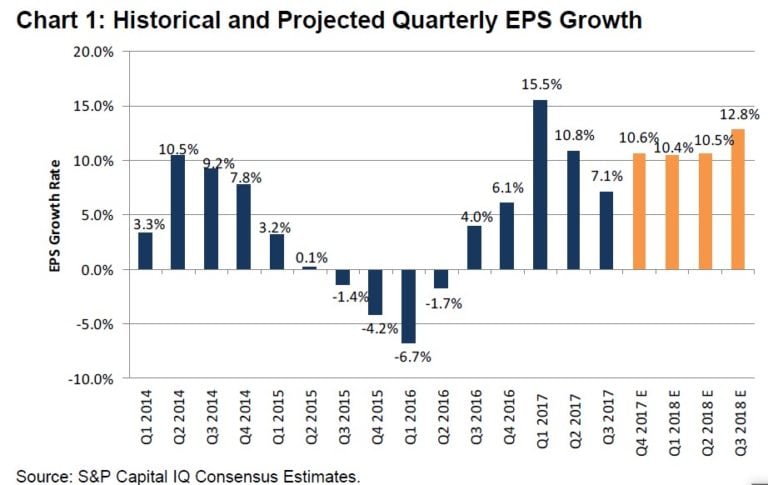 The Q4 2017 earnings season is now upon us as U.S. banks begin releasing their numbers toward the end of this week. The S&P 500 has been off and running for some time and even passed 2,700 for the first time this year, but unfortunately for the Q4 2017 earnings season, the recent record highs may be brought to an end by a fresh period of consolidation.
Additionally, some analysts warn that the tax reform bill could make it a bit more difficult to discern where companies stand in terms of fundamentals due to adjustments in the values of tax assets and liabilities, charges taken against earnings for repatriation, and other such tax-related clutter in the Q4 2017 earnings season.
Consolidation could be coming in the S&P 500
CFRA investment strategist Lindsey Bell said in a recent note that indicators point to a solid Q4 2017 earnings season. She noted that the S&P 500 Index posted gains of 6.1% during the quarter, which marked the ninth quarter in a row in which the index grew. She also said that a trend she observed in the third quarter seemed to persist.
Alkeon: Big Tech Is Only Just Getting Started
The ACAP Strategic Fund's managers see a "significant scarcity of attractive asset allocation choices globally," but also a strong environment for fundamental stock picking. Q2 2021 hedge fund letters, conferences and more According to a copy of the fund's second-quarter investor update, which ValueWalk has been able to review, its managers currently hold a balanced Read More
In each of the first three quarters of 2017, the market shifted higher by about 5% going into their respective earnings seasons as investors baked in the expected earnings beats. Then as the reporting season went on and earnings results were shown to be better than both consensus and the average historical beat rate of 300 to 400 basis points, the market consolidated.
What to expect from the Q4 2017 earnings season
According to Bell, the S&P 500 was up 5.6% between the middle of November and the end of the fourth quarter, which is better than the increases she observed leading up to the earnings reporting periods for the previous three quarters:
She also pointed out that things aren't exactly the same now as they were at the time of the other three quarters because expectations haven't changed much this time. Earnings growth estimates were slashed by 250 to 550 basis points between the beginning of the quarter and the beginning of the reporting period. In the fourth quarter, the reduction was only about 70 basis points, and according to Bell, it's rare to see such a small reduction during this period.
She does expect this year to bring a continuation of the recovery from the earnings recession which began in 2015 and bottomed in 2016. She believes that the fourth quarter will mark the sixth quarter in a row to return earnings growth and the third quarter with double-digit rate growth since the emergence from the recession. Consensus is currently estimating a 10.6% increase in earnings for the S&P 500.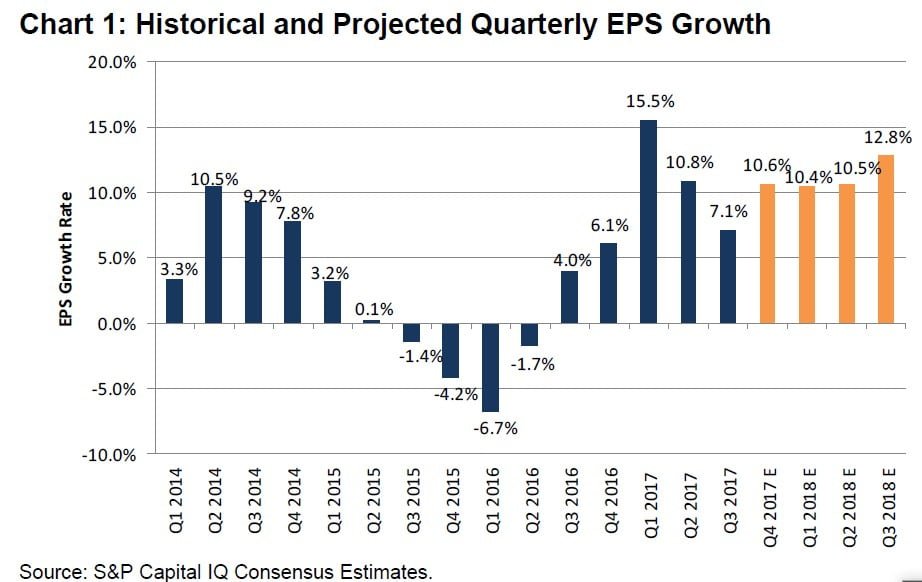 Bell noted that it becomes more difficult to achieve this growth rate due to a difficult comparison, but she thinks that the index will achieve a growth rate of at least that much, based on the improving economic data.
She expects the Energy sector to lead the growth with a dramatic 121.8% gain, with Real Estate being the only sector to post negative growth: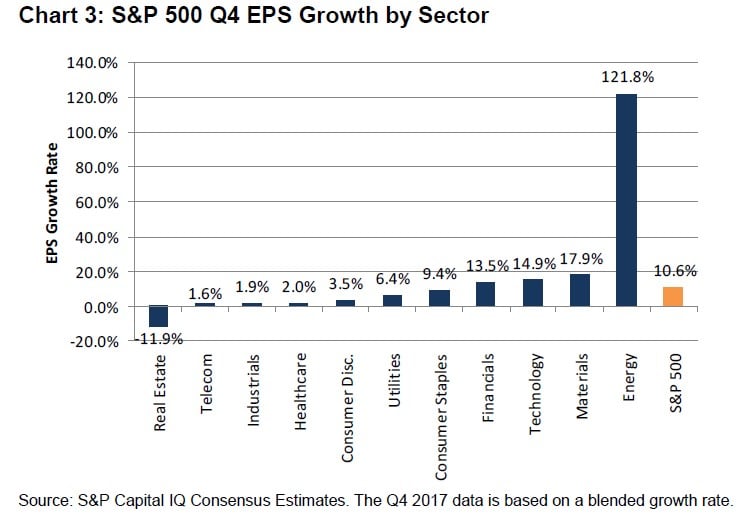 Results to approach six-year highs
Deutsche Bank strategist Binky Chadha said in a note on Monday that he also expects the Q4 2017 earnings season to be strong. He's looking for a 14.6% earnings growth rate, carrying it close to the six-year high of 15.4% observed in the first quarter of 2017. He noted that the bottom-up consensus is roughly 11% (used by Lindsey Bell of CFRA above).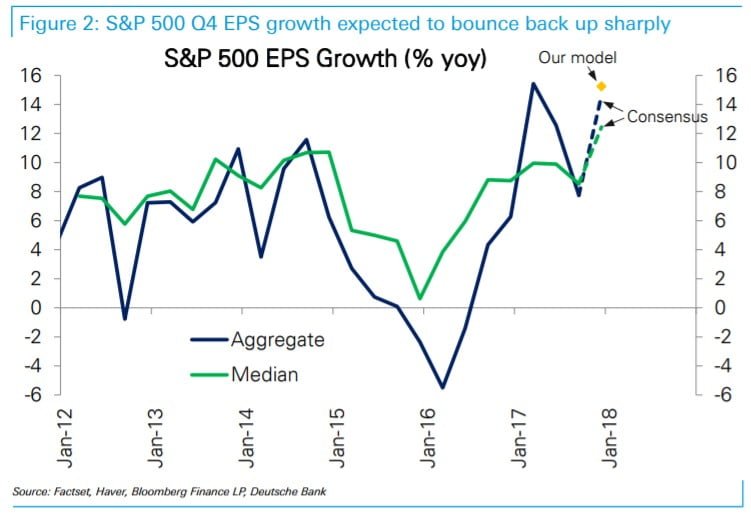 Chadha sees lots of outliers, but he said the median growth of 12.4% is expected to be the strongest in six years. In addition to Energy, he also expects the Tech, Financials, Staples and Utilities sectors to show strong growth. Further, he said that sales growth is believed to have been at six-year highs while margins are believed to have been at new highs, bolstered by the strengthening U.S. economy, global growth, and U.S. dollar depreciation.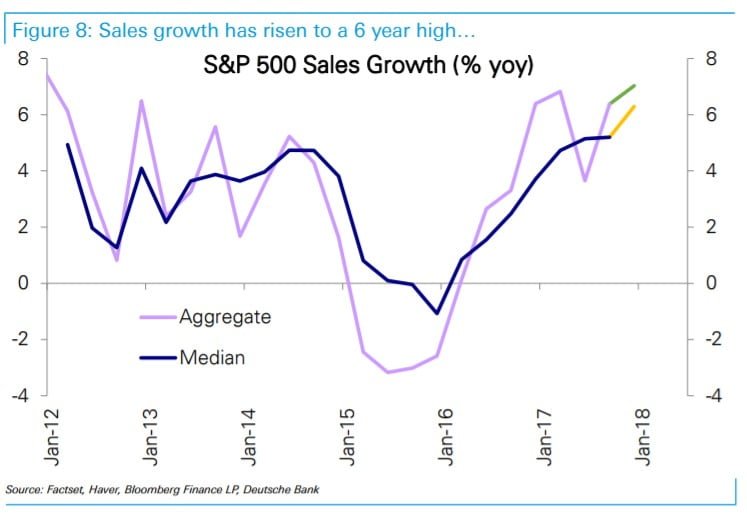 How tax reform relates to the Q4 2017 earnings season
Goldman Sachs analysts warned that the tax reform bill "will muddy underlying company fundamentals."  They explained in a note that companies will have to "remeasure the value of their deferred tax assets and liabilities at the new 21% statutory federal corporate tax rate." As a result, companies be recording tax expenses or benefits, depending on whether their deferred tax assets are greater than or less than their deferred tax liabilities. Goldman analysts explained that both tax elements create much uncertainty for the Q4 2017 earnings season and beyond.
Binky Chadha of Deutsche Bank shed further light on this subject, explaining that items related to tax reform are expected to add noise to the Q4 2017 earnings season. For example, he expects companies to begin taking non-cash one-time charges for repatriating overseas earnings and revaluations of deferred tax assets and liabilities. He estimates that S&P 500 companies hold about $1 trillion in cash and $1.5 trillion in retained earnings overseas, which he said could mean total repatriation charges of about $300 billion for the index.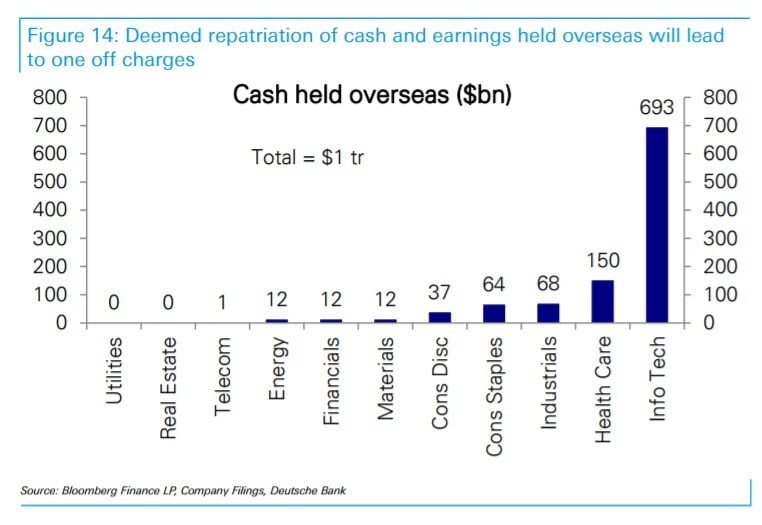 He also expects deferred tax liabilities to offset these repatriation charges as S&P 500 companies have $1 trillion in deferred tax liabilities overseas, he estimates, versus $250 billion in tax assets. After revaluation, it could mean a gain in excess of $300 billion after everything is revalued down, he added.