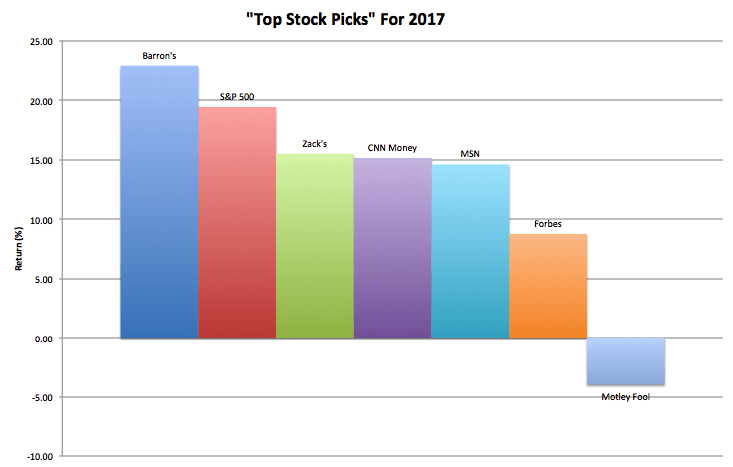 Back in July, we published a review of various "top stocks" for 2017 and their performance halfway through the year. With 2017 now behind us, we decided to review the same picks for a final report card. The analysis includes the notable Barron's Top 10, Zack's Top 10, a Top 5 from CNN Money, a Top 5 from Motley Fool, a Top 10 from MSN experts, and a Top 7 from Forbes, which consisted of seven investment strategists making their top picks for the year. After the mid-term report in July, three of the lists had outperformed the s&p 500 index 2017 returns, which had returned +8.49%: Barron's (+15.59%), CNN Money (+13.61%), and MSN (+12.63). However, after the S&P 500 finished 2017 with an impressive return of +19.42%, only one of the six lists beat the s&p 500 index 2017 returns, and that was Barron's.
Barron's Top 10
Barron's, the best of the lists in 2017, and the only one to beat the S&P 500 index 2017 returns had a return of +22.89%. Their performance was carried by heavyweights including Toll Brothers, Inc. (NYSE:TOL) up +54.9%, Apple Inc. (NASDAQ:AAPL) up +46.11%, Unilever PLC (NYSE:UL) up +35.97%, and Alphabet Inc. (NASDAQ:GOOG) up +35.58%. Barron's worst performer and only pick with a negative return on the year was Merk & Co. Inc. (NYSE:MRK) down -4.42%.
Zack's Top 10
Perhaps the second most well-known list next to Barron's is Zack's, who often touts their record as one that outperforms the market. While coming up short of the S&P 500's +19.42%, with a return of +15.49%, Zack's did have the best second half of 2017, given their portfolio return of -1.65% after Q2 with six of their ten stocks posting negative returns. However, only four closed 2017 in the red, including Under Armour Class A (NYSE:UAA) down -50.33%, and Ritchie Bros. Auctioneers (NYSE:RBA) down -11.97%. The losses were countered by some strong returns from FMC Corp. (NYSE:FMC) up +67.36%, VMware, Inc. (NYSE:VMW) up +59.18%, and Monolithic Power Systems, Inc. (NASDAQ:MPWR) up +37.14%.
Hayden Capital 2Q22 Performance Update
Hayden Capital's performance update for the second quarter ended June 30, 2022. Q2 2021 hedge fund letters, conferences and more Dear Partners and Friends, The markets continued to sell-off in the second quarter, especially for internet-based businesses.  This year continues to be the toughest stretch for us, since the Hayden's inception.  Inflation concerns and the Read More
CNN Money Top 5
CNN Money posted a return of +15.13% which was primarily dragged down by Envision Healthcare Corp. (NYSE:EVHC) who was down -45.39% in 2017. However, their remaining four stocks returned over ten percent, including Broadcom Ltd. (NASDAQ:AVGO) up +42.83%, Dycom Industries (NYSE:DY) up +38.78%, and State Street Corp. (NYSE:STT) up +25.59%.
MSN's Top 10
MSN's ten expert picks come courtesy of Investor Place and delivered a +14.59% return in 2017. Despite holdings such as NVIDIA Corp. (NASDAQ:NVDA) up +81.28%, Albemarle Corp. (NYSE:ALB) up +48.57%, and CoreSite Realty Corp. (NYSE:COR) up +43.51%, these gains were contained by some significant losses. These burdens include Newell Brands Inc. (NYSE:NWL) down -30.80%, TripAdvisor, Inc (NASDAQ:TRIP) down -25.68%, and Zynerba Pharmaceuticals, Inc. (NASDAQ:ZYNE) down -19.69%.
Forbes Top 7
Forbes' list is comprised of "the best stock picks" from seven investing professionals. The portfolio's return of +8.76% was hindered by Forterra Inc. (NASDAQ:FRTA) down -48.75%. Forterra aside, Forbes' list would have still come up short of the S&P 500 by about a percentage point. The list's other loss, IBM (NYSE:IBM) was down -7.57% in 2017. Top performers included Dycom Industries (NYSE:DY) up +38.78%, and USG Corp. (NYSE:USG) up +33.52%. The remaining three stocks all trailed the index.
Motley Fool Top 5
The worst of the "expert" lists, and only one to post a negative return, down -3.98%, was Motley Fool. Three of the five stocks had losses on the year, including Under Armour Class C (NYSE:UA) down -44.50%, and Core Laboratories N.V.(NYSE:CLB) down -8.74%. Their best performer, Diamondback Energy, Inc. (NASDAQ:FANG) was up +24.93% while their next best, T-Mobile US, Inc. (NASDAQ:TMUS) trailed the S&P 500 with a +10.43% return.
S&P 500 index 2017 returns vs. the experts - A Short Summary
These six lists in total posted a gain of +12.15%, which would not come as a surprise to industry icons like Warren Buffett and Jack Bogle who champion the success of investing with the index. This analysis shows that picking stocks is even trying in a euphoric year like 2017.
Updated on