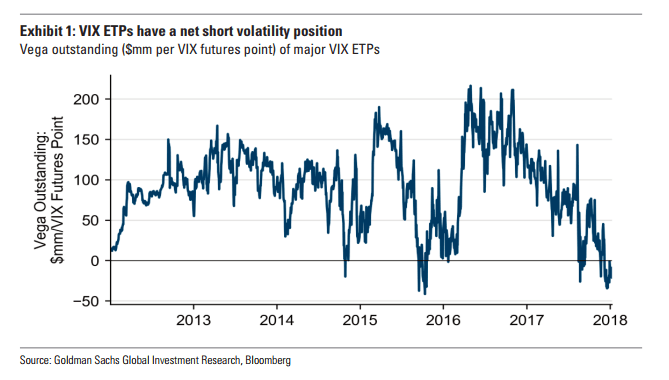 Even though the size of inverse and levered VIX ETPs is small in the context of the broader US equity market, the growth of these products has become "worrisome" as they have come to dominate the market according to Goldman Sachs derivatives analyst Rocky Fishman.
In a research note published earlier this week, Fishman noted that although VIX ETPs only have around $5 billion in assets under management today, they dominate a disproportionate amount of the market. According to Goldman's analysis, the XIV (Credit Suisse AG – VelocityShares Daily Inverse VIX Short Term ETN) and SVXY (ProShares Trust II) short VIX products alone "represent over 40% of the open interest of first two month VIX futures, and the gross size of VIX ETPs tracking the first two VIX futures represents more than 100% of the open interest of the first two VIX futures."
This mining-focused hedge fund returned more than 100 percent in 2020
Delbrook Capital was up 14.1% for December, bringing its full-year return to 129.3% for 2020. For comparison, the S&P 500 was up 18%, while the SPDR S&P Metals and Mining ETF gained 16% in 2020. Q4 2020 hedge fund letters, conferences and more In his fourth-quarter letter to investors, which was reviewed by ValueWalk, Delbrook Read More
Short VIX trade is having a significant impact on the market
While Fishman isn't particularly concerned about the net number of shorts, what does concern him is the impact a  sudden rise in the VIX futures would have on derivative products. He notes in the report that "The net position of VIX ETPs has become short over the past few weeks, for only the second time in their eight year history." What's more, with the large volume of short VIX positioning "the potential for short and levered ETPs to start buying VIX futures quickly on a sudden vol spike has grown."
Fishman and team estimate that it would only take a three-point spike to cause a substantial impact:
"The potential for short and levered ETPs to start buying VIX futures quickly on a sudden vol spike (issuers would be driven to buy $110mm vega on a 3-point spike in VIX futures, for example) has grown, making short-dated VIX-based hedges timely. With the price of VIX tail hedges unusually high for a low volatility environment, we prefer paired positions to outright options - particularly as a volatility spike would likely be short-lived as long as economic and equity fundamentals remain strong. We recommend: Buy February VIX calls vs. sell April VIX calls."