Opoids are not the only public health crisis plaguing America (and other countries).
According to a significant study published at the end of last year, the majority of US school kids will be obese by the time they reach 35.
Researchers from the Harvard T.H. Chan School of Public Health studied data from the CDC as well as five longitudinal studies, which in total considered 41,567 children and adults in all, to map out height and weight trajectories for a population of 1 million aging kids.
Based on various scenarios, the researchers concluded that an estimated 57% of children who are currently between ages 2 and 19 will be obese by the age of 35, if current trends continue, that compared to around 38% of Americans today over the age of 20.
Being overweight is already having an impact on life expectancy. A study from the University of Pennsylvania and the Boston University School of Public Health estimates that obesity has slowed gains in mortality rates by 0.54% between 1988 and 2011, shaving an estimated 0.9 years off the national life expectancy at age 40. These findings put the number of additional deaths caused by obesity at 186,000 in 2011 alone.
The level of obesity among American citizens has become so bad that's it's now a threat to national security as the military is struggling to find enough recruits to fill vacant spaces.
There's no denying that obesity is one of the largest public health issues facing not just America, but also the rest of the developed world. A recent report from Goldman Sachs notes that according to World Health Organisation figures, there are more now more obese people in the world than hungry or undernourished — that's a staggering estimation.
The US leads the pack in obesity rates, but other developed nations are not far behind. Over 35% of the US population is estimated to be obese (up from 25% in 2000), while the rate in Canada is 29%, the UK falls at 28%, and in Germany, it's 22%.
A Public Health Crisis That Hurts Everyone 
The costs of dealing with this crisis are rising. While there are many adverse health effects obesity can have on your body; diabetes is usually the most common. The WHO estimates that the world healthcare system spends more than $800 billion a year on diabetes medicines and treatments. These costs mean governments are increasingly being forced to spend more on healthcare at the expense of other departments such as education and defense. As Goldman's report explains:
"On a government level too, healthcare costs account for an increasing share of national spending. OECD nations now deploy 19% of their annual budget on healthcare versus 13% in 2001, at the expense of lower spending on education, infrastructure and general services. Put another way, there has been a decline in the share of government spending in advanced economies directed towards more productive areas that contribute to broader economic growth. Of course, not all of the health spending is driven by obesity-related conditions."
With a looming public health crisis, governments around the world are starting to take action to stop or slow the growth in obesity rates. Policymakers are using the tobacco playbook to both raise revenue and curb consumption of sugar. For example, the implementation of a 'soda tax' in California in 2015, the first in the US, led to a 9.6% reduction in sales of sugar-sweetened beverages and raised US$1.4 mn in tax revenue in its first year. A similar tax Mexico in 2014 led to a 5.5% decline in sugar consumption in year one, followed by a 9.7% in year two. The UK, France, Finland, Denmark, and Norway have or are planning to adopt similar measures, although not all have been successful: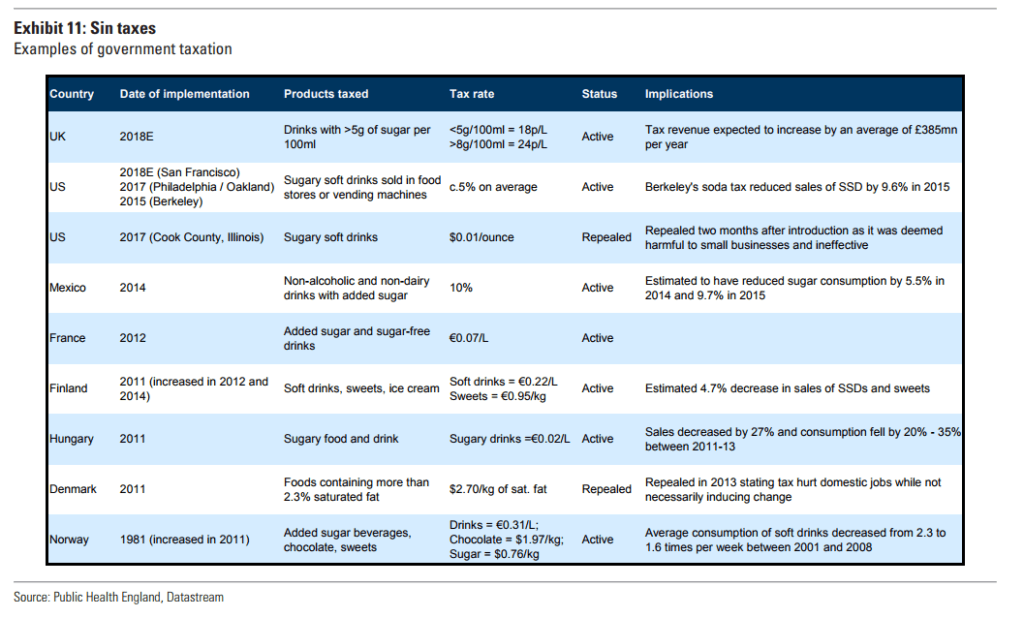 Alongside taxes, Goldman's analysts also believe better awareness and technology will help reverse the obesity trend. In 2017, c.25% of Americans owned a wearable device, a 12% year-on-year increase versus 2016. Additionally, most major smartphone brands increasingly have default fitness apps installed, lowering the threshold for tracking diet and activity.
There are also some green shoots showing through regarding consumer awareness. Goldman's report highlights the statistic that in the US, the percentage of high school students who drink carbonated soft drinks on a daily basis has fallen to 20% from 34% in 2008. Meanwhile, the volume of sugar and calories consumed in both the UK and US markets has been on a steady decline since the early 2000s.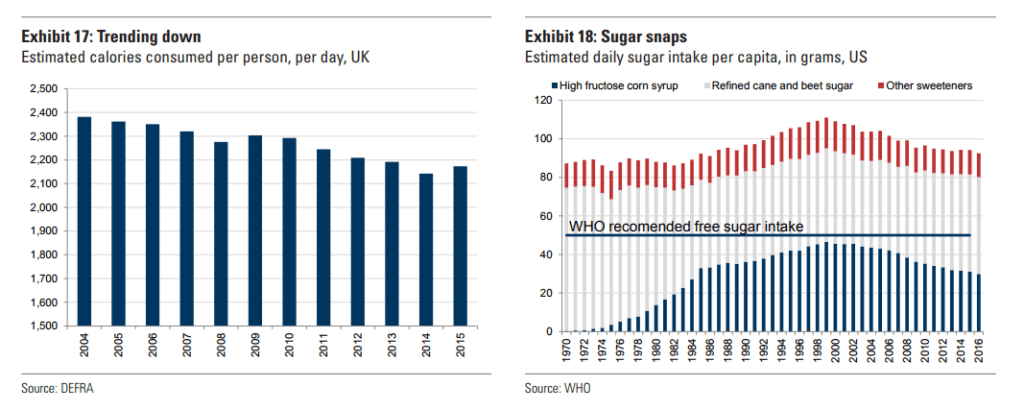 Companies are also changing their habits. Spurred on by changing consumer tastes as well as regulation, the world's largest food producers are reformulating their products. As per Goldman's report:
"Whether in a reactive or proactive manner, many food companies are taking steps to respond to government intervention and increasing consumer awareness. In response to the planned introduction of the UK sugar tax in 2018, AG Barr and Lucozade Ribena Suntory reduced sugar in their products by 50%. Similarly, in 2016 Coca-Cola European Partners invested more than £10 bn in reformulating and promoting Coca-Cola Zero Sugar, and expects as a result that more than half of Coca-Cola sales in the UK will be low or no-sugar by 2018 (the first country en route to achieving this). The number of food products being reformulated has risen from c.20,000 per year in 2014 to 180,000 in 2016 in the US."
These changes won't happen overnight, but the world is moving in the right direction, slowly.