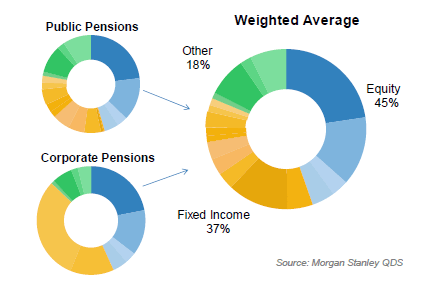 Pension funds are set to sell an estimated $70 billion in equities and $8 billion of commodities over January month-end as they rebalance their portfolios according to the latest reading from the Morgan Stanley QDS Pension Rebalancing Model.
The volume of pension rebalancing expected to occur this month is estimated to be one of the largest on record according to analysis from three banks, Morgan Stanley, Goldman Sachs and Credit Suisse.
Macro Hedge Funds Earn Huge Profits In Volatile Macro Environment
With the S&P 500 falling a double-digit percentage in the first half, most equity hedge fund managers struggled to keep their heads above water. The performance of the equity hedge fund sector stands in stark contrast to macro hedge funds, which are enjoying one of the best runs of good performance since the financial crisis. Read More
"Estimated flows are spread over the next two weeks. As a percentage of asset allocation this is a 79bps rebalance from equities, which is at the 7th percentile since 2005 (values under the 50th percentile indicate more outflows than typical). Within equities, the model estimates ~$45bn outflows from US, ~$25bn from DM ex-US and ~$10bn from EM, driven by their strong MTD performance. This marks the 10th consecutive month of equity outflows based on our model." -- Morgan Stanley
Pension rebalancing: Funds dump equities for bonds 
Estimates of the extent of this pension rebalancing vary widely. While Morgan's analysis indicates $70 billion in equity outflows, Goldman's estimates indicate $34.5 billion in sales (the largest Equity sell imbalance of their database (since 1995)) and Credit Suisse's model "currently estimates selling in US equities to total just over $12bn from funds that rebalance on a monthly basis."
"Equities have had a strong start to the year with the S&P 500 up 6.5% MTD. As a result, our model currently estimates selling in U.S. equities to total just over $12bn from funds that rebalance on a monthly basis – a relatively large amount relative to recent history for a month that does not coincide with quarter-end." -- Credit Suisse
While the estimates of pension rebalancing vary, all of the banks note that the level of selling is expected to be significant relative to history.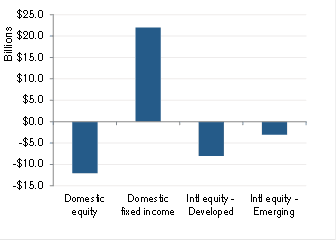 Rotating away from equities to fixed income, pension funds are set to be large buyers of fixed income over the next two weeks as they rebalance. According to Morgan's estimates, the total inflow into fixed income could be as high as $62 billion. Credit Suisse estimates $24 billion in total buying:
"Given the relative underperformance versus equities, we expect the significant rotation of assets into fixed income to continue. Our model estimates slightly under $24bn of buying in fixed income securities in total."
Updated on