The downward trend continues for renowned bear, London based hedge fund manager, Crispin Odey, and his historically well-regarded hedge fund Odey Asset Management. Figures reported from the Odey International Fund from the end of November 2017 have failed to demonstrate a much hoped-for turnaround from the consistent falls in both AUM and returns that have materialised from Odey Asset Management since 2015, according to a letter to investors reviewed by ValueWalk.1
Looking over the longer term, the Odey International Fund has delivered a disappointing -17.08% return p.a since inception (July 2014), far underperforming its benchmark, the MSCI World Index Daily TR Net Local, which managed to provide returns of 9.33% p.a. over the same time frame. Investors will seek little solace from the staggering underperformance of -39.94% looking over the past year horizon, and the -21.38% underperformance over the past 6 months. 1
What factors have led to the failure to deliver benchmark beating returns?
The manager of the Odey International Fund, Edward Gibbon, cites the Federal Reserve's policy of tapering of quantitative easing from as far back as 2013 as the catalyst – suggesting that tapering affected monetary policy worldwide that exacerbated deflationary pressures to unmanageable levels by 2015. 1 Like other bear-led funds, Mr Gibbon was not expecting the upturn in markets that resulted from the, also unexpected, enhanced monetary policy easing from global economic powerhouses of China and the USA in 2016 – stating
Far View Adds 34.4% In 2020, Revisits Strategy After Missing Opportunities; like this Nordic "Amazon" style stock
Far View Partners generated a return of 34.4% net of all fees and expenses in 2020, that's according to a copy of the firm's annual investor letter, which ValueWalk has been able to review. Since its inception on July 1, 2011, Far View Partners has generated a cumulative net return of 255.8%, a 14.3% CAGR. Read More
"When we all look back we will see how Yellen's attempt to taper in 2013 led to a general tightening both in the USA and even more so in the emerging markets. The deflationary pressure was too much by 2015. With product price deflation of 8%, China devalued in August and then was dismayed to find Yellen raising interest rates in December.

Entering 2016 the economic upcycle looked like breaking down and then both the USA and China monetised. They threw 40% of GNP in money into their respective economies.
The rally in the markets caught me out and I am s till suffering." in the month end report from Odey. 1
Two years on and the market has delivered consistent strengthening upward performance – moving further against calls from Odey Asset Management that a bear correction was looming. Mr Gibbon's view is that investors are being ignorant of the risks of an increasingly inflationary environment and the prospect of interest rates heading higher.
Looking at allocations, the fund was positioned with a firmly bearish stance –net short equity and net short government bonds – leading to the reported losses. This is not the first of these troubles for Odey Asset Management's Funds – with the Financial Times reporting in October 2017 that clients were informed that assets under management (AUM) had fallen from $11.7bn at the start of 2015 to $6bn at the end of August 2017. 2
Crispin Odey, a strong advocate for the leave campaign in the Brexit debate, may have been setting the tone for the fund managers at Odey. For the past decade Mr Odey has been very vocal in arguing the case of a sharp bear reversal and positioning with short holdings in equities and government bonds. He was expecting monetary policy to fail and a global crash to be fuelled by growing Chinese debt. He was wrong. This firmly pessimistic conviction has cost Odey dearly.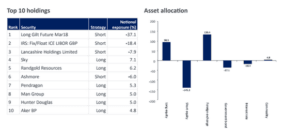 The fund sticks to the bearish view stating:
However, two years later that broken reservoir of money that cascaded into those economies is now behind a global boom. A boom which is most unnatural. So unnatural that the bond markets are refusing to take any notice of the central bank's advice that inflation is coming and interest rates are headed higher.

The paradox being that this boom is being accompanied, thanks to markets, by extreme monetary looseness. This is the equivalent of treating monetary flu without antibiotics.

In previous periods where no monetary tightening took place – 1973 and 1979 and again in 1989 – ultimately inflation came through a sharp rise in commodity prices, reflecting that everything was operating at close to full capacity. Will history be repeating itself?
Meanwhile, there was a contrary glimmer of hope into November end with another Odey fund manager allocating based on an opposing conviction. Led by rising star manager, James Hanbury, the Odey Absolute Return fund was able to deliver an impressive 11% return annually and reported AUM of $772million as of October 31st, 2017. 3 Perhaps all is not lost.
Sources:
1 Odey  Fund Update, 30th November 2017
2 ft.com, The Financial Times, "Poorly timed trades crush fund assets managed by Crispin Odey", 24th October 2017, https://www.ft.com/content/dfeca806-b8d3-11e7-8c12-5661783e5589
3Financial News London, 23rd November 2017, https://www.fnlondon.com/articles/odey-fund-rises-to-the-top-with-11-returns-20171123