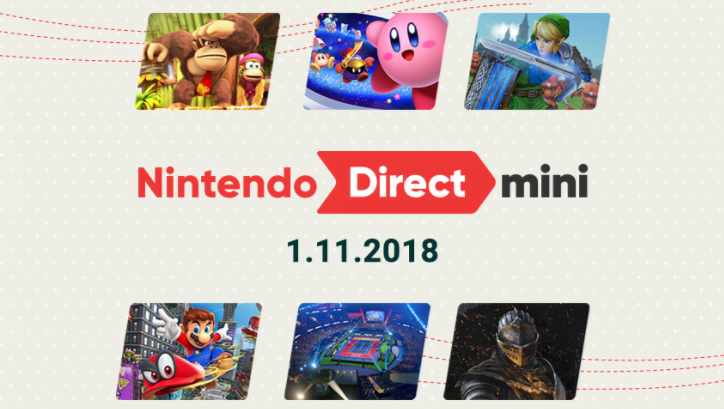 Nintendo already has an incredible list of first-party and third-party titles to keep Nintendo Switch users engaged. On Thursday, the company held a Nintendo Direct presentation to announce a bunch of exciting games coming to the Switch this year. Nintendo of America's SVP of Sales and Marketing said in a statement that people who have received Nintendo Switch as a holiday gift or are getting ready to join the Switch community are going to have a lot of fun with new games.
Let's take a look at some of the most popular Nintendo Switch games the Japanese company announced during the Direct presentation.
Dan Sundheim Founder Of D1 At Sohn 2021 On His Favorite Stock
At this year's Sohn Investment Conference, Dan Sundheim, the founder and CIO of D1 Capital Partners, spoke with John Collison, the co-founder of Stripe. Q1 2021 hedge fund letters, conferences and more D1 manages $20 billion. Of this, $10 billion is invested in fast-growing private businesses such as Stripe. Stripe is currently valued at around Read More
Dark Souls: Remastered
Set to release on May 25, the Dark Souls: Remastered is an updated version of the genre-defining action role-playing classic. It's the first time the Dark Souls franchise is coming to a Nintendo platform. The company promises an improved resolution and frame rate along with the Artorias of the Abyss DLC for an "exhilarating return to Lordran." Many gamers have criticized Nintendo for not offering great third-party support. The Dark Souls seems to be the company's response to them.
Donkey Kong Country: Tropical Freeze
This title is releasing on May 4th. Donkey Kong is a Wii U classic, to which Nintendo has added a new character Funky Kong as well as a beginner-friendly mode. It offers all the fun and challenges of the original title, allowing you to enjoy the adventure as Funky Kong. The simian Funky Kong can double jump, hover, perform infinite rolls and even infinite underwater corkscrews.
Mario Tennis Aces
Mario Tennis was first introduced on the Nintendo 64. Since then, the game has been made available on almost all Nintendo consoles. Now it is coming to Nintendo Switch this spring. The Mario Tennis Aces brings a new story mode with missions and competitive gameplay. You can expect Mario and other Mushroom Kingdom characters to indulge in full-blown tennis battles. It will challenge your ability to figure out an opponent's position and stroke to determine which shot could give you an advantage. The game is developed by Camelot.
Kirby Star Allies
Everyone's favorite pink blob is coming to Nintendo Switch on March 16th. It has a new Artist ability to let Kirby unleash his creativity. Kirby can ensnare enemies in spider webs and hurl new friend hearts at enemies to turn them into friends. The game allows up to four friends to join in and combine Kirby's unique ability with allies for new Friend Abilities. Kirby Star Allies was announced at the E3 show last year.
Hyrule Warriors: Definitive Edition
It's the "ultimate version" of the action game set in the Zelda universe. Nintendo says the Hyrule Warriors: Definitive Edition has all the characters, maps, and missions from the Wii U and Nintendo 3DS versions of the game. It will also have all the paid downloadable content. The title is coming out this spring. It has new outfits for Zelda and Link based on the Legend of Zelda: Breath of the Wild.
The World Ends With You
It was first released on the Nintendo DS in 2008, and instantly became a cult hit. Nintendo didn't give a specific launch date, but assured customers that it would be released later this year. Set in modern-day Japan, the game will include a "sizable new scenario that gets right to the heart of the story" along with HD visuals, a new epilogue, and Joy-Con controls. It involves a character named Neku who is forced to participate in a dangerous game or be wiped out from existence.
Super Mario Odyssey update
Super Mario Odyssey has proved to be a blockbuster on Nintendo Switch. The company will update it with a new mini-game called Balloon World, where you'll have 30 seconds to hide a balloon or find one that someone else has kept hidden. It features Mario's frequently ignored brother Luigi, who hosts Balloon World. The free update will also bring three new outfits and many snapshot filters.
Other Nintendo Switch games
Nintendo has many other games planned for the Switch this year. They include SNK HEROINES: Tag Team Frenzy, Ys VIII: Lacrimosa of Dana, PayDay 2, Celeste, and Fe. The company has also promised to update Mario + Rabbids Kingdom Battle with a Donkey Kong DLC pack. Pokken Tournament DX gets a new Battle Pack that will bring two Waves of Battle Pokemon and Avatar items. Switch owners are going to have tons of choices for what they should buy next.
Nintendo Switch has become one of the most successful consoles in Nintendo's history. It reached 10 million unit sales milestone in just nine months and seven days. It means the Switch is selling as fast as PlayStation 4 at the time of its launch. The sales numbers could have been even higher had Nintendo been able to meet the market demand. Supply chain reports suggest Nintendo is planning to produce 25-30 million Switch units this year.