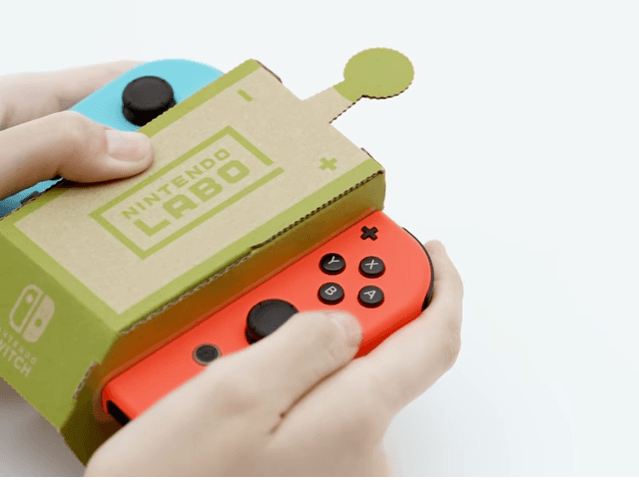 When Nintendo teased a "new interactive experience" specially crafted for "kids and those who are kids at heart," people started guessing a wide variety of things. But few were able to guess that it would be a set of DIY cardboard accessories called Nintendo Labo. The name might sound weird, but it appears to be a wonderful companion to the Nintendo Switch console. Nintendo has once again bucked the industry trend, and the Nintendo Labo is "so crazy it might just work," says Dave Lee of BBC.
Nintendo Labo is the right companion to the Nintendo Switch
Nintendo Labo is a series of DIY accessories made of cardboard. The Japanese company said it is a "new line of interactive build-and-play experiences that combine DIY creations with the magic of Nintendo Switch." The family-friendly Labo will allow Switch users to build cardboard versions of pianos, fishing rods, robot, or motorbike. Nintendo calls these cardboard creations Toy-Con, a wordplay on Nintendo Switch's Joy-Con controllers.
Users can insert the Joy-Con controllers into the cardboard Toy-Con to play their cardboard creation-themed games. Nintendo has released a trailer video that shows people using Toy-Con to control robots and play music. The objective of Nintendo Labo is to give kids a more hands-on experience while playing games on the Nintendo Switch. Nintendo of America president Reggie Fils-Aime said, "Labo is unlike anything we've done before."
This mining and metals fund is having a strong year so far
The Delbrook Resources Opportunities Master Fund was up 9.2% for May, bringing its year-to-date return to 33%. Q1 2021 hedge fund letters, conferences and more Dellbrook is an equity long/ short fund that focuses exclusively on the metals and mining sector. It invests mainly in public companies focused on precious, base, energy and industrial metals Read More
Only Nintendo could have come up with such a weird and fun thing that makes people fall in love with its products. Nintendo Labo attempts to give kids a better understanding of technology rather than making them just a passive consumer of it.
Nintendo Labo to launch on April 20
Nintendo will launch the Labo on April 20th in the US. It will be available in two versions – a Variety Kit priced at $70 and a Robot Kit that would cost you $80. The Variety Kit includes Toy-Con for five different games – piano, fishing rod, house, motorbike, and two RC cars. The $80 Robot Kit will allow kids to build an interactive robot suit with a backpack, visor, and straps for your hands and feet. You can wear them to take control of a virtual in-game robot.
The company will also be selling a Customization Set for $10, which would include stickers, stencils, and colored tape to fix the cardboard you might break. Andrew Webster of The Verge says the process of making the Toy-Con is "not only a lot of fun, but also surprisingly rewarding."
It's fun, easy, and family-friendly
The Nintendo Labo has three main characteristics – make, play, and discover. The Labo kit comes with cardboard sheets, a Switch cartridge, and other accessories such as the string and plastic connectors. Once you place the cartridge into the console, the on-screen instructions will guide you through the steps to build the Toy-Con of your choice. The Nintendo Labo is particularly suited for parents playing with their kids.
After you have built your Toy-Con, you'll be able to check out a 3D model of your cardboard creation. The platform also explains how the inserted Joy-Con turns a cardboard fishing rod into a working video game controller. With Labo, the company is focusing on kids by offering a family-friendly experience. It is designed to keep children as well as adults interested.
An opportunity to expand the user base
Nintendo president Tatsumi Kimishima recently said that the second year would be crucial for the long-term success of Nintendo Switch. The Switch has been around for more than ten months, and it has sold more than 10 million units since launch. Kimishima says people who purchased the console during the first year were already Nintendo fans. The company is looking to expand its audience. Kimishima wants even those people to purchase the Switch "who barely touch game consoles."
Nintendo Labo gives the Japanese company an opportunity to expand its user base. It could help keep the momentum going considering Nintendo has already released two of its biggest blockbuster titles The Legend of Zelda and the Super Mario Odyssey.
Only a few days ago, Nintendo announced about a dozen first-party and third-party games coming this year. The list includes The World Ends With You, Dark Souls: Remastered, Donkey Kong Country, Mario Tennis Aces, and Kirby Star Allies. Nintendo isn't going to release all of them at the same time. For instance, the Kirby Star Allies would be released on March 16 while the Dark Souls: Remastered is coming out on May 25th.
Nintendo has ramped up the Switch production to two million units per month to meet the consumer demand. The console faced supply shortage through much of 2017. It would often run out of stock in most markets around the world.