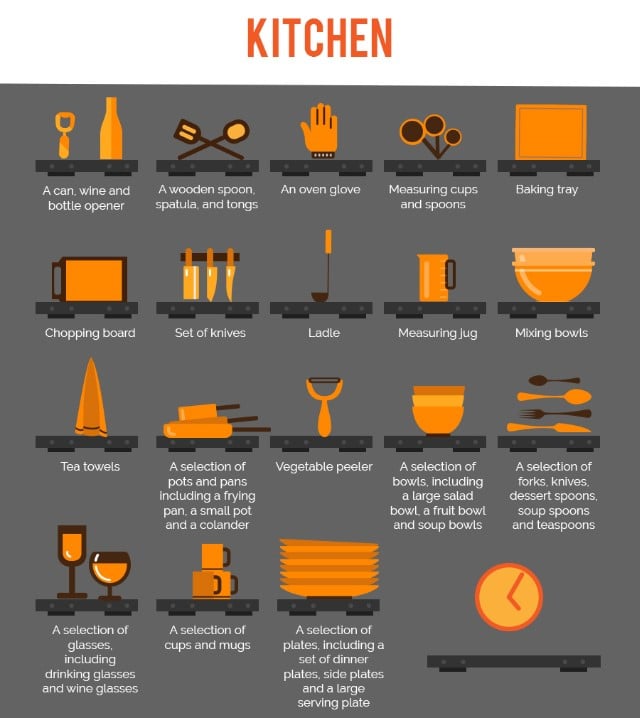 There are few, if any, bigger transitions in life than moving into a new home. From handling the bureaucratic side of things like signing deeds and notifying all necessary parties, to the practicalities of moving everything you own from one location to another, it's an incredibly busy time and it usually takes a few days at least to truly get the feel that your new house is indeed your home. You're also trying to familiarize yourself with new kitchen layouts and perhaps a different way of controlling appliances such as cookers and home heaters.

What you'll almost always find when moving into a new home is that you're short a lot of essential equipment which might not have been top of your priority list initially before realizing its importance when you go looking for it and finding that it's not there. This is especially true in the kitchen, where you keep all kinds of cutlery and dinnerware. Even a simple dinner will generally require items such as a chopping board, frying pan, ladle, sharp knife, measuring jug and a couple of plates. It's very easy to overlook some of these in the transition from one home to another, but when you prepare dinner for the first time in your new residence, you might realize that an essential item isn't there, thus requiring you to amend your original dinner plans.
You could have a similar experience in the other rooms of your new home. The living room might already be stocked with armchairs and a sofa, while you'll surely have transferred the TV from your old home, but what about the other staples of a living room? A small table is a prime example of an item that would be sorely missed from a living room, so either bring one with you from your old home or get a new one straight away. A TV cabinet is another essential purchase, while a set of coasters should also be picked up.
Is First Gen An Overlooked Power Play That Deserves A Re-Rating?
The post was originally published here. Highlights: Resolving gas supply issues ensures longevity A pioneer in renewable energy should be future proof Undemanding valuation could lead to re-rating Q1 2022 hedge fund letters, conferences and more
Moving to the bedroom, is there a bedside table already in place or do you need to add one? Have you a lamp to put on this bedside table? Also, there'll be a wardrobe in which you can keep your clothes, but you'll probably need to bring hangers with you or invest in a set. For your bathroom, you'll most likely need to pick up a bath mat and a plunger, in addition to the usual range of cleaning products such as a toilet brush and bleach. Around the home, you should ensure that you have important items like a first aid kit, basic hand tools and a fire extinguisher for situations which need urgent addressing.
This infographic from EZ Living Interiors provides a very useful checklist of essential items for your new home so that the transition can be made a little easier. It's frustrating when you go to begin household chores and you realize that a key item is missing, so be sure not to leave yourself stuck. Check out the infographic below to see which items you need for your new home!

Updated on