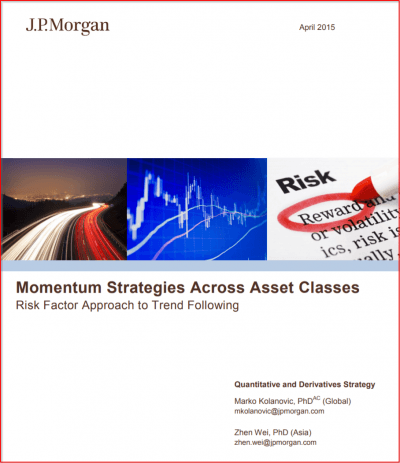 J.P. Morgan researchers, Marko Kolanovic and Zhen Wei, produced an incredibly detailed report on all aspects of momentum (one of our favorite topics!)
Here is a link to the report
GrizzlyRock: Long Thesis For This European Travel Company [Q1 Letter]
GrizzlyRock Value Partners was up 16.6% for the first quarter, compared to the S&P 500's 5.77% gain and the Russell 2000's 12.44% return. GrizzlyRock's long return was 22.3% gross, while its short return was -2.9% gross. Compared to the Russell 2000, the fund's long portfolio delivered alpha of 10.8%, while its short portfolio delivered alpha Read More
188 pages of pure effort and information.
Here is a summary of what is examined in the research:
As the virtually unlimited number of possible implementations may confound an investor, we first provide a framework for designing and testing Momentum Strategies. We have examined single asset and multi asset strategies, Absolute and Relative Momentum, various Momentum filters, lookback windows, rebalancing frequencies and investment horizons.
h.t. C. Hoffstein for finding this one!
---
The views and opinions expressed herein are those of the author and do not necessarily reflect the views of Alpha Architect, its affiliates or its employees. Our full disclosures are available here. Definitions of common statistics used in our analysis are available here (towards the bottom).
Join thousands of other readers and subscribe to our blog.
This site provides NO information on our value ETFs or our momentum ETFs. Please refer to this site.
Article By Wesley R. Gray, Ph.D. - Alpha Architect