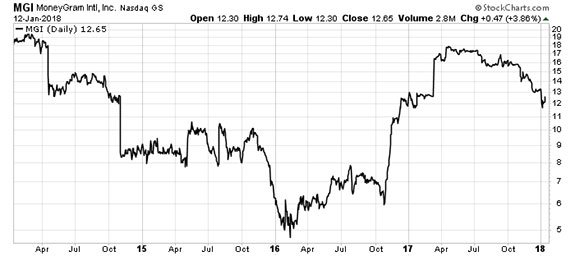 Cash is dead.
Consumers made only 1% of all payments using coins or bills in Sweden in 2016.
If you think that can't happen in your country, think again. Whether we like it or not, cash is going away.
Exclusive: Third Point Expands Private Equity Business With New $300 Million Fund
Dan Loeb's Third Point recently completed the first close for TPVC, its new dedicated private growth-stage fund. The $300 million fund is part of Third Point's private investing strategy. At the end of February, Third Point managed $16.5 billion overall for clients around the world. New talent According to an investor update dated March 5th Read More
[REITs]
The rise of bitcoin is one sign the traditional payment system is waning.
Japan, Canada and Germany have all encouraged the growth of cryptocurrencies. The Netherlands hosts a "bitcoin city" with hundreds of cryptocurrency merchants. The city is also home to hundreds of crypto startups.
We are in unprecedented times. And it doesn't end there.
Payment companies such as Visa, PayPal, Square and American Express are some of those focused on killing cash.
Global consulting firm Capgemini expects the volume of noncash transactions in developing markets will increase nearly 20% per year from 2015 to 2020. Mature markets should grow almost 6% per year.
Many governments and companies are involved in this trend. But some governments are wary.
The U.S. government just thwarted a Chinese company's attempt to acquire a U.S. firm that is active in this space.
This has created an excellent opportunity for investors…
Why We Want to Own This Payment Company Today
Today, we have the opportunity to buy $18 worth of assets for $12. That's an incredible bargain for a great company!
MoneyGram International Inc. (Nasdaq: MGI) is a global money distribution network. It facilitates payments and receipts online, on mobile devices and at physical locations.
MoneyGram agreed to merge with Ant Financial, an affiliate of Chinese internet giant Alibaba, a year ago. When another bidder emerged, Ant Financial raised its offer to $18 per share a few months later.
You can see the shares rallied on the news. They hit a three-year high.
Luckily for us, the government wouldn't let the deal go through.
The market anticipated this. Midyear, MoneyGram shares began trending lower on doubts the U.S. would allow the deal to close.
On January 2, MoneyGram announced the two companies had scrapped the deal.
Predictably, when the companies officially canceled the deal, shares swooned another 12% over the next two days.
This is our opportunity.
They are not merging, but MoneyGram and Ant Financial will still work together. They are developing programs to combine their services around the world … with a focus on China, India and the Philippines.
This is important for MoneyGram. In 2016, money transfers originating outside the U.S. accounted for nearly half of the company's revenue … and it wants to continue to grow that.
Further, MoneyGram is embracing the latest technology. Last Thursday, it announced it is teaming up with blockchain firm Ripple. MoneyGram will use Ripple's currency to move funds faster and more cheaply.
It is using the technology of the future to improve its operations today.
And if that wasn't enough, MoneyGram has another suitor waiting in the wings. Before Ant Financial raised its offer to $18 per share, MoneyGram's peer, Euronet Worldwide, had offered $15.20 per share to buy the company.
I would not be surprised to see Euronet make another run for MoneyGram.
A deal makes sense. The companies complement each other well. MoneyGram focuses on large retailers and national post offices. Euronet focuses on independent agents and offers consumer payment solutions.
This deal is more likely to go through than the one with Ant Financial. The U.S. group that reviews foreign takeovers wouldn't even have to opine on it … both companies are domestic.
Snatch Up Wall Street's Hidden Gem
As you can see, we have at least three ways to win by buying MoneyGram. The company still has room to grow with Ant Financial, it's tapped into the cryptocurrency market and it has already caught the eye of another suitor.
Wall Street investors overreacted when the first acquisition fell through, making the shares a bargain you can't pass up.
I encourage you to check out MoneyGram today. The shares have already begun to move higher. They are up 4% from their January 4 low.
The recent weakness looks bad, but it's due to the doubts/failure to close the Ant Financial. If a company, such as Euronet, makes a run for MoneyGram, I estimate shares will rally to at least $15 in short order.
And a return to $18 is possible given MoneyGram's new initiatives. That's a gain of more than 40% from current levels.
Good investing,
Brian Christopher
Senior Analyst, Banyan Hill Publishing