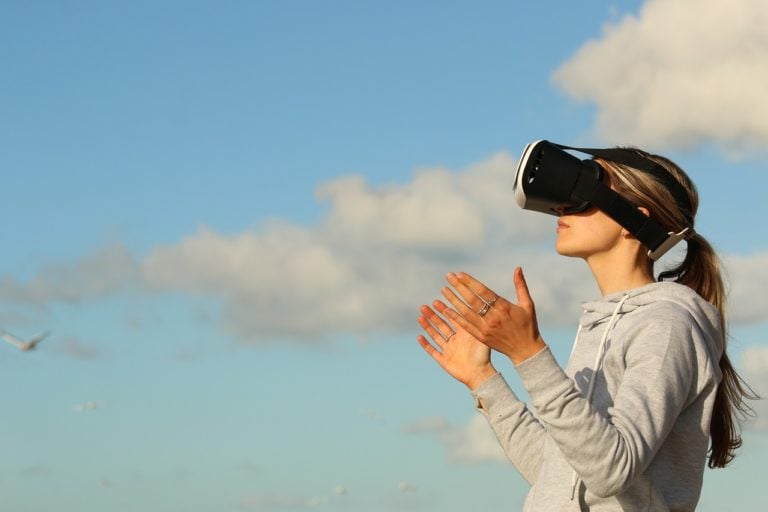 The virtual reality (VR) business is booming. As is that of its cousins, augmented reality (AR) and mixed reality (MR). 2017 was a year when investment funds were heavy on tech investment, and it looks like there is still a long, frankly tantalising, stretch of growth ahead when it comes to the VR/AR/MR thematic investing space.
44.57% annual return in 2017
Backing up the trend is recent research from the BoAML which indicates that VR/AR/MR theme-based investments returned a whopping 44.57% return in 2017. This stellar performance has been consistent over the past few years – delivering upwards of an annualized 32% return since the 2014 theme inception from the bank. Most recently, VR/MR/AR has also performed strong – returning 7.02% in the past month alone. 1
Ramping Up Returns
If you think these numbers look good, consider that the bank also thinks that this is just the beginning – predicting that as these new technology products and solutions find their place in the world, there will of course be a number of frictions and hurdles. Therefore, sizeable exponential growth is forecast to develop greater momentum only after 2019/2020. 1
David Einhorn At The 2021 Sohn Investment Conference: Buy These Copper Plays
There's a gold rush coming as electric vehicle manufacturers fight for market share, proclaimed David Einhorn at this year's 2021 Sohn Investment Conference. Check out our coverage of the 2021 Sohn Investment Conference here. Q1 2021 hedge fund letters, conferences and more SORRY! This content is exclusively for paying members. SIGN UP HERE If you Read More
Exponential Growth in User Numbers
Continued growth will be driven by growing user numbers – VR/AR/MR technologies could be in use by 250-300 million users in the next few years – as early as the 2020s, according to the BoAML figures. Underpinning wider adoption is the fact that these technologies have the power to transform user experiences and communication channels across so many areas of life and business.
For example, VR resources in education are revolutionising learning methods and helping educators implement more multi-faceted approaches. The list of industries in which VR/AR/MR technologies can add value is endless – entertainment, financial services, gaming, healthcare, leisure, media, and retail industries. Each of these industries in isolation offer enough scale to deliver significant returns to the VR/AR/MR segment – combined we can begin to see where that 44%+ return of 2017 came from.
Manufacturing Moves On Up
Augmented reality  and mixed reality are being applied towards changing the landscape of design and manufacturing as we currently know it – allowing production to occur in a more bespoke and efficient way. Many had given up hope that these areas of change could be achieved in tandem rather than as a trade off against one another. So promising are the gains to be captured that over 50% of organisations are testing AR – based on impressive historical application figures, such as 30% faster assembly rates, 25-60% potential maintenance savings and a 40-90% improvement in output accuracy.
Bridging the Gap
Virtual, Augmented and Mixed Reality technologies may also be the long-awaited solution to bridging the gap between the physical and digital world. The internet of things (IoT) has been slowly taking shape, but VR technologies have the potential to act as an effective interface that will allow wider adoption rates across the globe, untapping the true IoT potential. 3.5bn internet users, 3.6bn mobile broadband users, and 1.6bn with TVs are just waiting to communicate with one another – the market is rife with opportunity for Virtual, Augmented and Mixed Reality developers. IoT aside, in the near term, growth will be driven by smartphone take-up. Longer term, forecasts indicate that the sector will capture 2/3 of our leisure time, and up to half of our leisure spending.
Virtual, Augmented and Mixed Reality – Market Size Swells
Taking these figures and market application projections into account Virtual, Augmented and Mixed Reality is projected to swell to a market size of a US$150bn in the next four years – with VR accounting for 25% of the market and AR/MR for the remaining 75%.
Ultimately AR/MR/VR will impact everything. Generalist as that may sound the technology is indeed that powerful and far-reaching. Of 13 key themes identified as prime for investing by the BoAML, Virtual Reality has been the frontrunning performer by far. With so much investment potential on offer it's no surprise that VCs have been standing to attention – investing a record US$2bn in the space in the past 12 months. But there are risks involved – risks that have yet to surface given the relative infancy of the segment. Top of the list, from an economic perspective are privacy and cybersecurity – and of course then comes the regulations.
Source:
1BAML, No stopping the thematic bull run, 22nd January 2018