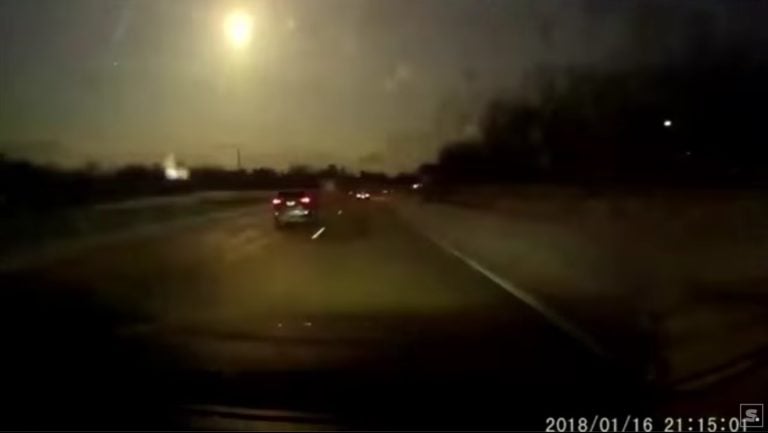 While significant damage from a meteor impact is a relatively rare occurrence, every once in a while these extraterrestrial bodies make it down to Earth – and sometimes they're completely unexpected. A Michigan meteor crashed down around the Detroit metro area at 8:15 pm ET on January 16th, and the impact caused a magnitude 2 earthquake.

The Michigan Meteor
The noise from the meteor impact sounded like thunder, and many people suspected that it could be some sort of storm. But meteorologists have since confirmed that it was not a regular weather event, and was an unexpected Michigan meteor that caused a small earthquake that reverberated through downtown Detroit.
It looks like from videos and reports we've gotten [that it's a] meteor," said Jordan Dale, meteorologist with the National Weather Service in White Lake, in an interview with Detroit Free Press. "However, we cannot confirm it's a meteor. At this point, we're just sticking to what we know — and it was not thunder or lightning or weather-related."
Connor Leonard Of IMC Explains: Here's What Value Investors Should Know About Moats
When it comes to value investing, one strategy that's often used is seeking out companies which have sizeable moats against competition. In a presentation for the Value Investing Club at Google earlier this year, Connor Leonard of the Investors Management Corporation explained two ways of looking at moats and how value investors can benefit from Read More
In just 45 minutes, the weather service had received dozens of calls from areas ranging from Flint to Toledo. Other areas that witnessed the impact include Illinois, Pennsylvania, Ohio, Indiana, Missouri and Ontario, Canada.
The National Weather Service has since confirmed in a tweet that "After reviewing several observational datasets, [they] can confirm the flash and boom was NOT thunder or lightning, but instead a likely meteor, [and that they'll] continue to monitor feeds from astronomical agencies for official confirmation of a meteor,"
The appearance of the Michigan meteor sent social media into a frenzy, with many people sharing video footage of their point of view. The topic got so big that #meteor was a top five trending topic in the United States on Twitter.
In an interview with Detroit News, Danny McEwen Jr. sait that "[he went to turn and [he] noticed a ball of flame coming at an angle," He said he was driving when "it just blew up into a bunch of sparks. [He] didn't even know what to think. It was kind of odd how orange the sky was behind me and this blaze of flame out of nowhere."
Bill Cooke, Lead of the NASA's Meteoroid Environment Office at the Marshall Space Flight Center in Alabama, told the Washington Post that the event was definitely a Michigan meteor. He went on to say that this particular fireball was caused by a small asteroid just one to two yards in diameter moving at an incredible speed of 28000 mph. When it entered our atmosphere, it heated up and began to melt – producing the bright light seen in the dash cam footage below.
#meteor scared the buhjesus out of us pic.twitter.com/qFcFMotFDi

— PirateHooker (@BlackBeerded) January 17, 2018
"Most people don't see meteors this bright…For an area like Michigan, it's very rare."
The Surprise Impact
According to NASA, "Shooting stars, or meteors, are bits of interplanetary material falling through Earth's atmosphere and heated to incandescence by friction. These objects are called meteoroids as they are hurtling through space, becoming meteors for the few seconds they streak across the sky and create glowing trails."
Michael Narlock, head of astronomy at the Cranbrook Institute of Science, told Fox News that we had no idea this Michigan meteor was coming – largely due to the lack of funds for research and tracking.
"This was an object that virtually came out of no where [sic]. We don't really have a federally funded or a government sponsored agency that tracks debris in our solar system. It's really left to a lot of amateur astronomers…There are case upon case of large objects whizzing by the Earth and we know it because we see it go by. We had no idea it was coming. This is probably something like that – a relatively large object that hit our atmosphere, streaked across the sky, blew up, did no real damage but certainly gave a lot of people a bit of a startle."
While it's a little concerning that tracking of these small bits of space debris is largely left to amateur enthusiasts, the fact remains that real damage from these sort of impacts is exceedingly rare. The fact that the Michigan meteor touched down outside of Detroit is more of a freak occurrence rather than something that happens frequently, so there shouldn't be much cause for concern. Still, it's definitely a little scary that a Michigan meteor the size of the bus could come so close before being noticed.
Updated on