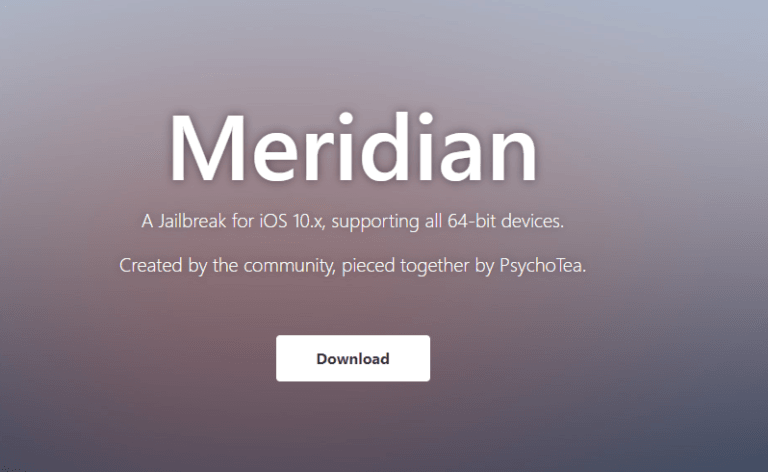 There has been a lot of activity in the iOS jailbreak community over the last few weeks. A variety of jailbreak tools have been released to liberate the iOS 10 and iOS 11 devices, putting all the speculations about the end of jailbreaking to rest. Now Twitter user iBSparkes has released the Meridian jailbreak for iOS 10.3.3. It works with all the 64-bit iPhones, iPads, and iPods. The new tool arrives just days after the release of G0blin tool for 64-bit devices and H3lix for 32-bit handsets.

Where to download the Meridian jailbreak for iOS 10.3.3?
The Meridian jailbreak allows users to liberate their 64-bit iOS 10.3.3 devices. The tool has been in development for a long time. It was pieced together from different projects running within the iOS community. It seems to have shaped nicely. However, almost all 64-bit iOS devices are compatible with the latest iOS 11. Most users have already updated their iPhones and iPads to iOS 11.
There might be only a small number of courageous users who have stayed put on the iOS 10.3.3 in the hope for a jailbreak. The Meridian jailbreak is intended for them. Meridian takes advantage of Siguza's vortex exploit and Xerub's KPPless method to gain root access on the iOS 10.3.3 firmware. It also supports the iPhone 7 and 7 Plus. The developer clarified that he had not tested the Meridian jailbreak on versions earlier than iOS 10.3.
How A Weakening PE Market Serves As Another Sign Of A Weakening Economy
Amid the turmoil in the public markets and the staggering macroeconomic environment, it should come as no surprise that the private markets are also struggling. In fact, there are some important links between private equity and the current economic environment. A closer look at PE reveals that the industry often serves as a leading indicator Read More
You can download the jailbreak from Meridian's official website. The tool is similar to LiberiOS jailbreak, which means you'll need the Cydia Impactor to sideload the Meridian jailbreak IPA onto your iPhone or iPad. Then launch the app and tap Go to jailbreak your device. It also installs Cydia, but you have to use an SSH client to run certain commands.
It's worth pointing out that the Cydia Substrate hasn't yet been updated for iOS 10.3.3 and 64-bit devices. It means most jailbreak tweaks won't work on your jailbroken device. Saurik aka Jay Freeman has confirmed that he is working to bring the Cydia Substrate support, though he hasn't given a timeline for its release.
Only a few days ago, the G0blin jailbreak tool was released for iOS 10.3.3, though it is primarily intended for developers. Goblin is based on the kernel exploit discovered by Siguza. It uses the KPP bypass developed by Luca Todesco to liberate your iOS device. It allows the jailbreak to work with Cydia and Cydia Substrate. Cydia is a hub of jailbreak tweaks. Hacker Tihmstar has also made the H3lix jailbreak public, but it works only with 32-bit devices.
Saurik working on an iOS 11 jailbreak
If you have upgraded your device to iOS 11, you can use the LiberiOS jailbreak to liberate your iPhone or iPad. Developer Jonathan Levin has published a new LiberiOS iOS 11.1.2 jailbreak that works even with the iPhone X, iPhone 8, iPhone 8 Plus, and the latest iPads running iOS 11. The improved version of the tool comes with a number of improvements, better stability, and patches for a lot of issues. The jailbreak also brings a new UI that looks attractive.
Jay Freeman, better known as Saurik in the jailbreak community, has told fans that he was working on an iOS 11 jailbreak that would offer full Cydia Installer and Cydia Substrate support. Saurik is the developer behind Cydia, so that's kind of expected. He said he had sought the help of many reliable developers from past jailbreak releases to "make stuff work." Saurik didn't give a timeline for its release or mention the names of developers he is working with.
The existing iOS 11 jailbreak tools come with a lot of limitations. Saurik said he would release his jailbreak only after making sure that it was stable and all aspects were working fine. He wants it to "work every single time in every single situation." Jay Freeman has also claimed that the updated Cydia Substrate would get some "super powers" including the ability to "easily inject extensions into binaries marked as setuid or setgid."
Updated on