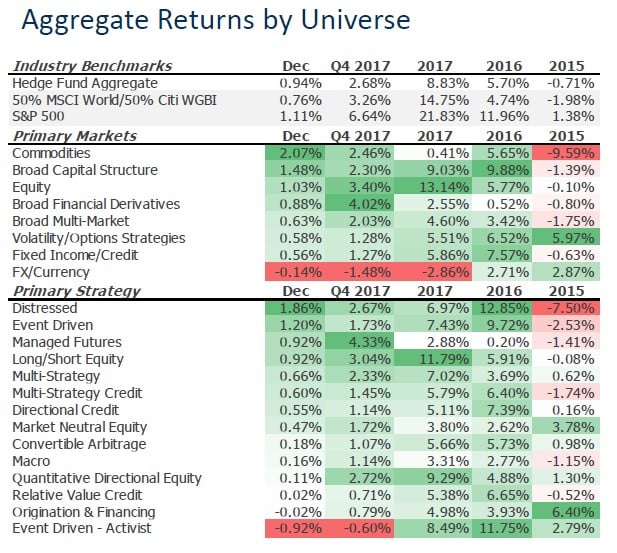 For most major strategies, 2017 was a very good year. Overall, over 80% of funds were able to produce positive results, and of those with gains for the year, returns averaged into double digits, nearly 14%. For segments like long/short equity, it was positive news from almost all around (90% of products had gains and, through November, led the industry for capital raised), but for a small handful of others the news was less positive.
Macro hedge funds ended what should be seen as a very mixed year in an appropriately mixed fashion. Managed futures were able to turn a very negative year into a positive with the help of industry leading Q4 returns, but where does that leave investor confidence?
Generally, the industry needed a feel good year in 2017, and for many, but definitely not all, that was accomplished.
Warren Buffett's Annual Letter: Mistakes, Buybacks and Apple
Warren Buffett published his annual letter to shareholders over the weekend. The annual update, which has become one of the largest events in the calendar for value investors, provided Buffett's views on one of the most turbulent and extraordinary years for the financial markets in recent memory. Q4 2020 hedge fund letters, conferences and more Read More
Highlights
Hedge funds returned an average of +0.94% in December to end 2017 +8.83%.
Over 80% of the industry was positive in 2017, and over 60% of funds improved upon their 2016 results.
Long/short equity was the #1 primary strategy, but emerging markets, led by India and China produced the industry's best returns.
The largest managed futures strategies returned greater than 6% in Q4, better than any other major strategy segment.
2017 Ends With 14th Monthly Gain in a Row, Managed Futures Rebounded in Q4 and LS Equity Ended 2017 On Top
Hedge funds returned an average of +0.94% in December 2017, resulting in average gains of +8.83% for the year. The industry produced positive aggregate returns in each month of 2017. This is the first time the industry has seen a full year of positive aggregate monthly returns since 1999.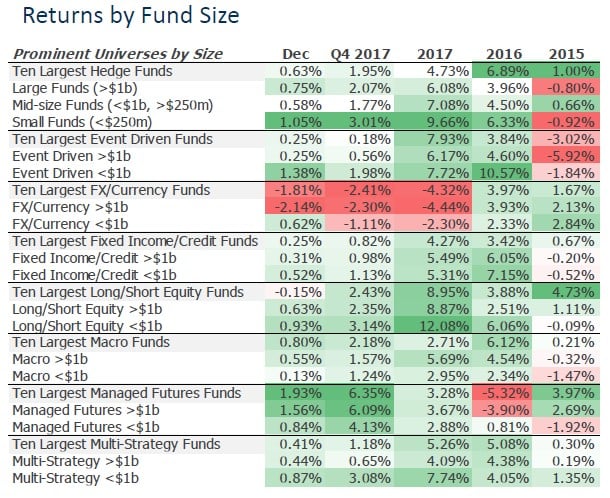 Key Points
Average net gains were slightly better than balanced indices.
Over 80% of reporting funds posted positive returns in 2017. The average gain generated by those within the 80% was +13.98%, 10bps better than the MSCI 50/50 global equity/bond benchmark.
Long/short equity hedge funds were the leading primary strategy in 2017.
Having raised more new capital through November 2017 than any other major strategy, and outpaced its annual capital raising in all but one (2014) of the prior nine years, long/short equity funds rewarded investors with 90% of reporting funds producing gains in 2017, average gains of over 16%, and being the only non-EM primary strategy with aggregate returns over 10%.
Managed futures Q4 performance saved what could have been a very bad year.
The average managed futures strategy was up greater than 4% in Q4, besting all other non-EM primary strategies, and turned what was a negative year into a positive one. While the universe lagged behind all other primary strategies, it ended the year on a positive note. The largest products had an even greater turnaround to end the year, returning a primary strategy-leading +6.35% in Q4.
A mixed year for macro strategies ended with mixed results.
The macro universe was unique in 2017 in that it was the only primary strategy where the average loss outpaced the average gain (-9.58% vs. +8.99%). Thankfully, nearly 70% of the universe was able to produce gains in 2017, but unfortunately for investors, the very largest products produced a more narrow window for success as half of the ten largest reporting funds were negative in 2017. Even before Q4, investors had let their frustrations be known. From September to November, money was removed in each month totaling over $5.5 billion.
2017 Ends As It Began for Emerging Markets, With Double Digit Outperformance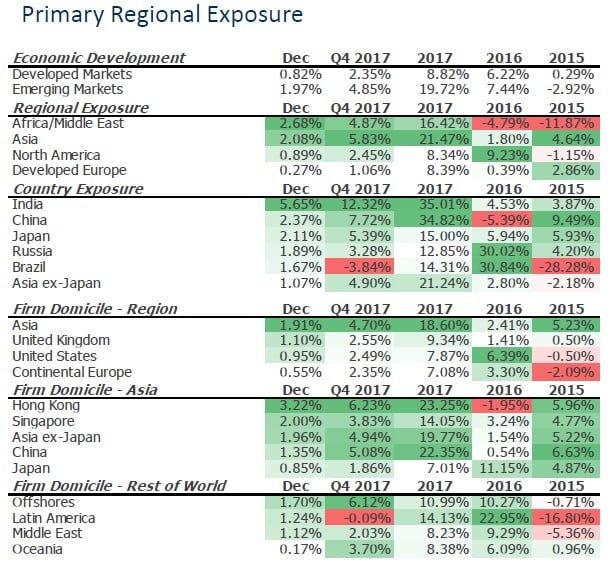 Key Points
A surge in returns in December lifted India to be the best performing emerging market for hedge funds.
In the last six years, India focused hedge funds have produced average gains over 17%. It has not been a straight, positive line to that figure, but nor have India hedge fund returns been as volatile as one might expect. Their one lone down year in this period, 2013, was a decline of 6% when the MSCI India Index declined nearly 4%. In 2015 the group remained positive while the benchmark declined over 6%. 2017 was another good year for this universe which has treated investors better than most across this extended time frame.
China-focused hedge funds end 2017 as second most profitable on average, behind India.
Despite Chinese benchmarks outperforming the aforementioned India equity benchmark, returns from China-focused hedge funds lagged their India-focused peers in 2017, but only by a very small margin. Across that same six year time frame, China-focused funds have returned an average of just over 13%. This is second to India in EM, and behind sector focused funds (Financials & Healthcare) for fourth best across all industry categories.
Article by eVestment