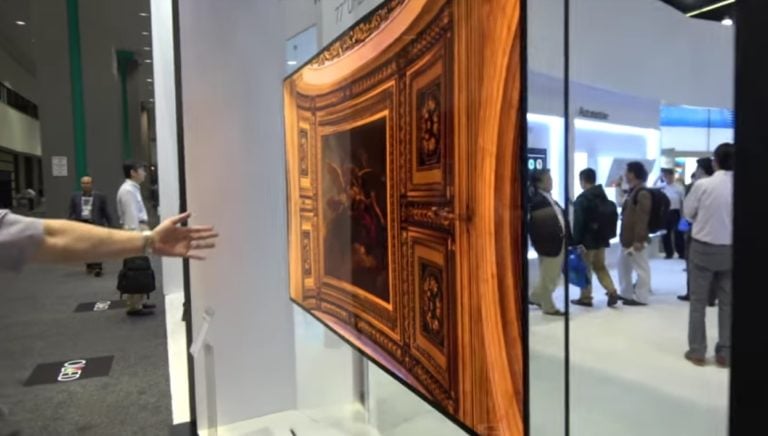 Move over 4K, the first 8K TV is here. The LG 8K TV features new technology with 16 times more pixels than a regular 1080p display.
LG 8K TV
While the world still struggles to move onto 4K as a standard for programming, the LG 8K TV charges ahead with a huge jump forward. With 33 million pixels and a resolution of 7680 x 4320, this television is a total monster and blows any current technology out of the water. A gigantic 88-inch size should fit in nicely with your home theater, but we're expecting that early adoption may come with a serious price – so it may be time to start saving.
While the LG 8K TV is a cool development and will likely pave the way for the future of television, the usefulness of such a technology at the current point in time is dubious. While 4K TVs are relatively commonplace and are quickly becoming less expensive, there's still a lack of widespread use – and television programming hasn't caught up with the advancements in technology. Releasing an LG 8K TV with 16 times more pixels than a standard 4K TV is questionable when there's already a lack of content that can take advantage of an "old" 4K TV.
ValueWalk's August 2021 Hedge Fund Update: Point72 Suffers Loss; Hedge Fund Assets Hit $4 Trillion
Welcome to our latest issue of ValueWalk's hedge fund update. Below subscribers can find an excerpt in text and the full issue in PDF format. Please send us your feedback! Featuring Point72 Asset Management losing about 10% in January, Millennium Management on a hiring spree, and hedge fund industry's assets under management swell to nearly Read More
An 88-inch display makes for a huge TV, but the LG 8K TV still required some innovation in order to fit that many pixels into a somewhat limited space. LG reduced the size of each pixel aperture, allowing for a high resolution without having to compromise on brightness. The display also utilizes OLED technology, allowing the LG 8K TV to omit a backlight and keeping it slim. Considering how big the screen is, a thin profile is a near necessity.
In-Byung Kang, the executive vice president and chief technology officer for LG Display, elaborated on the exciting new development of an LG 8K TV.
"The successful development of the world's first 8K OLED display is a milestone for the 8K era and underscores the exciting potential of OLED…OLED is clearly a next-generation technology leader and for this reason, LG Display is accelerating its research and development into OLED so that we can provide differentiated products to customers and markets."
A Questionable Choice
As mentioned above, the world is still struggling to establish 4K as a standard. With how many people that are still running a regular 1080p display, the majority of television and gaming content doesn't take advantage of 4K technology. It's questionable, then, whether the development of an LG 8K TV is really a wise choice.
As with any groundbreaking technology, there's something to be said for being the first manufacturer to bring a new type of product to market. No one else has commercialized 8K technology thus far, so an LG 8K TV definitely has a chance to capture the attention of consumers who are tech-savvy and always want to be ahead of the curve. Like most new technology, however, the price of the LG 8K TV is expected to be sky-high, limiting the amount of customers that will be able to take advantage of this advancement in resolution.
Even if you're a tech junkie who needs the best of the best when it comes to your home entertainment system, there's just not any content currently that takes advantage of 8K technology. Many people make the mistake of buying a 4K TV without having any way to view 4K content, essentially making the extra cost of the latest technology a waste. Until we start to see more competitors to the LG 8K TV come to market, there just may not be a reason to purchase the product.
Still, as a technology company, LG has a vested interest in staying ahead of the game. With how cutthroat the industry has become, being the first to reveal a new technology – especially something as significant as a new era of television tech – can give manufacturers a huge advantage as other companies struggle to catch up. In the smartphone arena, Apple has seen unprecedented success due to the introduction of Face ID technology with the iPhone X. It's clear that consumers are looking for something more than iterative releases with their phones, and the same philosophy translates to other devices like the LG 8K TV.
Regardless of the benefits of being the first to bring the product to market, it will probably be quite some time before the LG 8K TV pays for itself. There's no doubt that research and development took some significant resources for the Korean tech giant, and adoption – at least at first – will be very limited. Releasing the LG 8K TV is definitely a gamble, but it's also a calculated risk. Whether this groundbreaking release pays off for the company in the long run remains to be seen, but there's no denying that the LG 8K TV is paving the road towards the future of television.