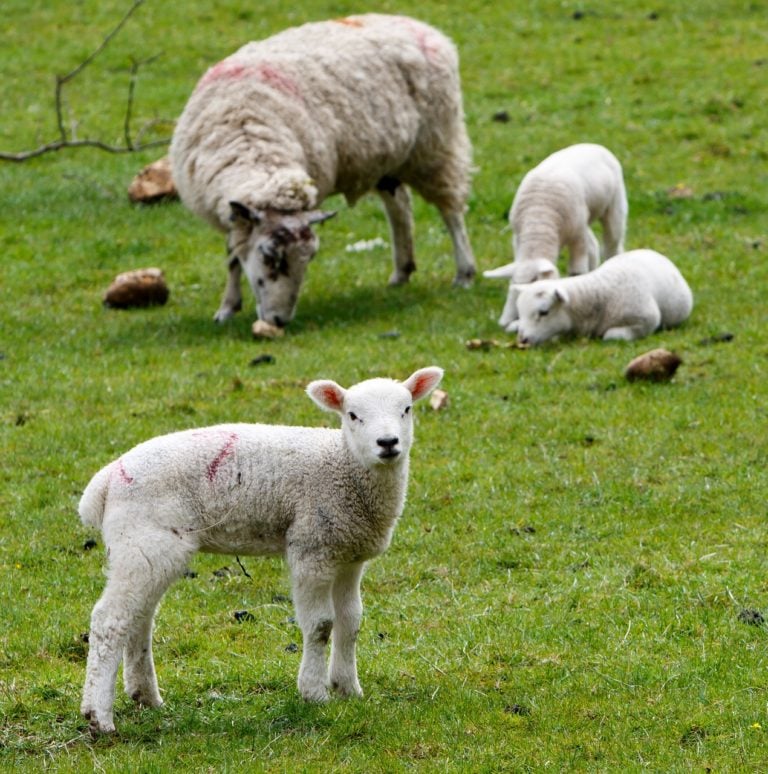 With just one week in the books since MiFID II has been implemented, a JPMorgan report points to "little evidence of slowing trading volumes" while retail investors "continue to pour money into equity funds." As China talks about reducing its US bond purchases, and with US central banks on a path to raise interest rates and shrink their once insatiable demand for global bonds, will the "goldilocks" world that was experienced in 2017 continue unabated?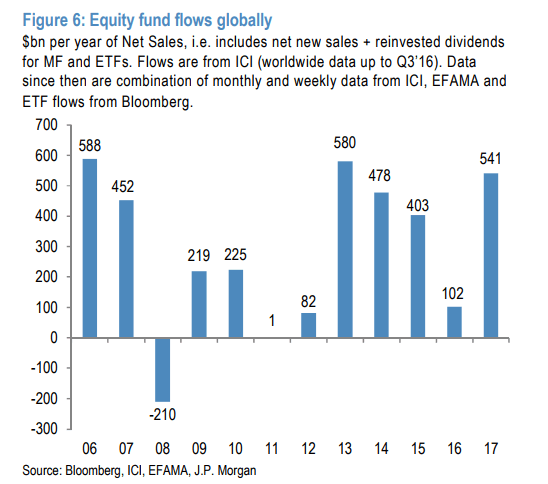 China and Bill Gross are both questioning bonds
A Bloomberg report that China might start slowing or halting its purchases of US Treasuries, first reported by Bloomberg, sent Dow Jones Industrial stock futures down more 100 points, with the stock market starting off lower by similar levels as well. The Ten Year Note yield moved to its highest level since March, hitting a trend that bond fund manager Bill Gross says is the start of a trend higher in yields, a position he has held on and off for years.
Morningstar Investment Conference: What To Do During The Fed Rate Hiking Cycle
The U.S. Federal Reserve is treading carefully with raising rates amid the widespread economic, macro and geopolitical uncertainties sweeping around the world. The Fed raised its target level as high as 20% in the early 1980s to deal with runaway inflation, but we're a far cry from that today — a time when inflation threatens Read More
Gross shorted bonds, he told Bloomberg's Tom Keene, looking at 2.7% to 2.8% by the end of 2018. His Janus Unconstrained Bond fund is negative both US and German bonds, as well as going negative on high yield debt.
But just like the stock market bounced back, so too the global bond market might be more buoyant than expected in 2018, a JPMorgan report notes – in spite of meaningful headwinds.
As the US Federal Reserve is set to raise interest rates three or four times in 2018 – analyst guesses vary – despite tapering and Fed balance sheets shrinking, don't expect much variance in global bond supply and demand.
In a Global Markets Strategy report, JPMorgan's Nikolaos Panigirtzoglou and his team look at the anticipated $1.1 trillion global bond supply and demand imbalance and note that several factors might not add up.
Panigirtzoglou thinks that nearly $500 billion of this year's $1.1 trillion central bank-related imbalance is going to be offset by commercial banks and other factors. This includes lower bond supply reserve accumulation due to currency factors and pension funds and insurance firms buying bonds to lock in stock gains.
In a 2018 bond market that is projected to be stable, what happens to stocks?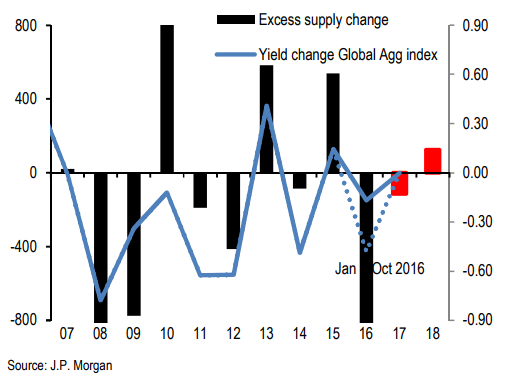 JPMorgan sees retail investors "pouring into equities"
Lead by weak IPO and equity offerings, coupled with steady corporate buyback activity, there has been zero global equity supply growth in 2016 and 2017, JPMorgan noted. When supply is constrained and demand grows, price increases.
With the S&P 500 finishing 2017 up a stout 21.8% — it has only beaten this mark nine times since 1988 – the stock market has been on a roll. December, for instance, marked the 14th consecutive month of positive total returns for the index – its best since performance since 1928, just before the Great Depression.
While 2017 forecasts were generally focused on differentials between reflation versus volatility as well as fiscal stimulus versus shrinking Federal Reserve liquidity, what actually occurred was quite different, a Bank of America Merrill Lynch report noted.
It was a "goldilocks" environment for investors, with technology stocks being the "workhorse for the market," accounting for nearly 40% of total returns. The report, titled "2017: Goldilocks crushed the bears," highlights that it was not only noncorrelation that made a difference, but the successful funds also had the right factor tilts.
JPMorgan, for its part, sees little changing in the 2018 stock supply demand. "Low supply boosts equity market performance as it magnifies the impact of any given increase in equity demand, Panigirtzoglou and his team observed. "Retail investors should continue to pour money into equity funds this year given momentum and lack of alternatives," he wrote, pointing to a "lack of alternatives" in a world defined by zero cash rates.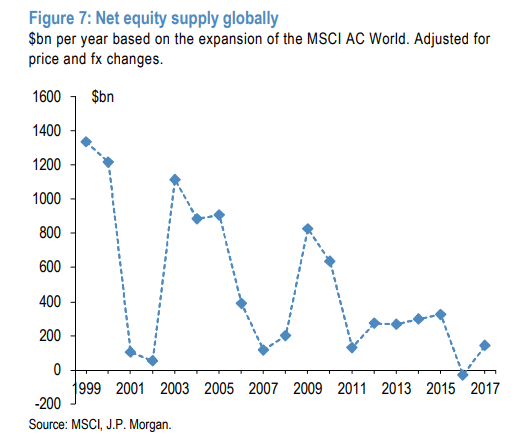 Updated on