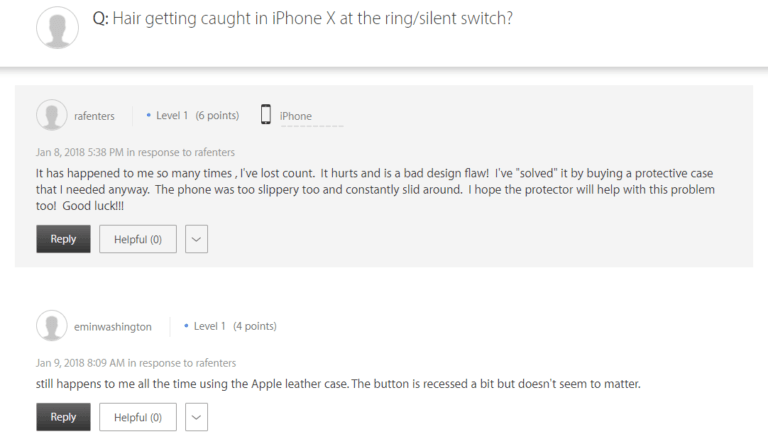 Some phones suffer from display-related issues (I'm talking about you, Google Pixel 2 XL) while others face issues related to WiFi, speaker, etc. Smartphone vendors like Apple make millions of phones every year. Despite stringent quality control, there is a good chance that at least a few units would be defective. Once in a while, we come across some weird problems such as the iPhone X pulling hair of its owners out. I'm not kidding. Tons of iPhone X owners have been complaining about the issue.

Is YOUR iPhone X pulling hair out of your head or ear?
The iPhone X owners have taken to Reddit, Apple's official Support Forum, and Twitter to tell Apple how frustrated they are with their iPhone X pulling hair out almost every time they pick up the phone to talk to someone. It's really annoying, according to the affected users. Users complained that their hair gets stuck in the mute switch or the gap between the display and the bezel when they talk on the phone.
@Apple dude your iPhone X is ripping the fricken hair from around my ear out!! Not cool. I hate this phone for this new feature.

[Exclusive] ExodusPoint Is In The Green YTD Led By Rates And EM/ Macro Strategies

The ExodusPoint Partners International Fund returned 0.36% for May, bringing its year-to-date return to 3.31% in a year that's been particularly challenging for most hedge funds, pushing many into the red. Macroeconomic factors continued to weigh on the market, resulting in significant intra-month volatility for May, although risk assets generally ended the month flat. Macro Read More

— SwiftBlade (@SuperKingJJ) December 16, 2017
The anniversary iPhone tends to pull both the facial and head hair out when users move the device away from their face. Why is the iPhone X pulling hair "like crazy"? It's not yet clear. Some iPhone X owners believe it could be a design flaw while others say their units are defective. A few people were able to fix the problem by adding a protective case to the device, but this solution didn't work for all the affected users. One user wrote on Apple's Support Forum, "Still happens to me all the time using the Apple leather case. The button is recessed a bit but doesn't seem to matter."
@Apple @AppleSupport I recently bought iPhone X every time I pick the call hair get stuck in mute button. This type of problems is not expected from apple. Even earphone provided is not working

— Aniket Anand (@aniketshines) January 14, 2018
One Reddit user asked, "Does anyone else have a problem with their phone pulling their hair? Mine pulls my hair several times a day while it's held up to my head. It's really starting to piss me off. I called Apple and they will do a replacement on it but I am just curious if mine is a fluke or if it is a design issue."
Many iPhone X owners complained the same in response to the Reddit post. BrianArdor said, "Yeah whenever I make a call the phone pulls my hairs out also. Did you seriously get a replacement? Should I do that ?" It's good to know that Apple is offering a replacement to the affected users, but the company hasn't yet made any official statement addressing the problem. If you have your iPhone X pulling hair out of your head, face or ear, go to the nearest Apple Store to get a replacement device.
An iPhone X owner said on MacRumors forum that the iPhone 6 "had this issue too, but it happened rarely." The problem is so severe with the iPhone X that the MacRumors forum member is "afraid to push my phone to my ear because it pulls my hair." Even if Apple is offering a replacement to people who complained, it's not the real solution to the problem. What if the replacement device also has the same issue?
One affected user jokingly said, "Tap on Settings, General, Personal Grooming. Slide the setting for "Tweezers" from Auto to Manual and you should be fine."
Not the first problem iPhone X owners have faced
It's not the first iPhone X issue users have complained about. Earlier this month, many people who purchased the most expensive iPhone pointed out that their phone was overheating. Some said it gets only a little warm, while others said the device would heat up to the extent that it shuts down automatically. One affected user said their wife's iPhone X got so hot that it became completely unresponsive and was unable to cool down.
Another user said their iPhone X would often get too hot to touch and wouldn't cool down even after placing it in the freezer. Some users said the overheating issue occurred when they ran navigation software such as Waze or Google Maps that puts a lot of load on the processor. Others said their phones would heat up when surfing the web in Safari browser or watching videos on the Facebook app.
Analysts expect iPhone X sales to fall rapidly
The iPhone X witnessed strong sales during the holiday quarter. The record iPhone X shipments boosted Foxconn's December month revenues by 50% YoY. Apple is scheduled to report its holiday quarter results on February 1st. Despite solid iPhone X sales numbers in December quarter, Wall Street analysts believe that the phone wouldn't sell so well in the January-March quarter due to its high price tag.
Most analysts have slashed their iPhone X shipment forecasts for the current quarter. Taiwan-based Economic Daily News had reported last month that Apple had lowered its January-March quarter iPhone X shipment forecast from 50 million to 30 million units. JL Warren Capital expects the company to ship only 25 million iPhone X units in the current quarter.
Updated on