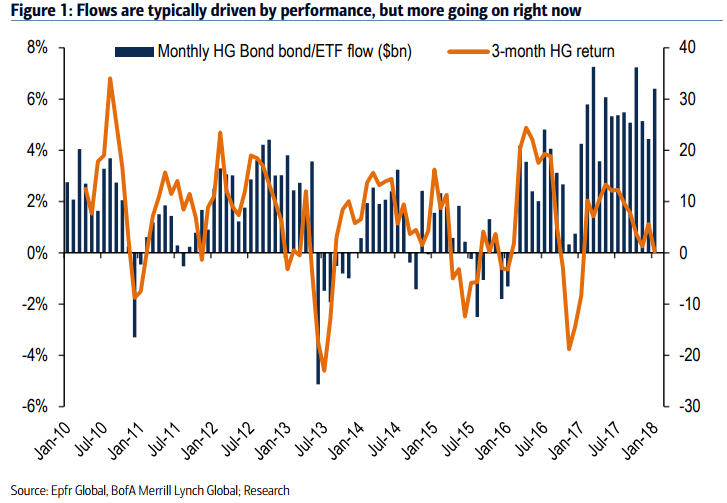 "One of the key questions right now" Bank of America's latest Situation Room report begins, "is why we continue to see large inflows to high-grade bond funds and ETFs when total return performance – traditionally the main driver of retail flows – has been flattish over the past five months or so."
According to report, over the past 12 months monthly inflows into high-grade bond funds and ETFs, has averaged between $20 billion and $30 billion. However, over the same period, these funds have produced a return of around 0%. Rolling three-month returns declined to -4% at the beginning of 2017 before moving to approximately 2% by the middle of the year, before falling back to zero by the end of the year.
Gator Financial Partners 1H2022 Performance Update
Gator Financial Partners letter to investors for the first half of the year ended June 30, 2022. Q2 2022 hedge fund letters, conferences and more Dear Gator Financial Partners:  We are pleased to provide you with Gator Financial Partners, LLC's (the "Fund" or "GFP") 1st Half 2022 investor letter. This letter reviews the Fund's 1st Read More
The critical question is, who could be buying? BoA's analysts think they have an answer. While it's unlikely that US investors are buying these funds with returns near zero, it is highly likely that international investors are picking up the slack.
High-grade bond funds hot with international investors 
With interest rates at or near zero in other developed markets, US fixed income presents an attractive opportunity.
The data appears to confirm this. The most recent Flow of Funds data from the Federal Reserve shows that the "Household sector" accounted For the bulk of inflows into mutual funds for the first three quarters of 2017. This "Household Sector" classification includes not only retail investors but also all other investors the Fed cannot fit into different categories such as international buyers.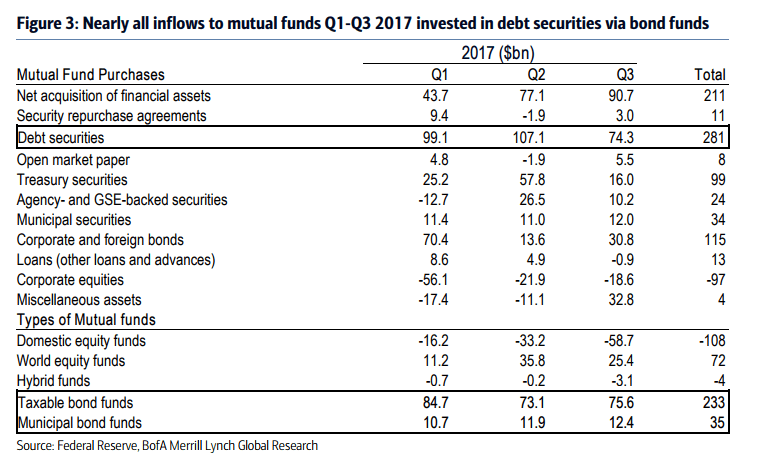 If the Fed sticks to its current schedule of interest rate hikes then over the next few months this trend could reverse BoA's analysts speculate. "With rising interest rates and credit spreads leading to diminishing fund income Returns, and increasing rates vol, we expect inflows to high-grade Bond funds and ETFs to taper and decrease" the report opines.
It goes on to say that models suggest inflows into high-grade US Bond funds could decline by 39% this year to $197 billion. This means monthly inflows, currently running close to $30 billion could fall to just $10 billion by year-end.
"In our baseline scenario inflows to high grade bond funds and ETFs are forecast to decline 39% in 2018 to $197bn (from $325bn in 2017). This assumes high grade returns of 2.2% this year, rates vol that increases 1bp monthly on the Move index and an equity market that gets to 3,000 on the S&P 500. Under an alternative - more adverse - scenario where rates increase more and eliminate the entire return to high grade in 2018, equities remain where they are presently and rates vol increases 2bps per month we get a 53% decline in inflows to $152bn. Finally, in a rosier scenario where high grade returns 5% this year, the S&P reaches 3,500 and rates vol declines to a historical low of 40bps inflows still decline 12% to $286bn in 2018."
Updated on